My mother grew up on a farm and two of my uncles run respectively a dairy and a pig farm. I don't know if it has anything to do with it, but I think pretty tractors are exciting stuff. Something else that gets me excited is frenzied insider buying.
You can imagine that I was all over Agco Corp (NYSE:AGCO), the farm equipment manufacturer, when I noticed how much insider buying is going on.
After inspecting the recent buying at Agco Corp, there are two things that stand out to me:
1. Cross Holding
Over the last 5 days, Agco Corp is the company where insider buying volume is highest. Over 500.000 shares were acquired by director Mallika Srinivasan. When I search back as far as end of 2012, I find that she has been buying over 5 Million shares of the company. She has been buying these shares at the beneficial ownership of TAFE Motors and Tractors Limited according to the SEC filing. The stake equals about 5% of outstanding shares.
Interestingly enough, this leads to a cross holding situation, because Agco holds a 23.5% interest in TAFE. TAFE is lead by Mallika Srinivasan. The stake can be found in the Agco annual report:
Tractors and Farm Equipment Limited ("TAFE"), in which the Company holds a 23.5% interest, manufactures Massey Ferguson-branded equipment primarily in India and also supplies tractors and components to the Company for sale in other markets.

Mallika Srinivasan, who is the Chairman and Chief Executive Officer of TAFE, is currently a member of the Company's Board of Directors. During 2012, 2011 and 2010, the Company purchased approximately $104.5 million, $80.4 million and $72.6 million, respectively, of tractors and components from TAFE.
Collecting background information on TAFE was hard, but this Forbes article is pretty good and it contained some recent numbers:
TAFE has a 25 percent market share in India
It is the second largest tractor maker after Mahindra & Mahindra
Its growth last year was especially good. Its tractor sales grew 26.6 percent, more than twice the industry growth rate.
In fact, in the last five months, when the sector barely grew (growth was less than 1 percent), TAFE grew at over 28 percent.
TAFE's revenues were Rs 85 crore then. Today, it stands at Rs 8,020 crore.
When converting TAFE's revenue to USD at today's exchange rate, the company's revenue is equal to revenue of $1.25 Billion. The publicly traded Mahindra & Mahindra LTD Adr (NYSEARCA:MOM) is valued at around 0.8 times sales. If the faster growing TAFE would be valued in the same way, the company would be worth $1.5 Billion. Given the growth rate over the past two years, even when industry growth stagnated, I'd say that is a conservative valuation.
If TAFE attains similar margins to MOM and AGCO of 7%, its earnings will be in the neighborhood of $87 Million per year. If we apply a very aggressive multiple valuation, like that of a growth company of around 25, the company can be valued at $2.2 Billion.
The insider buying by Mallika Srinivasan is puzzling. Why is she building up a large stake in Agco. Return on investment in TAFE has been extraordinary if we look at the growth story. Wouldn't this cash work much harder in her own business? Is she buying strategic influence? Preparing a merger? Or does she view Agco as a tremendously undervalued opportunity?
2. Agco's Valuation

When examining Agco on traditional value metrics, the company is looking quite cheap. The company's performance has been underwhelming lately, and the immediate outlook isn't rosy with Europe - an important market to Agco - struggling hard.
| | | |
| --- | --- | --- |
| | AGCO | Industry Average |
| Price/Earnings | 10.9 | 12.3 |
| Price/Book | 1.5 | 2.8 |
| Price/Sales | 0.5 | 0.8 |
| Price/Cash Flow* | 6.2 | 10.9 |
Source: Morningstar, *3 yr average
The real value of TAFE is not entirely taken into account, because the company uses the purchase accounting method to recognize the TAFE stake. The growth prospects of the unlisted company might not be fully valued. Because the stake was very small initially, this didn't matter. Now that TAFE's revenue is topping a $1 Billion, it is starting to have a material effect on Agco's value.
My favorite method of valuing company's is by Enterprise value / Cash flow, and the company trades at around 12 times. Not an exceptionally attractive number, but not terrible either.
Because CNH Industrial NV (NYSE:CNHI) is a product of the 2013 merger of Fiat Industrial and CNH Global, I resorted to comparing the major competitors in the industry on forward EV to EBITDA. Usually I would like to compare on EV / FCF but currently this the best data available.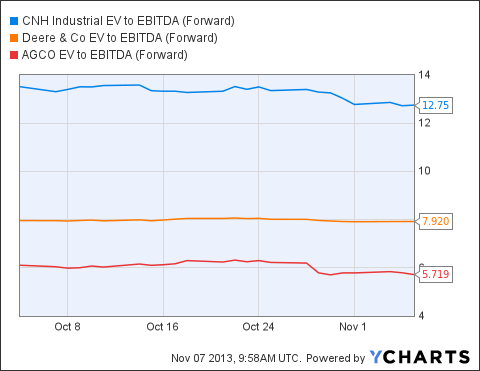 CNHI EV to EBITDA (Forward) data by YCharts
On this metric, AGCO scores as very attractive compared to its competitors CNH Industrial and Deere & Co (NYSE:DE). The attractive valuation increases the likelihood of a bid or takeover of the company, a possibility that I would like to explore a little further.
TAFE doesn't have the size to launch a bid going by the data I have. A takeover the other way around is a much more likely event. CNHI is processing the merger with Fiat and probably doesn't have the ability to pull something like that off, either.
That leaves Deere. Deere has $4 Billion on the balance sheet and an operating cash flow of $2.89 Billion. Total Debt is $33 Billion on a market cap of $31 Billion. Agco's market cap is $5.6 Billion, and in my opinion, Deere could afford to buy the company. What is less certain is if regulators would allow the number 1 player to buy the number 3 player in the industry.
Of course LBO's by private equity are a possibility as well. Especially given the company is struggling and its modest valuation.
Conclusion
After being alerted by the heavy insider buying and reviewing Agco, I'm even more interested in the company. Even though I think tractors are cool, to be honest, I'm not very fond of the agricultural equipment business or any other cyclical business without a solid competitive advantage. I don't think Agco is a company that you want to buy and hold for the ages.
But right now, it's attractively valued looking at its price/cash flow and on a relative basis compared to its industry and the broader market. In addition, the 23.5% stake in TAFE is undervalued.
On valuation alone, I could see Agco being a buy.
Given the cross holding dynamics and the consolidation in the industry, I also see potential for positive events. I don't know in what form or shape corporate events could benefit an investment in Agco, but I think either a takeover of Agco by a competitor or private equity could benefit shareholders. Another event that might unlock shareholder value is buying TAFE or acquiring a majority stake and consolidating earnings. Even selling the TAFE stake might unlock it, but that seems unlikely.
The fact that the company is trading at a modest price combined with the possibility of corporate events unlocking shareholder value makes following Mallika Srinivasan buying into Agco an attractive prospect.
As usual I appreciate your thoughts and feedback and you can talk to me on Seeking Alpha or on Twitter.
Disclosure: I have no positions in any stocks mentioned, and no plans to initiate any positions within the next 72 hours. I wrote this article myself, and it expresses my own opinions. I am not receiving compensation for it (other than from Seeking Alpha). I have no business relationship with any company whose stock is mentioned in this article.