BreitBurn Energy Partners L.P. (BBEP) has had another great third quarter with fantastic production growth and financial performance:
Oil, natural gas and NGL sales came in at $197.4 million in the third quarter of 2013 which compares to $149.3 million in the second quarter of 2013 (plus 32.2% q-o-q) and $111.7 million in the third quarter of 2012 (plus 76.7% y-o-y).
Total production increased to 3,098 MBoe in Q3 2013 compared to 2,453 MBoe in Q2 2013. Average daily production increased to 33.7 MBoe per day in Q3 2013 compared to 27.0 MBoe/day in Q2 2013 (plus 24.8%). BreitBurn raised total net production to 3.1 MMBoe in Q3 2013 (an increase of 43% y-o-y) and hiked liquids production to 1.9 MMBOe in Q3 2013, which equates to a y-o-y jump of 94%.
BreitBurn's adjusted EBITDA increased to $112.1 million in Q3 2013 and is up 32.2% from $84.8 million in Q2 2013 and up 45.8% from $76.9 million in Q3 2013. Adjusted EBITDA increased due to higher crude oil and natural gas production from BreitBurn's operations in Oklahoma and higher crude oil prices. More than 50% of BreitBurn's reserves relate to liquids, which makes BreitBurn particularly suitable for investors who desire exposure to crude oil.
The company also increased distributable cash flows to shareholders to $64.6 million vs. $48.2 million in Q2 2013 (up 34%) and vs $44.0 million in Q3 2012 (up 47%).
Strong cash flow growth tempted the company to increase its quarterly distribution to $0.4875 per unit (annualized $1.95 per unit). The distribution was increased 1.6% q-o-q or 4.8% y-o-y. BreitBurn is a top-performing oil- and gas exploration company with an impressive distribution record.
Strong operational and financial performance prompted BreitBurn to adapt its shareholder compensation policy. Beginning in 2014, Breitburn will switch from quarterly to monthly distributions which will give shareholders more financial flexibility and reinvestment opportunities.
Share performance
BreitBurn Energy has done extremely well for shareholders, which is an immediate reflection of consistent production, EBITDA and distribution growth. BreitBurn has again impressed shareholders with Q3 results. BreitBurn shares are up 173% over the last five years, while Ensco (NYSE:ESV) delivered 84% and Vanguard Natural Resources (NYSE:VNR) 257%.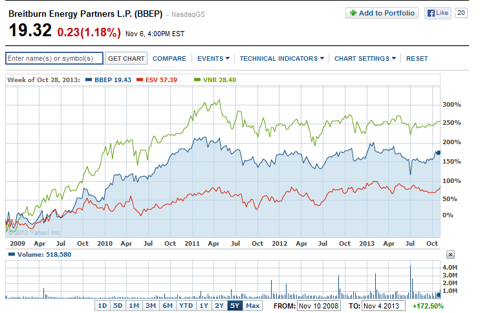 Click to enlarge
Industry with low valuation and attractive long-term growth prospects
The oil and gas industry is one of my favorite industries at the moment. Many companies, especially in the large-cap sector, trade at very low multiples mainly because the market underestimates the long-term growth prospects of the industry as a whole or the production potential of individual companies. BreitBurn, for instance, has an extensive operations footprint across the United States and has estimated proved reserves of 190.8MMBoe with a majority of reserves relating to crude oil (57%). Further well drilling will be crucial in driving incremental oil production, and BreitBurn remains committed to do so: In Q3, BreitBurn drilled 54 wells and finished 19 workovers, resulting in an incremental net initial production of around 2,730 Boe/day. A pick-up in economic activity in America and Europe will likely not only keep crude prices high, but will also lead to substantial production increases for exploration companies. The oil and gas industry is one of the most attractive in terms of long-term growth prospects as populations grow and the manufacturing base increases.
Conclusion
If past performance is any indicator of future performance, shareholders could do very well with BreitBurn Energy Partners. The company has delivered production and distribution growth over and over again. Switching to monthly distributions is also a big positive for investors who are in need of cash or want to immediately reinvest their distributions elsewhere. The annualized distribution yield for BreitBurn Energy Partners now stands at 10.1%, which is highly attractive and significantly more than the 6.7% MLP investors could get from Kinder Morgan Energy Partners (NYSE:KMP) for instance. Investors may want to consider investing in an exploration company whose earnings are likely being driven by crude oil rather than by natural gas. Higher energy demand in the future, either domestic or international, could also be a positive catalyst for higher production, higher distributions and higher share prices. It is a long-term BUY for income-oriented investors who want to secure an initial 10% yield.
Disclosure: I am long BBEP. I wrote this article myself, and it expresses my own opinions. I am not receiving compensation for it (other than from Seeking Alpha). I have no business relationship with any company whose stock is mentioned in this article.