By David Russell
Nexen (NXY) has been trapped below $30 since September 2008, but one trader is positioning for a rally past that level in the next two months.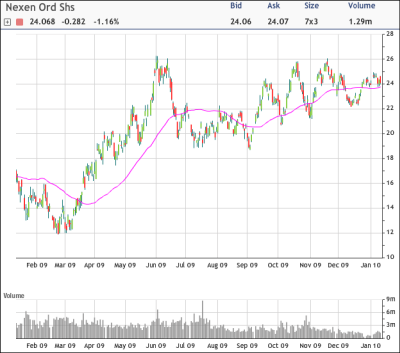 optionMONSTER's tracking programs detected the purchase of 8,200 March 30 calls for $0.17 and the sale of an equal number of March 20 puts for $0.35. Volume was more than 11 times open interest in both strikes.
NXY fell 1.16% to $24.07 in afternoon trading and is up 8% in the last month. The Canadian oil and gas stock has been edging higher after Exxon Mobil's (NYSE:XOM) Dec. 14 acquisition of XTO Energy (XTO) spurred takeover speculation in the sector.
NXY has been consolidating in an increasingly tight range since March, which some chart watchers may consider the precursor to a sharp move. It's scheduled to report fourth-quarter earnings on Feb. 18.
Today's options trade is an inexpensive way to bet on a rally. It will earn unlimited profits if NXY climbs above $30 by expiration. Because it generated a net credit of $0.16, the investor can only lose money if NXY falls below $19.84.
The transaction pushed overall options volume in the stock to 23 times greater than average.
(Chart courtesy of tradeMONSTER)