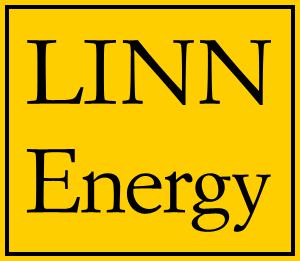 It looks like the worst is finally over for Linn Energy (LINE) (LNCO) and its long-suffering shareholders. Just last week we learned the SEC had no further comments regarding Linn's transaction with Berry Petroleum (BRY). Short sellers continue to steadily cover and vacate their positions. Recent operational results showed good progress on the company's drilling and production. In fact, thanks to its increased production and 6,250 acre acquisition in the Permian, Linn is now able to fully cover its distribution. Finally, Linn and Berry Petroleum both announced an amendment to the proposed acquisition of the latter in exchange for 1.68 LinnCo shares per each share of Berry, up from 1.25 originally. This makes the acquisition much more likely.
With all that seemingly behind us, Linn should now be able to go back to doing what it does best, developing and maintaining mature oil and gas properties. This article will examine Linn's future with its previous issues, for the most part, in the past.
The Metric Formerly Known As DCF
So far, the biggest change to come about as the result of the SEC's inquiry was a change in the wording of what used to be Distributable Cash Flow, or DCF. Because GAAP earnings are not meaningful for these upstream MLPs (there are a few reasons why, which have been discussed at length in previous articles), DCF is used by most investors to gauge the most important aspect of any upstream MLP, its ability to pay distributions.
Linn now calls this metric by a different, much longer name, and now states the "excess" cash it generated on top of distributions. In the 3rd quarter Linn generated just over $2 million in excess cash, which would come out to a coverage ratio of 1.01 in what used to be DCF.
Those who were there for the second quarter earnings call remember that DCF was scheduled to cover distributions by only 0.96. The improvement to 1.01 came from better than expected well results in a few places, and especially the acquisition of 6,250 acres in the Permian. That Linn can now fully cover its distribution is a welcome relief for income investors.
Operational Results
The results of Linn's drilling in this last quarter give a glimpse to a bright future and really shows the promise and potential this company's acreage has. Oil and natural gas volumes grew 5% and 12% respectively, with low-priced NGLs declining 10% in production.
Linn spent its capital in a few ways. First, the company operated 8 rigs in the Granite Wash and 2 in the Hogshooter, an area where production had previously disappointed. In the Jonah region Linn has drilled 27 wells year to date with two rigs. And in the Hugoton Basin it drilled 60 and plans 80 more next year. Linn will be able to drill at this pace for five years in the Hugoton.
But the best results this quarter were in the Permian, with 68 wells drilled year to date from four rigs, and average well costs coming down to $2 million. The Permian is becoming an increasingly profitable geography for Linn, as well as a driver of growth. Management also sees much of its Permian acreage open for horizontal drilling, and will begin testing in 2014. This is a very big deal because most upstream MLPs only stick to conventional drilling. And if results from other companies are any indication, Linn's soon to be 160,000+ acreage position in the Permian will indeed present many years worth of horizontal drilling opportunities, entirely in addition to what the company is doing now.
When we consider that much of Berry Petroleum's acreage is in the Permian Basin, and that the acquisition will increase Linn's acreage by 60%, we may understand why Linn is working so hard to close the Berry deal. There might be a lot of value in the shale rock of West Texas.
Chasing The Holy Grail
In an effort to secure its acquisition of Berry Petroluem, Linn has increased the number of shares it will distribute to Berry's shareholders. Going from 1.25 LNCO shares to 1.68 shares per share of Berry, Linn is in effect increasing its offer by $600 million. This amendment is likely a reaction to the precipitous drop in LNCO shares this summer. While this is increasingly dilutive to Linn shareholders, we have to recognize a few things.
First, the deal probably would not have moved forward without this upward revision. Second, at current share prices Linn is still not paying much of a premium here. In effect, Linn is paying about $3 billion in shares versus Berry's market cap of $2.82 billion. It is evident, however, that both parties believe shares will still be considerably higher shortly after the acquisition is concluded. Acquisitions are, after all, usually done at a premium. But with LNCO shares as they are, there is no premium. A quick jump in share prices would change that.
Is Berry worth it? Consider what this company brings to the table. Berry is the fifth largest oil producer in California, and will more than double Linn's production here. California represents just over half of Berry's production, with a number of fields employing enhanced recovery techniques. Enhanced recovery techniques are used when primary pumping has recovered all available oil. Many enhanced recovery methods can end up recovering amounts comparable to that of primary methods. California's oil fields are among the oldest and highest quality in the country, with many of them employing these techniques already. Because oil produced in California gets used in that state, it goes for Brent Crude prices and avoids the midcontinental system and WTI pricing, which is often lower. This makes Berry's California acreage very profitable and sought after.
Berry will also add 61,000 acres to Linn's 100,000-plus position in the Permian. The Permian is also one of America's oldest and most prolific oil basins. And while oil here may not always fetch Brent-level pricing, this acreage comes with the real potential of future horizontal drilling as well as production growth in the high double digits.
For upstream MLPs, whom are interested mostly in mature, low-decline fields, California and the Permian are a sort of holy grail. These places have been producing for a very long time and all indications say they will continue to. Both places offer ample opportunities for very profitable enhanced recovery operations in conventional drilling. The Permian shows potential for unconventional, horizontal drilling. Linn is no doubt making this acquisition with those long-run opportunities in mind.
Valuation

This really puts Linn's recent price jump into perspective. Yes, at over $30 LINE shares are much higher than they were just a few months ago, but are still nowhere near prices in April, despite being in better shape now. With a yield of 9.52%, Linn's distribution still outstrips most of the upstream MLP competition.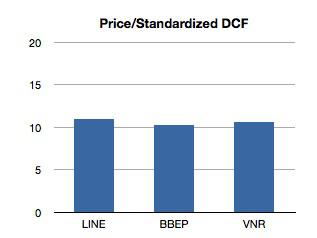 Chart by author, DCF data based on each respective partnership's 2013 guidance. In volatile circumstances price/standardized DCF will vary by the day.
With LINE trading at just 10.9 times DCF, this name is indeed worth jumping into. Shares are priced comparably to Vanguard Natural Resources (NYSE:VNR) and BreitBurn (BBEP). Linn's relative debts are somewhat higher than either BreitBurn's or Vanguard's, and Linn's distribution is also more thinly covered at 1.01 times versus Vanguard's 1.05 and BreitBurn's 1.1-1.2 times.
But to focus on just these points of data is to lose sight of the bigger picture. Linn's premium acreage gives it an advantage over both of these names. In fact, at one point last year BreitBurn's CEO quipped that he would love to own more California acreage but that it was difficult to get. In both California and the Permian Linn has greater opportunities for enhanced recovery, unconventional drilling and better margins in these top-tier geographies.
Conclusion
Linn will be going forward with a sizeable position in two of the most sought after places in the country. And despite the said jump, Linn is still trading reasonably and yields a very generous 9.52%.
With the distraction of vociferous short seller attacks, negative media coverage and regulatory overhang hopefully in the past, Linn can go back to doing what it does best: Drilling and developing mature oil and gas acreage. As long as Linn's tenured management can focus on that task, I believe Linn will reward its patient shareholders with high yield, distribution growth and capital appreciation from this current level.
Disclosure: I am long LINE. I wrote this article myself, and it expresses my own opinions. I am not receiving compensation for it (other than from Seeking Alpha). I have no business relationship with any company whose stock is mentioned in this article.
Additional disclosure: I have added shares for a family account within the past 72 hours.