Phillips 66 (NYSE:PSX) has performed very well since its 2012 spin-off from ConocoPhillips (NYSE:COP), doubling in share price since then. However, as I noted in my earlier article, the entire refining segment hit a rough patch in Q3 2013. Crack spreads, which are typically a leading indicator for refining margins, contracted significantly in the quarter. In fact, for a few days, cracks spreads in certain regions were near or below zero. Also not helping matters was the narrowing of certain crude oil differentials, most notably the WTI/Brent spread. However, even with these negative factors, Phillips 66 still posted positive earnings, largely thanks to its midstream and chemicals segments outperforming.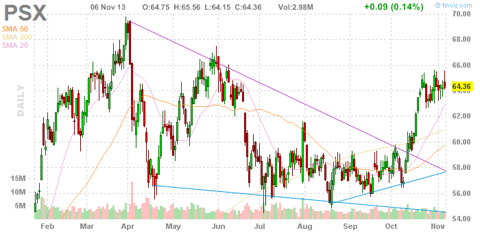 Q3 2013 Overview: Worst Ever Quarter?
On October 30, Phillips 66 reported its Q3 2013 results. For the quarter, the company posted net adjusted earnings of $535M, down 72% from $1.9B last year. Compared to last quarter's $935M, earnings were down 43%.. The results were a tad better when looking at EPS, largely thanks to a lower share count. Q3 2013 EPS came in at $0.87, down 71% from $2.97 last year and 42% from $1.50 last quarter.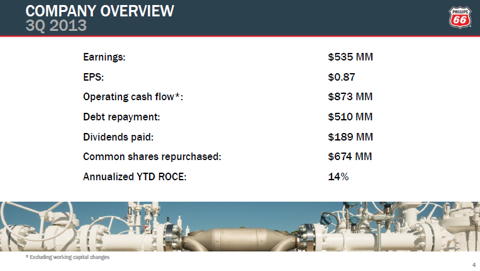 By far, the biggest drag on earnings was the refining segment, which saw a $2M loss, compared to earnings of $1.545B last year. However, other segments saw much improved results. Combined, these other segments posted adjusted earnings of $537M, up 54% from $349 last year.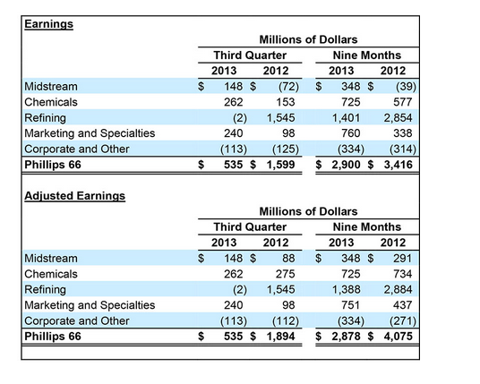 At first glance, these earnings appear to be horrible. However, considering the environment Phillips 66 was operating in, they were not that bad. Many other refiners, especially the smaller landlocked ones, saw much worse results. Comparisons to last year's Q3 were also not helped by that quarter's stellar fundamentals for refiners. Indeed, Q3 and Q4 2012 were probably the polar opposite of the situation in Q3 2013, with extremely high oil differentials, low WTI prices and sky high crack spreads.
Shareholders should take heart with the fact that Phillips 66 was still very profitable even with zero earnings coming from its refining arm. Below is a summary of its results: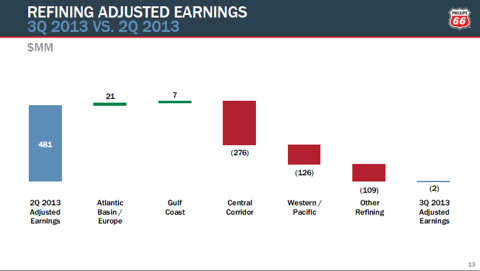 As shown, the refining segment earnings took a big hit this quarter. Earnings from the central corridor in particular collapsed, largely thanks to an increase in price of landlocked WTI. Overall, Phillips 66 realized margins per BBL fell to $6.14, down 55% from $13.44 per BBL last quarter.
Chemicals and Midstream Segments Show Some Life
The chemical business posted a solid quarter due mostly to low priced US-based feedstock. Earnings for the segment came in at $262M, up 45% from last quarter's $181M. The company has noted that the US now has the second lowest priced feedstock in the world, behind only the Middle East.
CPChem, the chemical joint venture with Chevron (CVX), is expanding rapidly, with plans to build a world-scale Gulf Coast ethane cracker and two new polyethylene facilities. The company estimates that CPChem will spend between $6B to $8B in self-funded capex projects through 2017. The estimated annual EBITDA for these expansions is estimated at $1.5B.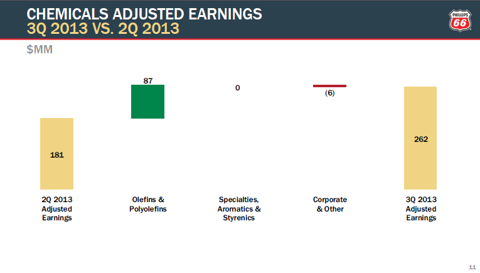 Midstream operations also posted much improved results. Earnings in this segment were $148M, up 64% from $90M last quarter. The vast majority of this increase came from earnings related to DCP Midstream (NYSE:DPM), a joint venture between Phillips 66 and Spectra Energy (NYSE:SE). The company noted it saw gains from hedges associated with asset dropdowns to DCP, along with equity gains from recent unit issuances from DCP.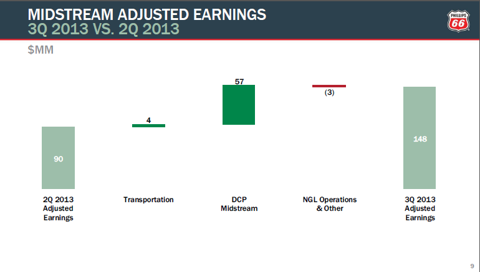 During the conference call, Phillips 66 noted how it plans to expand its recent midstream MLP IPO Phillips 66 Partners (NYSE:PSXP). Until the MLP is large enough to self fund projects, Phillips 66 plans to spend the capital itself and then drop these assets down to Phillips 66 Partners. The company noted that a potential candidate for a future dropdown includes its 100,000 BBL/D NGL fractionator at the Sweeny refinery. Phillips 66 is also developing liquefied petroleum gas, or LPG, infrastructure by building out an export terminal in Freeport, Texas. Combined, these two projects are estimated to cost around $2B over 2 or 3 years and add between $400M to $500M of annual EBITDA. Nearly half of the company's 2014 capital spending budget is estimated to go towards midstream projects.
Final Thoughts and Conclusion
I was looking for Phillips 66 to post a large earnings related drop in share price. However, no such thing occurred. Instead, Phillips 66 has slowly drifted higher. This may be a result of a better operating environment, with crack spreads once again widening, WTI prices falling and Government relief via a leaked proposal to lower RIN costs.
Phillips 66 clearly had a rough Q3 2013. However, if this was the worst the market could throw at the company, then little damage was done. During the quarter, Phillips 66 still was able to generate strong cash flows, post large earnings increases in key segments, and reward shareholders via dividend increases and stock buybacks.
Disclaimer: The opinions in this article are for informational purposes only and should not be construed as a recommendation to buy or sell the stocks mentioned. Please do your own due diligence before making any investment decision.
Disclosure: I am long PSX, COP. I wrote this article myself, and it expresses my own opinions. I am not receiving compensation for it (other than from Seeking Alpha). I have no business relationship with any company whose stock is mentioned in this article.