Joseph L. Feshbach has over 25 years of professional investment experience, using both long and short equity strategies. Additionally he has been Chairman and CEO of a publicly traded healthcare services company with a large wound care services business and has served on multiple public and private company boards. Today, he serves as CIO of his family office, Joe Feshbach Partners LLC.
• • •
What is your highest conviction stock position in your fund - long or short?

Our long position in Cytori Therapeutics (Nasdaq: CYTX) is our highest conviction.

Tell us a bit about the company and what it does.

Cytori Therapeutics, Inc. is a leading supplier of regenerative medicine products. The company's key first mover advantage is its technology platform which can be applied across a broad range of diseases and dysfunctions. Its primary innovation is a family of products designed for the extraction and concentration of stem and regenerative cells from adipose (fat) tissue. The lead product is a system known as Celution® and is sold in many countries around the world and has already been used to improve the lives of hundreds of patients. To bring this and similar products to patients, Cytori has produced complex computerized medical devices, unique cell processing reagents, ground-breaking research and novel clinical therapy approaches.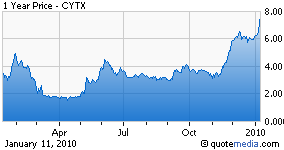 Cytori is the first regenerative medicine company to successfully apply its technology on a commercial scale in humans with significant clinical success and no adverse side effects. Moreover, it has a broad set of clinical trials, both company-sponsored (heart attack, chronic ischemia and breast reconstruction) and investigator sponsored (wound care, incontinence, renal). Because its technology uses the patient's own stem cells (autologous) and its system has been designated a device by FDA, EU and other regulatory bodies it avoids the stigma associated with embryonic stem cells and the regulatory hurdles and out-sized expense associated with the approval of a new drug.

Of note, CYTX has attracted important industry partners including Olympus, Green Hospital Supply and GE Healthcare who combined have invested more than $100 million in product and market development of the CYTX technology.

Can you talk a bit about the industry/sector? How much is this an "industry pick" as opposed to a pure bottom-up pick?

Our interest grew out of a company specific focus, which led us to conclude that it had market domination potential in the emerging field of regenerative medicine. Further investigation led us to believe that regenerative medicine is the next big thing in health care and that CYTX has the most important enabling technology platform. Drug development companies such as Geron (NASDAQ:GERN) and Osiris (NASDAQ:OSIR) face a 13 year, $350 million clinical research pathway to get to FDA approval.

From a company specific perspective, Cytori's device is already approved in the EU and as a device could be approved in as little as three months (510-k) or as much as two years (PMA), depending on the FDA's adjudication of its need for clinical trials. Our best bet is that the company will succeed in receiving a 510-k in the next six months with clinical trials required for specific indications such as cardiac and incontinence. In the meanwhile, a device based on the Celution technology is being sold as a research device to plastic surgeons in the US. Some of these plastic surgeons in turn are using the technology commercially for breast reconstruction and augmentation as well for facial enhancement under their authority in their practice of medicine. Our discussions with these surgeons indicate very high patient satisfaction as well as high confidence in the market potential for CYTX's technology once approved by the FDA.

Moreover, clinical trial results are rolling in and look impressive. Interim results from a European clinical trial, RESTORE 2, demonstrate that cell-enriched breast reconstruction achieved a high rate of patient and physician satisfaction and improvements in overall breast deformity in lumpectomy patients. These results are based on six-month follow up from the first 32 women enrolled and treated. The results were presented at the 32nd Annual CTRC-AACR San Antonio Breast Cancer Symposium (Poster #4123) by Dr. Eva Weiler-Mithoff, M.D., co-principal investigator for the Restore 2 Trial at the Glasgow Royal Infirmary.

The largest near-term upside is in the Company's Apollo (heart attack) and Precise (chronic myocardial ischemia) trials. Early indications (based on investigator commentary) are very promising and the results of Apollo are likely to be unveiled at an important cardiology meeting in Q1 or early Q2 with Precise following in Q2. We believe these results will be positive enough to give CYTX shares upside potential comparable to Dendreon (NASDAQ:DNDN) or Human Genome Sciences (HGSI).

Can you describe the company's competitive environment? How is this company positioned vis a vis its competitors?

As a device company with a platform technology applicable to many different highly valuable therapies, the company has a significant time to market advantage over its drug development competitors - perhaps as much as a decade. There is no meaningful competitor on the device side. Moreover the company has a blocking patent position with over 100 approved or pending patent applications and a stream of new ones on the way. As measured by R&D success, product commercialization, and patient and physician satisfaction the company has no peers.

Can you talk about valuation and how it compares to the competitors?

CYTX's market cap is $281 million. Perhaps the most relevant valuation metric is in looking at other developers of important medical advances. Now, a mature company with impressive sales and earnings growth, Intuitive Surgical (NASDAQ:ISRG) has an $11 billion market cap. Companies that have yet to bring products to market but have very promising medicines and are well along the FDA regulatory pathway include HGSI (market cap $5b), DNDN ($3B) and MDVN ($1.2B), but these are generating little or no product revenues. Stem cell companies like GERN ($590m) and OSIR ($239m) have had no better than equivocal trial results, have no commercial stem cell products, are years away from having one and have inconsequential product revenues.

What is the current sentiment on the stock? How does your view differ from the consensus?

Sell side coverage (three covering analysts) is evenly divided with a sell, hold and buy. Particularly comforting from a contrarian point of view is the fact that only one analyst has a price target above the current stock price. We believe that all of the covering firms are unwilling to bet on the cardiac results and undervalue the near-term opportunity in plastic and reconstructive surgery. Moreover, the company's most recent quarters were choppy from a financial perspective.

We differ in believing that in plastic and reconstructive where the company has the most substantive clinical trial and user results that the company is moving through the early adoption stage and will shortly hit an inflection point where it becomes a "pull" marketing effort. We think the sell side and buy side both are slow to grasp the import of the early signs of the cardiac trials. We believe that the Cytori technology is a game changer in the treatment of heart attack and chronic myocardial ischemia and think that the Apollo and Precise results will be eye (and stock) popping. Its therapeutic applications such as cardiac, renal, and urological when fully developed will impact health care and its cost significantly more than ISRG DNDN, HGSI and MDVN. These highly valued analogues do not have the multiple therapeutic applications that the CYTX technology does. As such we expect a radical change in valuation as the perception is updated to the Company's near-term progress and full potential.

Does the company's management play a role in your position? If so, how?

As an entrepreneurial venture, we consider management a critical determinant in success. We have had many interactions with senior management and find their passion for their company is well complemented by a highly analytical approach to building the business. We also find they are shareholder oriented and aligned by a large personal ownership of CYTX shares including meaningful purchases in the last 12 months.

The depth of management is also impressive. The company's regulatory, research, sales and marketing leaders have both a depth of experience in the medical device space and a passion for the clinical benefits of the CYTX technology.

What catalysts do you see that could move the stock?

Not necessarily in this sequence, but all over the next three to six months:

1. Cardiac Results (Both Apollo and Precise)
2. Improved financial results Q4 vs Q3
3. One or more strategic partnerships with large non-dilutive capital infusions
4. Breast reconstruction trial results (Restore II)
5. 510-k approval
6. Next gen device Celution One developed by Olympus approved in Europe

What could go wrong with this stock pick?

All early stage med-tech companies have financing risk, speed of adoption risk and poor clinical trial result risk. While we are satisfied, we have appropriately handicapped these risks - caveat emptor.
Thank you very much, Joe
My pleasure.
Disclosure: Joe Feshbach's fund has a long position in CYTX