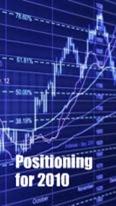 As 2009 drew to a close, the stock market became range-bound, which may have seemed surprising after the extreme volatility at the outset of the year and the nearly unrelenting climb from the March lows. Nevertheless, the upward trend narrowed as investors reassessed their appetite for riskier trades and digested the most recent economic news, not to mention subtle changes in the Federal Reserve's communications with the public.
Come January, however, stocks launched decidedly into positive territory, shaking off their year-end stupor with conviction. After meandering through two holiday-shortened weeks of light trading, which had pulled stocks slowly higher all the same, the first trading day of 2010 was much more reminiscent of the trading that had pulled most assets well off their 2009 lows. All fingers pointed at the weakening U.S. dollar as the chief culprit. The greenback resumed its inverse relationship with most asset classes, including commodities, which were also up in early January.
Gold and oil stole the headlines within the commodity markets, as most analysts and investors were looking for signs that the inflation trade was back on. Gold had corrected more than 10 percent from its peak levels in December, and it could once again offer favorable risk-adjusted returns. Whenever the price of an asset moves into record territory with the vigor that gold just did, some analysts are apt to call gold expensive and heading toward bubble territory. However, because gold does not conform to traditional pricing mechanisms or models, as stocks and currencies do, one of the best ways to determine gold's position along the spectrum of undervalued to overvalued—or whether it has entered into the mania that generally creates an unsustainable bubble—is to tie gold to monetary reserves. According to UBS, this would be considered an "equilibrium value for gold," even though we as investors still lack any universally accepted standard model for gold's pricing.
Back in January 1980, which was the height of the last mania for gold, U.S. gold reserves were sufficient to cover America's monetary base by one-and-a-half times. UBS estimates that in order to cover today's $1.78 trillion monetary base, gold would need to reach $6,790 per ounce for a one-to-one ratio, and the metal would need to climb to an astounding $10,185 per ounce to reach the same 1.5 coverage. This does not take into account global monetary reserves, which have grown substantially since the end of Bretton Woods in the late 1970s.
Moreover, the metal has not yet reached extreme levels relative to other commodities, such as oil, or even stocks. One only needs to look back to the first quarter of 2009, when an ounce of gold bought 25 barrels of oil, compared with today's 14 barrels. Currently, the price of gold relative to the S&P 500 is approximately 1-to-1, vs. 1.3-to-1 in early 2009, or as high as 6-to-1 during the frenzied period of January 1980, which was when gold last attracted this much attention and struck successive new highs.
But most analysts at this point are content to use price targets based on standard charting, or even to view the price of gold in inflation-adjusted dollars, which would put gold above $2,300 per ounce, more than double the current price. More important, after a decade of successively higher prices, gold remains in a bull market until proven otherwise, and I am apt to hold this position as the New Year unfolds.
Another area that is expected to remain bullish is international equity markets, where 2009 breakouts have allowed for higher target levels. The primary uptrends of many foreign markets remain intact, as support levels hold—and elevate key moving averages as a result. Momentum still favors emerging and developing nations, even though corrections or consolidation periods are warranted, given the near straight-line ascent of many of those markets. Although we have seen some rotation toward multinational stocks of higher quality while certain emerging-market indices struggle with key resistance, additional time is needed to determine whether this is a pause or a change in the short-term global outlook.
Last year, the best-performing ETF within my model portfolios was iShares MSCI Chile Investable Market Index Fund (NYSEARCA:ECH), which gained 74 percent after being added to the Sector and International portfolios in early March. ECH provides broad exposure to the country's economy, and it is evident by its sector weightings that this fund is more diversified than many other single-nation ETFs. Rather than focus mainly on a single industry, ECH spreads more than 65 percent of its assets across the utilities, materials and industrials sectors. Top holdings include Empresas Copec (at 13.40 percent), Empresa Nacional de Electricidad (NYSE:EOC) (at 10.55 percent), Enersis (ENI) (at 9.98 percent), and Sociedad Quimica y Minera de Chile (NYSE:SQM) (at 7.12 percent) as of November 30.
Chile was recently named to the Organisation for Economic Co-operation and Development (OECD). Acceptance into the elite organization is a signal that the OECD views Chile as a promising environment for steady economic growth. The country now joins Mexico as the only Latin American countries in the group. I am also growing increasingly bullish on iShares MSCI Mexico Investable Market Index Fund (NYSEARCA:EWW), which, like the nation's economy, has itself weathered the global downturn better than expected. Mexico has been cushioned from the full impact of the U.S. recession by its extensive access to commodities—especially oil. Mexico is the third-largest supplier of oil to the U.S. and is the world's tenth-largest crude producer. Rebounding oil prices have supported revenues for the government, which controls the country's oil industry and relies on oil for more than one-third of its revenues. Mexico also exports silver, copper, fruits, coffee, cotton and other major commodities—so as long as commodities prices continue their upward trend, Mexico can insulate itself from the worst effects of the troubled U.S. economy.
Also supporting the fund is the Mexican peso, which could appreciate another 6 percent in 2010. The currency has weathered credit downgrades and the recent U.S. dollar strength quite well. The ongoing global recovery, especially in the U.S., will support Mexico's exports. Any hawkish moves from the Mexican central bank will also provide investors with greater incentive to hold the peso instead of the U.S. dollar.
Another dominant theme of 2009 that I expect will continue in the New Year is the market leadership of information technology (IT) stocks. This pattern effectively began in November 2008, when the S&P Information Technology Sector started recording a higher-low pattern through March 2009, when other Standard & Poor's sectors were still making new lows and seemingly accelerating to the downside. The broader IT sector has now punctured the downward trendline that dates back to its all-time high in 2000, having appreciated nearly 90 percent from the March lows and more than 60 percent year to date. Followers of the Sector Portfolio have had exposure to iShares S&P North America Software Index Fund (NYSEARCA:IGV), which I continue to recommend due to the positive outlook on this highly profitable industry in particular. The rebounding global economy and the need for companies to play catch-up after two years of cutting expenses and delaying IT expenditures will support this fund in 2010.
Exploring Technology ETFs
Performance, momentum and innovation are all important factors driving the technology sector as we enter 2010. The broader IT sector has now broken the downward trendline that dates back to its all-time high in 2000, and has appreciated nearly 90 percent from March 2009 lows.
From innovative smartphones to "tablet" computers and 3-D TV, technology consumers and investors have a lot to look forward to in 2010. After two years of cutting expenditures, the IT sector is poised to continue its recent performance in the year ahead.
Whether you are looking for broad exposure to industry giants, or specific access to subsectors, ETFs offer inexpensive ways to track tech. With an eye toward liquidity, strategy and composition, these are some of the top tech ETFs to watch in 2010.
Broad Technology ETFs
There is a wide range of broad-based ETFs that all provide access to the biggest names in tech, as well as a comprehensive list of such technology subsectors as computer hardware, software, semiconductors, Internet, and IT services.
Large, liquid funds such as the Vanguard Information Technology ETF (NYSEARCA:VGT), iShares Dow Technology ETF (NYSEARCA:IYW), Technology Select Sector SPDR Fund (NYSEARCA:XLK) and iShares S&P North American Technology Sector Index ETF (NYSEARCA:IGM) all count dominant tech companies like Microsoft (NASDAQ:MSFT), Apple (NASDAQ:AAPL) and Google (NASDAQ:GOOG) among their top holdings.
While all these funds offer similar exposure, iShares S&P North American Technology Sector Index ETF (IGM) stands out from its peers when portfolio balance is considered. Launched in 2001, IGM has more than $400 million in net assets and a respectable average daily trading volume of 82,000 shares. IGM tracks the S&P North American Technology Sector Index, which is composed of 234 holdings and has an expense ratio of 0.48 percent. The top five holdings in the fund are currently Microsoft, Apple, IBM, Google and Cisco (NASDAQ:CSCO).
Many of IGM's peers, such as IYW, VGT and XLK, share similar top holdings, but IGM's composition makes this fund stand out. For example, IGM, IYW, VGT and XLK all have Microsoft as their No. 1 fund holding, with 7.77 percent, 12.06 percent, 9.7 percent and 10.35 percent allocations, respectively. By limiting its Microsoft exposure to 7.77 percent, IGM reduces the security-specific risk for MSFT, while still offering solid exposure to this top tech firm.
Looking at portfolio balance in a broader sense, IGM's top 10 holdings make up just 54.75 percent of the fund's total portfolio, while the top 10 holdings of IYW, VGT and XLK make up 64.49 percent, 57.6 percent and 62.56 percent of those portfolios, respectively. IGM's larger number of components and lower portfolio concentration help to make this fund more balanced.
While IGM is a solid pick for a broad-based tech ETF, prospective investors should consider two important factors. IGM, unlike peers such as XLK, does not include telecommunications firms in its benchmark index. Investors who are particularly interested in this subsector of the tech industry should consider a more specialized ETF, like iShares S&P Global Telecommunications (NYSEARCA:IXP), which will be discussed further in this article.
Second, investors considering a broad-based tech ETF should examine their existing holdings and be mindful of portfolio overlap. The tech sector, for example, makes up nearly 20 percent of the S&P 500 Index. IGM, in particular, also shares nearly half its holdings with the PowerShares QQQ (QQQQ) ETF, a popular portfolio staple. So, before adding any broad-based tech ETF, examine existing holdings in your portfolio—particularly funds like the SPDR S&P 500 ETF (NYSEARCA:SPY) and QQQQ—to make sure that you don't create unintended pockets of over-concentration in your overall portfolio.
Specialized Sub-sector ETFs
With so many specialized areas of the technology industry, some investors may be looking to use ETFs for a more specific play. While there are many narrowly-themed tech ETFs to choose from, investors should be even more mindful of issues of liquidity when choosing a subsector ETF.
Investors in the ETF Report's Sector Portfolio have had exposure to iShares S&P North America Software Index Fund (IGV). This specialized portfolio provides exposure to big industry names like Oracle (NASDAQ:ORCL), Adobe Systems (NASDAQ:ADBE) and Microsoft, while limiting exposure to any single company to less than 9 percent. The hallmarks of the software industry are rivalry and innovation, and IGV is a good way to capture the performance of this group as a whole.
IGV is anchored by firms with entrenched software programs, offering investors some stability in a volatile sector. From Microsoft's Windows operating system to Adobe's Acrobat and Intuit's (NASDAQ:INTU) TurboTax program, many of the firms in IGV's portfolio have significant competitive advantages. As corporations continue to catch up on their IT spending, IGV could have a promising year ahead.
Investors interested in the global telecom sector should consider the iShares S&P Global Telecommunications ETF (IXP). While this fund is top-heavy with global leaders like AT&T (NYSE:T) and Vodafone (NASDAQ:VOD), it presents a unique opportunity for dividend-seeking investors. Representing a diverse range of products in a wide range of geographical locations, IXP is a different twist on the traditional telecom fund.
Another unique technology play is the First Trust Dow Jones Internet Index (NYSEARCA:FDN), which we plan to add to our Power Index Tables this year. FDN's portfolio is composed of 41 companies that derive at least 50 percent of their revenue from online sales. Top components include firms like Google, Amazon (NASDAQ:AMZN), eBay (NASDAQ:EBAY) and salesforce.com (NYSE:CRM). As bargain-seeking shoppers increasingly turn to the internet for shopping, this fund should continue to benefit from both consumers and the higher profitability of software companies.
As companies continue to recover from recessionary cuts, and a new generation of highly-anticipated tech products hits the market, both broad- and focused-tech ETFs are poised to benefit in 2010. Investors looking to target a specific tech area, or add long-term tech exposure to a diversified portfolio, should assess their objectives and consider adding a tech fund now for the months ahead.