Many of our previous articles have profiled high dividend stocks which also happen to be stocks with undervalued growth. Many of them have high options yields, but very few have yields and growth like this week's focus stock, which looks very impressive from many angles.
How often have you run across a dividend paying stock with growth numbers like these?


Questcor Pharmaceuticals, (QCOR), is a biopharmaceutical company focused on the treatment of patients with serious, difficult-to-treat autoimmune and inflammatory disorders.
QCOR's main product, Acthar, which has 19 FDA-approved indications, is currently used in the fields of neurology, nephrology and rheumatology, areas of medicine which have significant unmet medical needs. The company is focused on increasing the usage of Acthar among specialists who treat patients with multiple sclerosis, infantile spasms, proteinuria in nephrotic syndrome, dermatomyositis and polymyositis, AND is also actively researching other applications for Acthar. QCOR doubled its R&D spend in 2012, and has 70 different projects with funding to accomplish this - with pre-clinical and clinical studies, and independent "physician sponsored studies.'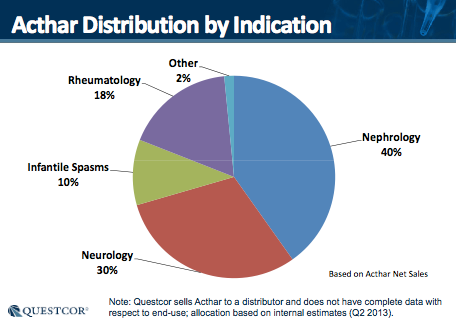 Like many biotech stocks, QCOR has soared over the past year:

Fortunately, QCOR's earnings have also soared, and its current P/E is closer to the lower end of its five-year P/E range. Analysts are forecasting continued strong growth for QCOR, which looks undervalued on a 2013 and 2014 PEG basis:

However, QCOR is commanding a premium vs. its industry, on a Price/Book and Price/Sales basis: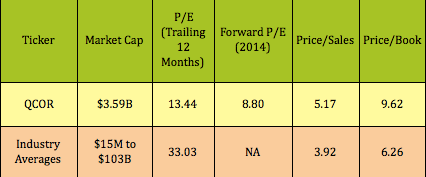 Dividends: Since initiating dividends in October 2012 with a $.20 quarterly payment, QCOR has increased its dividend twice in 2013, to $.25 in April and July, and recently to its current $.30 level. Although it's not a high dividend stock, QCOR's 2%-plus current dividend yield is the second highest in the biotech industry, which currently has less than 3% of its stocks paying dividends.

Negative News: By this time you may be looking for the proverbial "fly in the ointment." Not to worry, there is one - the company recently told analysts that the U.S. Securities and Exchange Commission and the U.S. Attorney's Office for the Southern District of New York are now participating in an ongoing investigation by the U.S. Attorney's Office in Philadelphia, (which began in 2012), concerning its promotional practices. There's an excellent article by one of our SA colleagues, which explains the recent history of pharma fines, which appear to be in the range of $136 to $250 million. This would equate to around $5/share. The article also points out that these cases usually take over 3 years to resolve.
How To Earn Big Yields Now From Current Fears: QCOR has very high options yields, which you can profit from, by selling out of the money covered calls or cash secured puts. Other benefits from these strategies: 1. Cash Flow - You get paid the option money now, vs. waiting for dividends; 2. Tax deferra l- If you hold the position into 2014, any taxes on potential profits won't be due until 2015.
Covered Calls: The April 2014 trade below offers you a call premium of $10.50, an 18% nominal yield in just 5 months, (over 40% annualized). The $60.00 strike price is $1.66 above QCOR's $58.34 share price, so the potential assigned price gain outweighs any loss of dividend income. You can see more info for this and over 35 other trades in our Covered Calls Table:

Here are the 3 main scenarios for this trade:

Put Options: The alternative would be to sell cash secured puts below QCOR's share price, in order to achieve an even lower breakeven cost, and margin of safety, (which is what we did). This April 2014 trade has a $55.00 strike price and pays a $10.20 put premium, (an 18.5% nominal yield). In addition it has lower breakeven of $44.80, which is 16% below QCOR's $58.34 price/share.
You can see more info for this and over 35 other trades in our Cash Secured Puts Table:

Financials: As if QCOR's growth figures weren't enough, it also has ROA, ROE, ROI and Margin Ratios which crush its industry averages:

Disclosure: Author was short QCOR put options at the time of this writing.
Disclaimer: This article was written for informational purposes only.
Disclosure: I am long QCOR. I wrote this article myself, and it expresses my own opinions. I am not receiving compensation for it (other than from Seeking Alpha). I have no business relationship with any company whose stock is mentioned in this article.
Additional disclosure: I'm long QCOR, via being short QCOR put options