After Tesla Motors (NASDAQ:TSLA) reported earnings on Monday afternoon, the stock plunged 12% after hours, and it fell another 2% on Tuesday. As I read through the conference call transcript, I found there was very little to criticize. The company is executing exactly as projected, right on schedule. So I was motivated to buy a few shares.
Of course, I know that Tesla is "overvalued." Anybody who scans Seeking Alpha, ever, knows that. "The fact of the matter is that this company is a bubble no matter which way one slices and dices it." But then how could I rationalize my purchase? Is it possible that I had thrown logic to the wind and made a stupid decision? Fortunately, I came up with this time travel analogy to rationalize my purchase, and now my psyche feels oh so much better.
Imagine that you were offered the opportunity to time travel back to 2005 and purchase Apple, Inc. (NASDAQ:AAPL) stock at $100. Of course, AAPL was trading in the fifty dollar range back then. Any contemporary analyst would have scoffed at $100/share. In fact, here are a few humorous analyst comments from that period before Apple took off --
April 2005: "Investment firm American Technology Research on Tuesday cut its long-standing Buy rating on shares of Apple Inc. to Neutral, citing near-term concerns with the stock's valuation, high expectations on the part of investors, and a potential product vacuum ahead of the third calendar quarter."
November 2005: "In a research note published this morning, the analyst mentions that the downgrade in rating is based on valuation. Apple Computer's share price has appreciated significantly over the past one year on account of the launch of new iPods and Macs, and the company's robust financial results."
Nov. 4, 2005: "Prudential downgrades Apple from 'Overweight' to 'Neutral' with a $67 price target, citing valuation."
So would you accept the time-travel offer and load up on Apple stock at $100? Of course you would, because you know that Apple will soon invent two new industries and become the leader in both. Within two years, your new Apple stock will double, and within five years it will quintuple.
By the way, the tech bubble crash of 2000 is now just a dimple in Apple's chart.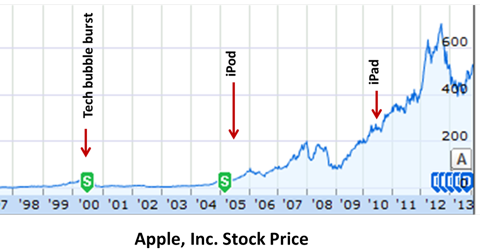 How does this tie in with Tesla Motors? I think the parallels as far as an overvalued company which has the potential to dominate a nascent industry are obvious. The big difference, I would argue, is that nobody could predict Apple's innovations, so Apple's transcendence wasn't priced into the stock years in advance. With Tesla, Elon Musk has laid out a very clear plan to achieve his goals. Since investors can clearly see the path to the finish line, they are willing to accept a big multiple.
Disclosure: I am long TSLA, F. I wrote this article myself, and it expresses my own opinions. I am not receiving compensation for it (other than from Seeking Alpha). I have no business relationship with any company whose stock is mentioned in this article.