Amarin (NASDAQ:AMRN) reported its earnings after the bell today, Thursday November 7th. It reported a loss of $0.25/share, excluding non-recurring items, (generally better than expected as estimates were around $0.30/share loss) and $8.4 million in revenues from Vascepa.
In addition, Amarin reported the following accomplishments:
Recognized $8.4 million in product revenue from Vascepa® sales in Q3, the second full quarter of Vascepa sales, as compared to $5.5 million in Q2
Normalized prescriptions, based upon data from Symphony Health, increased by 58% in Q3 to 74,576 from 47,335 in Q2
Improved formulary access by increasing number of lives covered with Tier 2 status to 92 million with over 200 million lives covered on formulary overall
Increased the number of physicians prescribing Vascepa to over 13,000
Surpassed 6,000 patients enrolled in the REDUCE-IT cardiovascular outcomes trial in which the mean and median baseline triglyceride, or TG, levels in patients participating in the study to date are > 200 mg/dL, a level which is intentionally higher than studied in recently conducted outcomes trials of other prescription lipid modifying therapies
Increased patents issued or allowed in the United States to 37, adding 10 in Q3, which include multiple claims directed at the administration of pure EPA to lower triglycerides with or without statin therapy (26 year-to-date), all but two of the 37 have patent terms extending into 2030, with more than 30 additional patent applications being prosecuted in the United Statesalone
Completed an equity financing resulting in approximately $121.2 million in net proceeds helping to provide an improved financial foundation for the company
Reduced worldwide staffing by half in October to reduce costs and better match the operational size of Amarin for commercialization of the current indication for Vascepa following a negative recommendation (2 to 9 vote) from an FDAadvisory committee on the pending ANCHOR sNDA
It's been a brutally unceremonious ending to the year over in Amarin's stockholder camp. The stock is up 7% after the call Thursday, which nowadays equates to a paltry $0.11.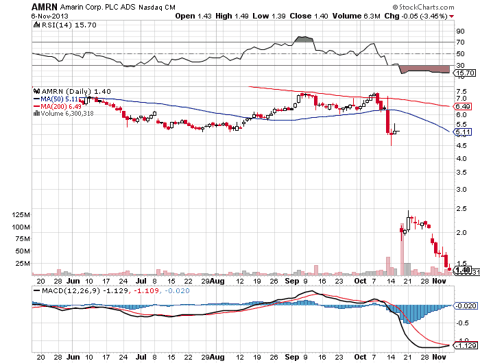 In addition the FDA's ADCOM panel denying Amarin's Vascepa for its ANCHOR indication, the FDA then went on to say that they had rescinded the ANCHOR study special protocol assessment agreement due to the fact that the FDA had determined that "a substantial scientific issue essential to determining the effectiveness of Vascepa in the studied population was identified after testing began." Amarin disclosed this in a sole 8-K two weeks ago, and the stock took another clip; losing almost another 20% on top of 70%+ losses earlier in the month after ADCOM.
Equally as important as to what the company reported was the subsequent conference call that took place after the market closed. The call, in my opinion, points to dark roads ahead for the company.
Here's some of the things that I was looking for from Amarin to perhaps renew a little faith from its shareholder base:
Remember the shareholders, Amarin? They people who helped celebrate when the FDA approved Vascepa. The ones who held out, hoping for the $30 buyout? The ones who thought ANCHOR was going to be a slam dunk and lead to company success? Well, now's the time to pay attention to those people. If Amarin's management can come out on November 7th, offer a resolute plan and sound like they mean it - while showing some signs of compromise (cutting executive pay & maybe insider buying) - Amarin might be able to salvage their conference call - and, their company.
We can at least say, from the get-go, that this is the first time I've ever heard some type of fire in the voice of Amarin's CEO, Joe Zakrzewski - what the intentions were behind his display of emotion were, either genuine ambition or struggling to save his job, I couldn't discern. It was at least refreshing to hear some emotion from him - it's sad that it took a 90% haircut on the stock price to make it happen.
The call, and its recurring theme, was centered around the fact that Amarin simply thinks that the FDA ADCOM panel got their decision wrong, and that Amarin plans to fight it. I'm not the smartest guy in the world when it comes to biotechs, but fighting the FDA - who has unlimited resources and can be stubborn as government organizations sometimes are - is not the plan that I was looking for to possibly see any type of future for Amarin.
In reality, the plan that I would have implemented would have been to suspend REDUCE-IT immediately, and continue to focus on Vascepa's MARINE indication while focusing on getting the company to some type of profitable state. Then, go off and fight the FDA if you want. Amarin has neither the time nor the money or resources to waste going after the FDA because it "thinks they're wrong".
Amarin continued to reiterate that their goal is to collaborate and appeal to the FDA - to keep fighting for the ANCHOR indication. So, again, this isn't a good strategy, but my guess is the market is rewarding them for at least having ANY strategy and sounding like they're hell bent on implementing it - regardless of how unrealistic and asinine it is.
Joe then went on to apologize to shareholders for not keeping them as informed s they would like with regards to what the company's post-ADCOM plans are. He didn't, however, apologize for the major money lost, although a couple of times he threw around sayings like "we're all in this together", even if he's the only one that cashed out millions courtesy of stock buyers any time recently.
"Our silence does not mean complacency."

- Amarin
With regards to REDUCE-IT, which I believe should be cut due to costs, they commented that they haven't' decided whether or not to keep it going. They commented that it would be tough to fund it without the ANCHOR indication going through. They have about a 1% chance of winning a fight against the FDA, so why not just call REDUCE-IT a day and save themselves the time?
Vascepa has, however, had good momentum in the MARINE indication, with over 13,,000 physicians prescribing it. A success story is with regards to Vascepa's 70,000+ total prescriptions. If the company can find a way to monetize this into net profit, it would be a great way to get the fundamentals in order before wasting time and money on a fight with the FDA.
Joe Z noted that all key outreach efforts of Vascepa sales are functional, and that sales should continue to grow. It was also brought up that the company was looking to save costs by reviewing co-promotion opportunities. Instead of that, they should not be fighting the FDA, and not be continuing REDUCE-IT.
At numerous points in the call, Amarin executives said that they recognize the FDA's governance and opinion, but they're wrong. That doesn't cut it for me. If they really had a grasp on what type of organization the FDA is, they wouldn't bother trying to fight them.
They concluded in several different directions, almost all of which contradicted themselves and each other.
They said that there's questions that can "only be answered by the REDUCE-IT trial", but they're not sure if they can continue it.
They said its a lengthy appeal process with the FDA, but they're going to see it through all the way. Executives said they've requested meetings with high level FDA officers. If those aren't granted, well - they didn't offer a backup plan.
They continued to conclude by pushing their fruitless goal to "convince the FDA" with regards to approving ANCHOR.
So, Amarin has a plan, but it's not a very good one. At this point in time, Amarin continues to carry with it a substantial risk of total loss and should not be looked at as a serious investment until the company decides to focus on its MARINE indication and cut all other costs, hopefully bringing the company profitable.
This call said there's dark days ahead, and Amarin should be avoided at all costs.
Best of luck to all investors.
Disclosure: I have no positions in any stocks mentioned, and no plans to initiate any positions within the next 72 hours. I wrote this article myself, and it expresses my own opinions. I am not receiving compensation for it (other than from Seeking Alpha). I have no business relationship with any company whose stock is mentioned in this article.