The Great Recession has been a boon for discount stores, and off-price retailers have been perhaps the largest beneficiaries of shifting consumer attitudes towards frugality. TJX Companies (NYSE:TJX), parent company of TJ Maxx & Marshall's, and competitor Ross Stores (NASDAQ:ROST) have drawn in thrifty consumers throughout the recession with an assortment of brand-name goods at closeout prices.
These two are no strangers to success, with both retailers sporting strong and steady growth over the past decade. Ross Stores has posted 10-year compound annual sales growth of 11.5% and net income growth of 8.6%, while TJX has seen CAGR of 9.1% in sales and 7.8% in net income. Over that period, Ross Stores has nearly tripled its store base from 349 to just over 1,000 while TJX has more than doubled its store count from 1,246 to 2,755 stores worldwide.



While neither chain was totally immune to recessionary forces, posting modestly negative sales results for several months after Lehman Brother's collapse, momentum picked up throughout 2009 highlighted by an extremely strong December which saw same-store sales up 12% at Ross Stores and 14% at TJX. For the 11 months ended January 2, 2010 TJX posted increases of 8% in net sales and 6% in same-store sales, while Ross Stores saw net sales up 11% and same-store sales climb 6%.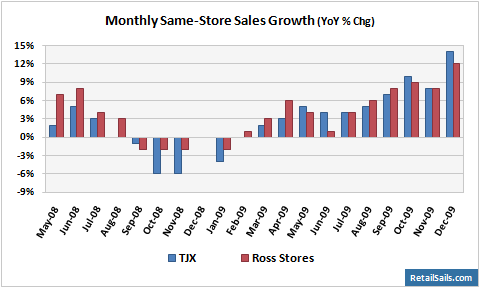 Some are skeptical this momentum will carry over into 2010: Oppenheimer analyst Robert Samuels lowered his rating on the two companies, as well as teen retailer Aeropostale to "Underperform" from "Perform", stating "While we think Aeropostale, Ross Stores and TJX are all very well-managed companies, they have benefited over the past 18 months from the consumer trade-down, which we think has peaked,"
We disagree with that sentiment. Both TJX and Ross Stores have certainly benefited from the trade-down consumer, taking market share away from both traditional department stores and apparel chains. They also had a much larger pool of merchandise to source from, as manufacturers and retailers alike were forced to part with a huge glut of unsold inventories at fire-sale prices. However, past recessions have shown that frugal shoppers are slow to return to their free-spending ways. Consumers continue to describe their finances as "dismal", and as last week's reports on unemployment and housing showed, we are a long way from a true recovery on Main Street.
Carol Meyrowitz, President and CEO of TJX, said it best in the December sales release: "We believe consumers will remain focused on value as the economy improves, which has been the case when previous recessions have abated. In fact, we believe that this will hold true to an even greater degree as this recession abates, which bodes very well for our future."
Other analysts believe that because inventories have been slashed throughout the supply chain, TJX and Ross will have a hard time sourcing merchandise going forward. Traditional department stores, especially upscale chains, have built up their own off-price stores to help offload excess inventories and highlight lower-priced lines, including Saks (Saks off 5th), Nordstrom (Rack Stores), and Neiman Marcus (Last Call Clearance). But TJX and Ross are never complacent, constantly adding suppliers to mitigate those worries – TJX has added over 2,000 vendors in just this fiscal year alone.
Both TJX and Ross have shown for many years they know who their shoppers are and what they want. They have succeeded through both booms and busts, constantly adjusting and adapting to shopper tastes and attitudes. While some of the consumers who have traded down to off-price stores will eventually return to higher end shops, we believe both chains have taken advantage of the recession to build stronger companies and brands, and will continue to be among the best retailers in 2010 and beyond.
Author's Disclosure: No Positions