Anadys Pharmaceuticals (ANDS) has been building a base at around $2 since mid-2006, and now one investor is looking for a rally.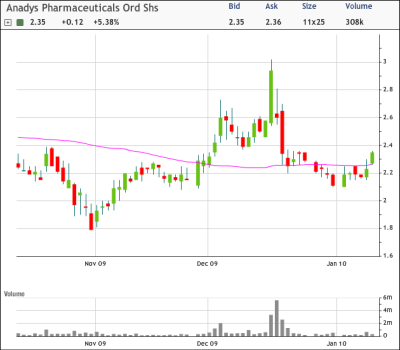 optionMONSTER's Heat Seeker tracking program detected the purchase of 4,000 March 2.50 calls for $0.40 and the sale of an equal number of March 5 calls for $0.05. The trade cost a net $0.35, and volume was more than six times open interest in both strikes.
ANDS rose 5.38 percent to $2.35 in morning trading. The micro-cap drug developer attempted to rally on Dec. 17 after reporting its ANA598 hepatitis C treatment achieved positive results in a Phase II trial.
Today's bullish call spread will earn a maximum profit of about 600 percent if ANDS closes at or above $5 by expiration.
The trade pushed overall options volume in the name to more than 10 times greater than average, with calls outnumbering puts by 201 to 1.

(Chart courtesy of tradeMONSTER)