AOL (NYSE:AOL) has been slowly turning things around as it migrates from an Internet portal to a media company. While it continues to face challenges, it is emerging as a legitimate digital platform to place advertising against, and in that area is growing at a decent pace.
What has been dragging the company down is costs, which continue to weigh on the company with its local Patch news network, which has disrupted an otherwise good growth story.
Nonetheless, robust digital ad growth, especially in the video business, bodes well for the long-term fortunes of the company and its shareholders.
After bottoming out at $11.78 per share on August 8, 2011, AOL has now moved up almost four times that, trading at $43.61 per share as I write. Over the last year it has been very volatile, swinging from a low of $29.16 to as high as $43.77.
If the company can get some of its costs under control, I see it not only leveling off, but growing at a steady pace into the future. Assuming it can continue its successful foray into premium digital video content ads, AOL shouldn't have trouble reaching the $50.00 per share mark in relatively short time. Spending will probably prohibit that from happening in the fourth quarter, but it could reach that level in the early or mid-point of 2014.
On the other hand, if it continues to struggle with Patch and costs associated with expanding its brands, it'll reverse direction and perform as it has in the past, dropping probably in the mid-30s range for the share price. I think with the video growth the company has found a floor, as it will continue to grow revenue.
source: StockCharts.com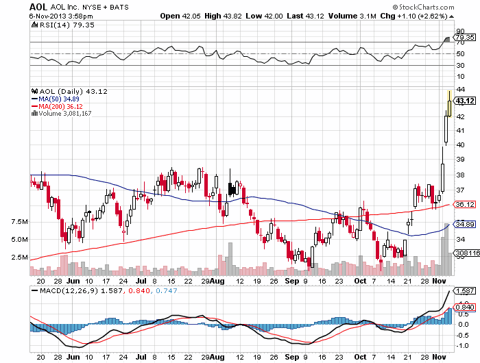 Revenue
In the third quarter of 2013, AOL boosted its revenue to $561.3 million, a 6 percent gain from the third quarter of 2012. Analysts had been looking for $549.5 million.
Of that revenue, subscriptions accounted for $161.6 million, a 7 percent decline from last year's $173.5 million in subscription revenue. Advertising revenue on the other hand increased by 14 percent. This is good news, as it shows the company is able to overcome the gradual erosion of its dial-up business by growing its advertising revenue faster than it is losing subscription revenue. The print media industry hasn't been able to do that in its move to digital platforms.
As measured in dollars, the advertising revenue gain was about $26 million, while the subscription revenue loss was $11.9 million.
Ad Revenue
General metrics show that traffic to websites owned by AOL was up 4 percent in the quarter, as the company increased advertising revenue for the third quarter in a row, and the tenth quarter in a row globally.
Since the future performance and growth of AOL is tied into digital ad revenue, we'll look at that in detail in order to understand where the company is and where it's going in that area.
In the third quarter of 2013, AOL generated advertising revenue of $386 million, up 14 percent year-over-year.
Its Third Party Network grew the most, gaining 32 percent. Accounting for the bulk of Third Party Network revenue was video, which a very positive outcome for AOL.
The good news there is 17 percent of video ad revenue growth was organic, with the remainder coming from Adap.tv.
Display Ads
How I see it is in the display ad business is it will be led by its real-time bidding (RTB) strategy, which it is aggressively deploying.
According to eMarketer, RTB spending in the U.S. has been soaring, growing from about $2 billion in 2012 to an estimated $3.34 billion in 2013. By 2017, it sees real-time bidding climbing to 29 percent of all digital display spending by 2017.
If AOL is able to grab a bigger share of RTB spending by 2017, it will surprise a lot of people. This would be done by successfully leveraging its supply side platform ADTECH Marketplace and its demand side platform, which focuses on video ads. Assuming only a five percent capture of RTB, it would grow display ad revenue by about 50 percent. A reachable 10 percent of RTB revenue would double the display ad revenue of AOL.
Current global display revenue climbed 5 percent in the third quarter as a result of pricing power. Search revenue for the firm was up by 3 percent.
source: eMarketer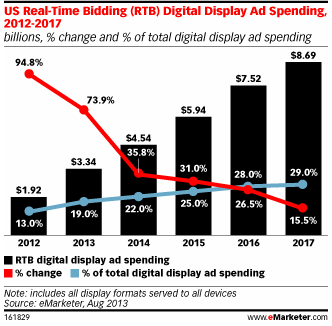 Competition and Growth
Much is being made about the strong competitive market AOL competes in, but over the next few years, I don't see that as being a growth problem for it.
In 2013, AOL's share of the $117.6 billion global digital ad market is projected to decline to 0.94 percent, down from 1.17 percent in 2011 and 1.02 percent in 2012.
The problem is AOL is being compared against the growth of competitors like Facebook, which last quarter had digital ad revenue soar by 66 percent, against the comparatively small 14 percent of AOL.
A couple of things have to be considered here. First is the growth in video ad revenue by AOL, which is the most desired revenue, as it generates the greatest return. In that area, AOL has become the top video ad company in the world, with about 3.7 million ad views in September, according to comScore. In contrast, the higher visited Google video sites resulted in 3.2 million ad views. The reason for that is of course the quality of video content offered by AOL in contrast to Google's predominantly user-generated content.
source: comScore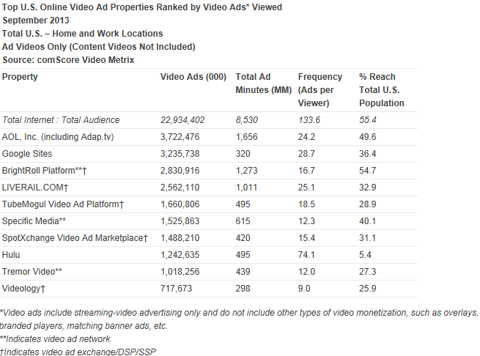 Why I'm not concerned about market share at this time is because the digital ad space is growing so quickly. So even if AOL continues to lose market share, it will continue to grow ad revenue because of market forces.
Over the longer haul, it is of course an issue because eventually the digital ad marketplace will reach its upper limits, and at that time AOL could be devastated if it doesn't continue to take market share away from its competitors.
This is why I like the position AOL has taken in digital video, as that is going to be the growth area of the future, and AOL has taken the lead there.
So while Google, Facebook and Twitter are growing faster than AOL in digital ad market share, the company will benefit from the pace and size of the market, even if it continues to lose share. Again, that will work for several years until digital ad spend matures. At that time, it will face a crisis if it doesn't find a way to grow digital revenue. Unless the company drops the ball on digital video, I think it has a decent chance of solidifying its digital ad revenue base and growing it out from there.
To get an idea of the digital video ad growth for AOL, in August, the combination of video ads of the company and Adap.tv wouldn't have reached the number of video ads watched on Google. The fact that together they now have blown past Google is what I see as the major reason AOL may be vastly underrated as to its possible growth in the future.
Video Ad Revenue
AOL is increasing its Third Party Network revenue, with 17 percent of the 32 percent in growth coming from organic video sales, and a big part of the rest from the acquisition of Adap.tv.
Digital video ad revenue is the most highly sought after because it brings the best return per ad, and it is on its way to becoming the fastest-growing digital ad segment. Mobile holds that distinction now, but that will change over the next couple of years.
With that in mind, AOL could be underrated concerning digital ad revenue growth. The future growth of the company is now predicated upon if it can continue to grow out this vital business. If it is successful, it could far surpass expectations. If it falters, I don't see where the future revenue will come from. I say that because search revenue grew by 3 percent and global display was up 5 percent. With subscription falling 7 percent, you can see that altogether growth would be only 1 percent.
AOL is now locked into digital video as its growth engine, its branded properties, and its Third Party Network, all of which are entwined together.
Another element that is difficult to measure at this time is the web video network that came with the Adap.TV acquisition. Integrated editorial with what AOL already has could generate more revenue over time, and should boost the competitiveness of AOL on the ad network side.
Keep in mind that video ads are part of the display ad network, but I separated them for clarity.
Patch and Earnings
The local news site Patch.com continues to weigh heavily on the performance of AOL, as it was a significant part of the $44 million in restructuring and impairment costs, which dropped the net income for the quarter down to an anemic 2 cents a share. If not for that performance, AOL would have generated earnings of 55 cents a share.
Last year in the same quarter, the company had earnings of $20.8 million, or 22 cents a share.
AOL has kept its promise to slash the number of local Patch sites and the employees working in them. About 40 percent of Patch employees have been let go, with about 400 of the local sites closed or affected by the changes.
Investors and analysts are looking closely at some guidance concerning Patch, and once the euphoria over the stronger ad revenue wears off, it'll continue to hold back the share price of AOL because it appears there are going to be no more cuts in the immediate future, nor the possible divesting of the asset.
AOL said the restructuring of Patch is now over, and it's looking for the business to be profitable by the end of 2013. The reasons given for expected profitability with Patch were new partnerships, operational changes, opening up the platform, and product changes. CEO Timothy M. Armstrong said some of the more important local areas have already increased revenue as a result of the efforts.
Chief Financial Officer Karen Dykstra said the company will "... continue to look at cost structure and are committed to bringing cost structure down by the end of the year."
My major concern here is the fact Armstrong was a founder of Patch, and it appears he may have an emotional attachment to it that keeps him from taking stronger measures.
If the major efforts taken are simply to cut costs rather than looking at revenue and earnings growth, it may be time to get rid of this part of the business.
The only thing I can see of value is if the local sites are able to have video ads distributed across them to generate significant revenue growth. Other than that, Patch appears to have little value to the company, with little in the way of growth prospects.
Again, the intangible here is Armstrong and his connection to the birthing of the business. That could result in him hanging on to it past its usefulness, which would continue to hold the earnings of the company back.
I don't see a lot of upside with Patch, but if it does produce some earnings it could have a small, positive impact on the company. If not, it should be divested of as soon as possible.
Gathr
Interestingly, in the midst of this bullish digital video ad environment, AOL launched Gathr, a subscription service with bundles a variety of offerings together for consumers looking to save money.
Examples of current offerings by Gathr are Restaurant.com, Norton PC-anti-virus, Redbox DVD rentals, and Amazon gift card, among others. All of these are offered for a flat fee, which AOL says drops the price by 50 percent and more if the services were bought on an individual basis.
There are six pre-bundled packages now offered by Gathr, with a price range of $15 to $30 a month. Consumers can also customize their own bundle from about a dozen different offerings found on the site.
At this time, the service is only offered via the Web, but once it is offered across the United States, AOL will launch a mobile version of the service. It is in beta in Seattle and Atlanta at this time.
On the surface, this doesn't appear too exciting, but when you take into consideration the U.S. market has about 115 million households, it could generate approximately $10 million a month if only .5 percent sign up for the service. If it was able to penetrate 1 percent of the households in the U.S., it would bring a hefty $20 million in monthly revenue to the company.
There is no way to know how the market will respond to this, but if AOL does well, it'll be a huge win when taken into consideration with the expected growth in its digital video ad revenue.
The downside is it could easily become a distraction and take the focus of the company off of its digital ad business.
It also tells me AOL isn't totally confident it will continue to grow out its digital ad business, even though the immediate future looks very bright for them in that segment.
Conclusion
Digital video ad revenue is the immediate focus of AOL, and it also needs to be that of investors. The subscription service, search and global display revenue pretty much cancel out one another at this time, and they will continue to do so in the near term.
If AOL continues its success in this business, it could surprise almost everyone who see the company as one still trying to find its feet after its dial-up subscription service plummeted after broadband became the Internet connection of choice by consumers.
The story of digital video ads is the content that's placed against it, and the branded properties of AOL cater very well to that market, as does the third-party content it serves up ads to.
Seeing the growth of digital video ad views that lead the world at this time, and the pace it has leapfrogged Google, you have a story that doesn't appear to be understood by the financial media, or potential investors who are viewing AOL as a company that has little if any growth potential.
A lot of this is because of the overwhelming digital ad growth in other segments by traditional media outlets and new media like Google and Facebook, which when overall compared against AOL make it look anemic at best.
What is puzzling to me is why Armstrong continues to hold onto Patch when it is such a financial drag on the company. It's distracting and doesn't seem to have too much upside to me. It's apparent that he thinks he can place ads against the remaining content which will generate positive revenue for the company in the near future. If he accomplishes that, it could turn out fairly well for AOL, but again, it's the long-term upside that doesn't seem to have much in the way of revenue legs. I think it's the value of digital video ads that is the impetus behind keeping Patch, along with the probability Armstrong is stubborn about giving up the baby he gave birth to.
AOL continues to have a lot of irons in the fire, and it has rightly stated that it's going to focus on the larger segments of the business going forward. That needs to be sooner than later in my opinion.
The growth story for AOL is digital ad revenue. If it manages to surprise and grow digital ad views as it has in the last couple of months, AOL will have managed to turn the quarter and probably looked on as a growth story. That would easily bring the share price into the 50s, and higher, depending on the size of the video ad view growth. If it drops the ball in video, we'll see it take a huge hit, as there are really no other catalysts the company has to grow market share. It's future is now tied to digital ad revenue, and that will make or break the company, no matter what other initiatives it launches.
Disclosure: I have no positions in any stocks mentioned, and no plans to initiate any positions within the next 72 hours. I wrote this article myself, and it expresses my own opinions. I am not receiving compensation for it (other than from Seeking Alpha). I have no business relationship with any company whose stock is mentioned in this article.