Affiliated Managers Group (NYSE:AMG) is an interesting mid-cap global asset management company with investments in boutique investment management firms (known as the company's Affiliates). The company utilizes direct equity ownership in a diverse mix of high quality boutique investment firms. AMG manages about $508 billion in assets to institutional and retail clients throughout the world. The company experienced strong growth over the past 20 years and has more room to grow in the future with opportunity in the U.S. retail market.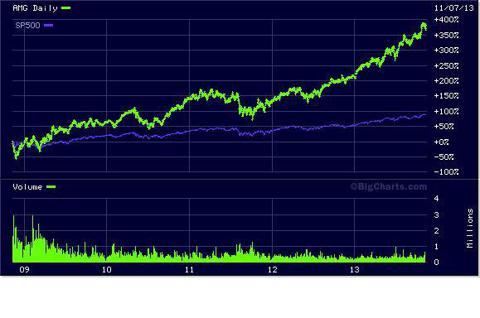 Click to enlarge
The company beat earnings expectations for Q3 2013, achieving EPS of $2.19 vs. estimates of $2.15. Earnings were 15% higher than Q3 2012. However, revenue of $551.6 million for the quarter fell short of expectations by $5.35 million. On the bright side, revenue increased 18% year-over-year while operating expenses increased 16.8%. AMG is raising guidance for full year 2013 EPS to be in the range of $9.30 to $9.80. It is also raising guidance for 2014's EPS to be in the range of $10.50 to $11.70. Three months ago, the EPS estimates were $9.46 for 2013 and $10.92 for 2014. These positive earnings revisions should lead to higher stock prices for the near term.
AMG has a growth strategy of increasing its existing business, new investments in boutique investment management firms, and by implementing strategic transactions designed to enhance its Affiliates' growth. AMG's relationship with its Affiliates is designed to identify growth opportunities and assist the firms by assisting with new product development, broadening global distribution capabilities, and providing operational support.
Valuation
At first glance, AMG could appear overvalued with a trailing PE of 40. However, due to its strong expected growth, the company looks fairly valued when looking forward. With a forward PE of 17, a PEG of 1.23, and a price-to-book ratio of 4.9, AMG looks fairly valued. The fair valuation is a result of the high expected annual earnings growth of 17% for the next five years. I can deal with a fair valuation with strong above average earnings expectations. AMG has grown earnings at 15% for the past five years and this growth rate is expected to accelerate. Plus, the company is achieving a 15% return on equity. So, management has been effective. The stock is trading at $195 which is below its 52-week high of $203.
Catalysts
The company is seeing an early phase of a rotation of investors out of fixed income. These investors are seeking return oriented investments to reach their goals. Due to this situation, AMG is focused on growing its U.S. retail market, which is part of AMG's mutual fund distribution channel. It has been investing in growing the retail side of the business by leveraging the AMG brand into the retail market.
CEO, Sean Healey believes that emerging markets will be alpha-generating investments. Emerging markets are due for a comeback after underperforming for the past few years. With this viewpoint, the company is doing some re-risking to be ahead of the trend.
AMG's success is tied to the equity markets. The company depends on equity market returns and the investment performance of its Affiliates. This is one of the company's main risks, but it is also a strength as the market has been in a strong upward trend, hitting new highs. Since the market performs well over the long-term, AMG's performance should also perform well over the long-term.
The short-term catalyst is AMG's confidence in its business which led to upward earnings guidance for 2013 and 2014. For the longer-term, the focus on growing the U.S. retail market should have a positive effect on revenue and earnings as money flows out of fixed income. The nine analysts that cover the company have a $213 price target for the stock. With AMG's above average earnings growth, I would expect the stock to continue to beat the performance of the S&P 500 as it has been doing for the past five years.
Disclosure: I have no positions in any stocks mentioned, and no plans to initiate any positions within the next 72 hours. I wrote this article myself, and it expresses my own opinions. I am not receiving compensation for it (other than from Seeking Alpha). I have no business relationship with any company whose stock is mentioned in this article.