Activision Blizzard (NASDAQ:ATVI) has been a favorite holding of mine during 2013. The company is a major competitor developing, publishing and marketing new age gaming and entertainment products, for game consoles, personal computers, mobile devices, and online players/participants. Activision has been a leader in gaming for decades. The advent of multiple person gaming, advanced graphics design and technology, internet delivery of entertainment, wireless mobile devices, and a combination of all the above have encourage truly interactive, real-time options for players across the world. As a result of nearly real life sensory experience and interactive gaming, companies like Activision, Disney (NYSE:DIS), Sony (NYSE:SNE), Nintendo (OTCPK:NTDOY), Microsoft (NASDAQ:MSFT), Electronic Arts (NASDAQ:EA), Take-Two (NASDAQ:TTWO) have gaming software divisions that rival the appeal, economic impact and importance in society of Hollywood movie studios from earlier years. In fact, opening month sales for the biggest video game releases now eclipse the equivalent numbers from the biggest movie openings in 2012-13!
Activision publishes hundreds of games for every major platform, operating system, and console maker in the world, with nearly 7,000 employees. One of Activision's top money-making franchise games just introduced a new update this week, Call of Duty: Ghosts. Initial reviews from gamers are decent, although not earth shattering. Metacritic had an early score of 76 out of 100. The company reported $1 billion in sales for the new version, just to stock retail outlets for expected consumer demand. Another cornerstone of revenues is Activision's global leader in subscription-based, multi-player, online role playing game, World of Warcraft, having 7.6 million subscribers at the end of September. Sales and profits are expected by Wall Street consensus forecast to jump considerably into 2014 for the whole industry, including Activision, with the rollout of new generation consoles by Sony (PlayStation), Nintendo (Wii and DS) and Microsoft (Xbox) for Christmas 2013. A wave of upgrade buying and renewed spending on game software by consumers is expected to be in the early stages.
Vivendi Exits
The company's stock has been undervalued for a number of years. One reason was the overhang of shares held by Activision largest owner, which was publicly shopping the company and/or its stake. In 2012, Activision's controlling shareholder Vivendi (OTCPK:VIVHY), owner of better than 50% of the outstanding shares, decided it wanted to liquidate its holdings to raise cash. Vivendi had become overleveraged, and was looking to monetize its Activision stake to repay debt back in France.
On top of the stock supply issue created by Vivendi, Activision's business operations have not witnessed significant growth drivers the last several years, as gamers await the upgraded consoles arriving at the end of 2013, and software developers have guided their capital spending and new program money toward the coming technology rollover. Little revenue and income growth combined with an essentially flat (range bound) stock price between mid-2009 and early 2013 to lull the average investor in Activision asleep.
The draw for me as an investor during early 2013 had been the company's oversized free cash flow generation, the high level of cash holdings (before the deal to purchase Vivendi held shares), and the bright growth view of the gaming industry generally moving forward. During the second half of 2013, the just completed restructuring of its accounting books and ownership structure, plus the ramp up to higher sales in 2014 for the company, have started to refocus investor attention on Activision's low long-term valuation and bright growth-based future.
Part of the deal announced in July for the company to buy back most of Vivendi's stake in Activision involved a side transaction, where the CEO Bobby Kotick and Chairman Brian Kelly joined a group of investors to take a nearly 25% ownership position in the transformed ownership structure. While I would have preferred the company directly buy the remaining Vivendi stock holdings, even with debt if necessary, the fact that management wants to buy/hold such a large position in Activision points to their optimism in Activision's long-term prospects. Vivendi still held roughly 12% of the outstanding shares after the transaction-based shuffle was completed in October. You can read all about this exercise in financial engineering by reviewing the related Activision SEC filing last month, including pro forma operating results on the refreshed ownership and debt capitalization.
Here is a quick summary of the recapitalization of Activision. Basically, 429 million shares were acquired by the company from Vivendi and retired as treasury stock on the balance sheet. Activision funded the purchase with cash on hand and the issuance of low interest rate debt. Effectively, the float of outstanding shares was reduced by about 38%, meaning each existing shareholder owns 38% more of the future revenue, income, and cash flow stream than before the transaction. The management group purchased another 172 million shares directly from Vivendi, exchanging cash with Vivendi for ownership shares, but having no effect on the company's capital structure. The stock price on all of the exchanges was $13.60, with Vivendi receiving approximately $8.1 billion in cash.
Positive Results of Recapitalization
For existing shareholders in Activision, the positive effects of the restructuring of ownership interests will come on many levels. In its July press release on the upcoming stock buyback the company listed an expected increase in pro forma 2013 earnings per share of 25%-33%, after accounting for the interest expense on the new debt load (depending on prevailing interest rates on the debt and GAAP or non-GAAP accounting rules used). Looking forward, when you include the non-cash charges for amortizing $7 billion in goodwill on the balance sheet and the accelerated depreciation expense on software development, the amount of actual cash being created annually by Activision is much greater than stated GAAP income calculations, especially on the recently reduced total of stock outstanding. Using the present Wall Street consensus GAAP EPS projection of $1.26 for 2014, Activision could produce $1.60-$1.70 in free cash flow per share next year!
This highly accretive transaction comes without adding incredible amounts of debt or exhausting Activision's large cash balance. The company is still holding $3 billion in cash and around $3 billion in net working capital versus a long-term debt number of $4.7 billion (based on pro forma numbers provided October 18th to the SEC). Management was smart enough to keep most of its cash to fund future growth initiatives into 2014, and I suspect Activision will acquire one or two smaller rivals in the gaming field next year. The biggest advantage of the transaction outside the immediate accretion of income and cash flows to the remaining stakeholders is a more independent board of directors and aggressive management style of Activision's industry leading software assets. On the September quarter conference call, CEO Kotick highlighted how the management team felt energized and empowered in the last few weeks, a direct result of newfound independence from Vivendi.
The recapitalization will serve to magnify better operating performance in 2014 and beyond. Sales industry wide are expected to jump in the final months of 2013 and all of 2014, with the official console upgrade cycle reset for gaming software companies. Overall gaming industry growth is forecast to be well above trend in 2014, and much stronger than a slowly expanding global economy. Since Activision is already a dominant player in this space, it is projected to be a major beneficiary of the turn higher in demand. Using better than $1 billion in free cash flow creation annually and the $3 billion in cash not earning much for shareholders, management could easily afford another large share buyback next year in addition to one or two game software acquisitions. It is not hard to image free cash flow per share approaching $2.00 in 2015 as the list of improving factors for Activision shareholders expands, including new game releases like the much anticipated Destiny experience slated for 2014-15.
Conclusion
If you receive $1.65 in free cash flow during 2014 and $2.00 in 2015, what is a share of Activision worth? Considering today's relatively conservative balance sheet, super high profit margins, leading brand names, and diverse product mix by gaming titles and global revenue stream, Activision's margin of safety vs. other stocks and investment alternatives seems to be quite strong. This alone should argue for a premium valuation of earnings and cash flows vs. the S&P 500 averages. Peter Lynch and Warren Buffett love to invest in companies with low PEG (Price to Earnings Growth) valuations that are leaders in their industry. With above average growth about to resume from a new innovative business leadership direction, Activision's PEG ratio is well below 1.0 at $16 per share.
In addition, if you look at any multi-year average of gaming stock valuations, this sector is usually priced at premiums to the S&P 500 equivalent ratios from sex appeal considerations! Similar to movie studios, television and radio platforms, internet information and print media stocks, plus other entertainment-focused entities throughout history, valuations are usually high for game developers because of product popularity and ownership bragging rights by society at large. My estimate of today's fair value is between $20 and $25 a share, depending on your bullish or bearish outlook for the economy, interest rates (discount rates on investment) and Activision's future specifically. The bonus for long-term investors is the company's underlying worth may, in fact, grow substantially the next 18-36 months.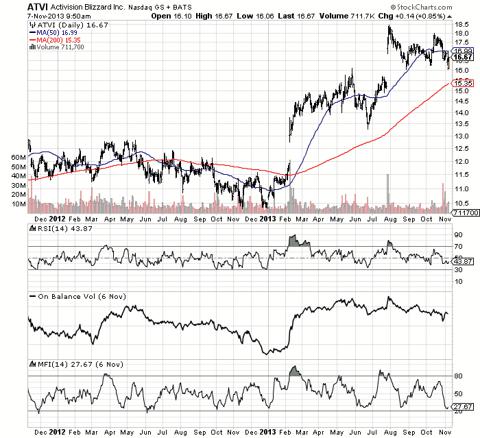 Disclosure: I am long ATVI, MSFT. I wrote this article myself, and it expresses my own opinions. I am not receiving compensation for it (other than from Seeking Alpha). I have no business relationship with any company whose stock is mentioned in this article.