In a screen for net-nets, I found AIR T, Inc. (NASDAQ:AIRT) with a market capitalization not much greater than its Net Current Asset Value (= current assets less total liabilities), thus nearing the definition of net-net. This figure shows AIRT market cap (in $Thousands) versus NCAV for fiscal years 2009-13.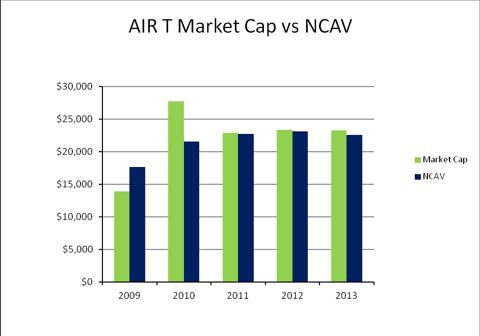 AIRT has three business sections briefly described below. The air courier business delivers for, and leases all of its planes from, FedEx (NYSE:FDX). A review of its assets in relation to its sales is shown in the following figure: AIRT is asset light, generating far more in sales yearly than it owns in assets, and it has very little property, plant & equipment - only $4M.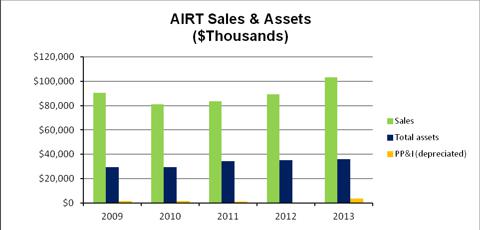 AIRT operates at a profit. Revenues over the past decade have increased yearly except for a slump in 2010 & 2011, and Return on Invested Capital has been > 5% for 10 consecutive years (source of data: www.morningstar.com). AIRT has a $7M line of revolving credit but zero debt. The reason for low valuation is thus not obvious from its profits and returns. That is the subject of this brief article.
In his book "The Manual of Ideas: The Proven Framework for Finding Best Value Investments" (Wiley, 2013. Kindle Edition) author John Mihaljevic begins a chapter with the provocative question:
"How can a business with virtually no assets be valued as a Graham-style net-net? Answer: The business must be hidden within a larger company that does have substantial tangible assets."
The author goes on to describe a business model in which an asset-light section might offer great upside potential to the whole business while the asset-heavy parent offers downside protection because it is balance sheet capital on which value investors will focus should the opportunity arise. Regarding the asset-light business he states: "when something other than capital employed drives the profits of a business, that something can change quite easily unless the business has a sustainable moat."
The asset-heavy company in the case of AIRT is FDX; it's just that FDX is not the parent of AIRT, but rather its biggest supplier of revenue. The Market Cap and NCAV data shown above for AIRT are shown in the following figure for FDX.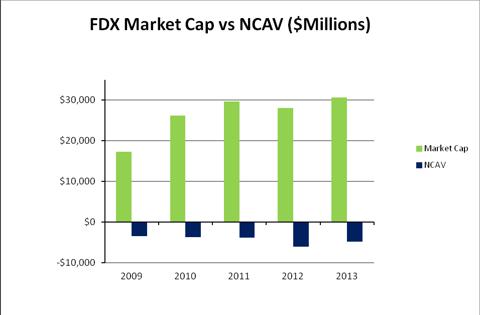 FDX is obviously not a net-net, its NCAV having negative dollar values. Other valuation metrics also show FDX to be more highly valued by the market than AIRT as shown in the following table.
| | | | | | |
| --- | --- | --- | --- | --- | --- |
|   | P/E | P/B | P/S | EV/Revenue | EV/EBITDA |
| AIRT | 20.2 | 1.0 | 0.28 | 0.2 | 6.9 |
| FDX | 27.3 | 2.4 | 0.97 | 0.91 | 7.1 |
Perhaps AIRT valuations are lower than for FDX because it is less profitable. The following shows %ROIC for 2009-2013 for both companies (source: morningstar.com).
| | | | | | |
| --- | --- | --- | --- | --- | --- |
| ROIC | 2009 | 2010 | 2011 | 2012 | 2013 |
| AIRT | 21% | 16% | 8% | 5% | 6% |
| FDX | 0.3% | 7% | 9% | 12% | 8% |
FDX has become a little more profitable, but that doesn't explain the net-net valuation on AIRT.
AIRT Business. In the fiscal year 2013, 48% of AIRT consolidated operating revenues, and 100% of the operating revenues for its overnight air cargo segment arose from services provided to FDX by contract which expired as of 31st October; as of release of the company 10Q on 7th November that contract has yet to be re-negotiated. The other two segments of the business are Global Ground Support which manufactures and sells mainly deicers and forklifts, some to the US Air Force on contract until September, 2014, and Global Aviation Services for Ground Support. The latter two segments have performed and are not dependent on FDX.
I believe that the market has priced AIRT low in relation to its net current asset value and its book value, low in relation to other metrics aside from P/E, and overall far lower than FDX, because of AIRT dependence on FDX, and because FDX owns the bulk of assets vital to both businesses (FDX assets are shown in relation to revenues in the following figure).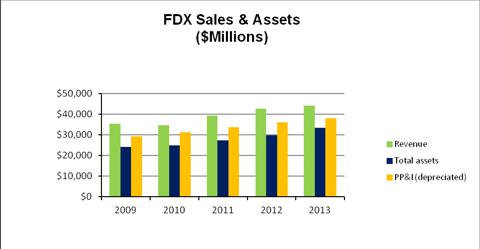 While this relative pricing must have validity or the market wouldn't be doing it, the market may not be pricing in the greater upside of the asset lighter AIRT business to which author John Mihaljevic alludes. Also, those same assets belonging to FDX that offer collateral value in a liquidation and which some investors value, can put a drag on a company during economic downturns, more so than for an asset-light company as was evident in the stock price of these two companies during the 2008 downturn.

AIRT fell less, and rebounded more quickly during the 2009 recovery.
My favorite single set of valuation metrics are those taught by evaDimensions which are based on net operating profit after tax or NOPAT, and market value added (MVA) to invested capital. The following two figures show NOPAT versus MVA for both companies, in $Thousands for AIRT and $Millions for FDX (I did not compute Economic Value Added which evaDimensions does because I am not confident of cost of capital computations required for that). Note that "Market Value Added" is actually negative for AIRT despite positive NOPAT.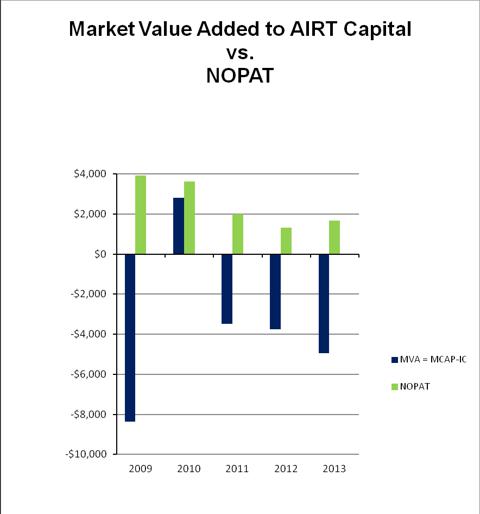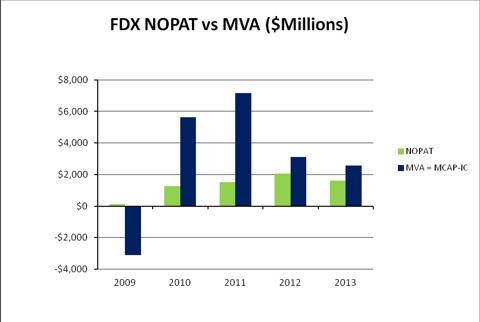 I believe that if AIRT revenue and profit continue to improve, that the market will begin to add rather than subtract from its capital base and that there is great upside potential.
Summary, conclusions & final comments
AIRT is asset-light which may translate narrow moat
AIRT is highly dependent on FDX and its assets, but…
AIRT is profitable with zero debt, is nearly a net-net and is undervalued by other metrics
AIRT performed relatively well during the economic downturn in 2008.
AIRT pays a yearly dividend which was $0.30/share in June 2013
Short interest was 4.3K/2,446K = 0.18% of shares as of 15th October
AIRT stock has low correlation with market: 1-year annualized beta = 0.3 compared to 1.4 for FDX (source of data on short interest and beta: fidelity.com)
Inside ownership of 34% and insider AO Partners' Managing Partner just assumed role as interim CEO
AIRT market cap will increase substantially in 2014 as the US economy accelerates and along with it the industrial sector.
Disclosure: I am long AIRT. I wrote this article myself, and it expresses my own opinions. I am not receiving compensation for it. I have no business relationship with any company whose stock is mentioned in this article.