The purpose of this article is to address why PGP is overbought and where the price should be. I believe PGP's price should be more around $18.50 to $18.70, assuming yield distribution rate, expense ratio, and NAV are held constant over time (if they can be held constant), and that the intention of the investor is to hold a high yielding fund in their investment portfolio.
(all quoted information of PGP and other funds came from Morningstar.com)
Quote Snapshot
Market Cap: $739.3mil
Distribution Rate: 9.24%
Total Leverage Ratio: 37.30%
52 Week Range: $15.35 - 24.44
Premium/Discount: +62.26%
Current Market Price: $23.81
NAV: $14.68
Expense Ratio: 2.64%
As of this article's publication, PGP's current market price is $23.81, paying out an annual dividend of $2.200044 (based on Price*Yield = $ distribution rate), boasting a staggering yield of 9.24%! So, does this make sense after considering the alternatives? My position is: No, it does not make sense (when considering portfolio yield alternatives). Similar funds, like PHK for instance, offers a higher yield, lower expense ratio, lower premium to NAV, and lower fund leverage ratio, making PHK a better investment overall. But before we debate about PHK and PGP, let's dive deeper into PGP.
Below are some reasons why you might own or love PGP in your portfolio:
Offers adequate bond exposure (from an asset allocation perspective) in an equity heavy portfolio;
Big monthly distributions - great for income;
PIMCO is a marquee brand in the closed end fund (and mutual fund) industry and investors know it (explaining the premium);
Morningstar gives it a 5 Star rating - putting it in an exclusive club of 5 starred closed-end funds;
Wealth managers and advisors recommend it for any portfolio for diversification (if your portfolio is light on bond exposure) and income purposes.
Here are some reasons why I would own PGP:
The distribution rate is where I like it - above 10%+ per year, paid on a monthly basis;
Fund Manager's (PIMCO) reputation in the closed end fund and mutual fund industry is stellar; and
The 5 Star Morningstar rating officially gives it a seal of approval from the fund experts, Morningstar.
Here is what I can't even fathom about PGP (what I don't like):
The Expense Ratio is too high - in fact, it's one of the highest in the closed end fund universe (PHK's (a comparable fund to PGP) expense ratio is 1.06%, while PGP's is 2.64%);
The Total Leverage is high, at 37.30% - which has increased and may increase even more overtime due to continuous Capital Returns paid as distributions to investors (while PHK's leverage ratio is 22.63%);
Premium over NAV - I think this fund deserves a premium, but +62.26% over Net Asset Value is too high, making this company inefficient from a portfolio yield perspective (PHK has a smaller premium and a higher distribution rate, making it a more efficient income vehicle);
For a 5 Star Morningstar rated closed-end fund, the asset allocation looks more like a 3 star rating, closer to PHK than most investors would expect;
Distribution composition - PGP has been Returning Capital to investors through its distributions in YTD 2013 and did so in 2010 as well (while PHK paid out a small amount of its distributions through Returning Capital while maintaining a lower premium).
Considerations for current and potential PGP investors:
More Returning Capital - if the fund continues to Return Capital through monthly distributions from its NAV to investors, that NAV will shrink and the leverage ratio will go even higher (causing the expense ratio to rise in tandem);
Bond market goes bad - imagine if interest rates go against the bonds in the fund (bonds make up 85% of PGP's asset allocation), that 31.77% US stock portfolio allocation is probably not going to offset the market impacts on the bonds (note: the fund generates income by making risky trades through derivatives, options, other);
Leverage Ratio increase - if the cost of borrowing money for leverage goes up, the expense ratio of the fund will eat up more investor returns/gains on the fund;
High Yield alternatives - there are several comparable funds that offer similar monthly paying returns and offer a wide variety of leverage structures, expense ratios, investment styles, asset allocations, distribution frequencies, and more. Some examples include, but are not limited to: PHK, NCV, NCZ, GPM, CFP, CLM, CRF, IRR, IGD and ETJ, which all offer higher yields than PGP!
Fund Premium - the premium for this fund is way too high relative to the distribution rate. Once again, the alternatives are better and offer a varied asset allocation;
Risky Portfolio Strategy - the fund trades a variety of risky instruments to generate the income yield it currently generates. Note: many other closed end funds have similar strategies, including the alternative funds mentioned in this article.
My Expectations:
PGP is Overpriced and Overbought if an investor owns PGP from a portfolio yield perspective, they are being very inefficient with their money. The current market price needs to drop for this investment to make more sense.
PGP's current market price should drop to at least $20.00 (NAV premium of 36.24%) for a 11.00% annual distribution rate or $18.60 (NAV premium of 26.70%) for a 11.83% annual distribution rate, assuming expense ratio, fund investment management, and net asset value are all held constant. If the fund's price drops to $18.60, the premium would stand at 26.70%, which would be more reasonable for a fund yielding less than the highest paying funds by distribution rate (high yielding alternatives include: PHK, NCV, NCZ, GPM, CFP, CLM, CRF, IRR, IGD, and ETJ).
Bottom-line, sell PGP now and buy into the more efficiently yielding alternatives (by distribution rate). Or wait until the price of PGP drops to $18.60 to get back into a high yielding income vehicle.
More information on PGP:
Asset Allocation - 85.13% bonds, 31.77% US stock , -17.79% cash, 0.89% other
PGP: 59.9% of the portfolio is rated B or better by Moody's vs. PHK: 61.9% portfolio is rated B or better by Moody's (full breakdown below)
PGP's bond ratings:
Aaa - 18.8%
Aa - 2.2%
A - 2.6%
Baa - 12.5%
Ba - 13.4%
B - 10.4%
Caa - 11.4%
Ca - 6.5%
C - 1.0%
NR/NA - 20.7%
WR - 0.5%
PHK's bond ratings:
AAA - 21.9%
A - 3.4%
Baa - 12.3%
Ba - 13.5%
B - 10.8%
Caa - 11.9%
Ca - 5.0%
NR/NA - 19.2%
WR - 2.0%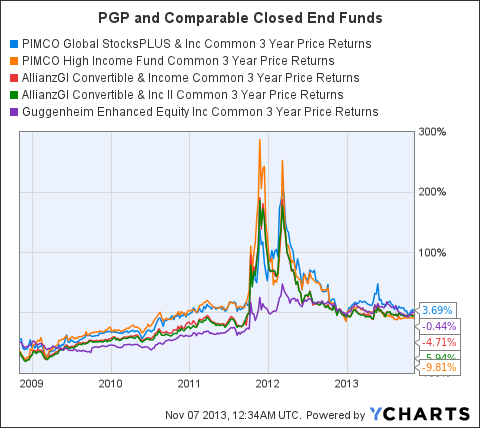 PGP 3 Year Price Returns data by YCharts
(all quoted information of PGP and other funds came from Morningstar.com)
Disclosure: I am long PHK, GPM, NCV, NCZ, CRF, CLM, CFP, IGD, IRR, ETJ. I wrote this article myself, and it expresses my own opinions. I am not receiving compensation for it (other than from Seeking Alpha). I have no business relationship with any company whose stock is mentioned in this article.