The last time I wrote about Angie's List (NASDAQ:ANGI) was back in July 8 of this year, when the stock was trading at around $28 a share.
Ever since that article, the stock has been marked down by about 50%. The question is, should you be a buyer today of Angie's List at these discounted prices? The answer is no.
To begin with, the company is still losing money. As per the company's Q3 results, the company once again lost money to the tune of $13.5 million.
Now for those who follow me, I have a thing with balance sheets. My philosophy on the matter is if a company is doing good, that should show up in its balance sheet. Well that's not the case with Angie's List.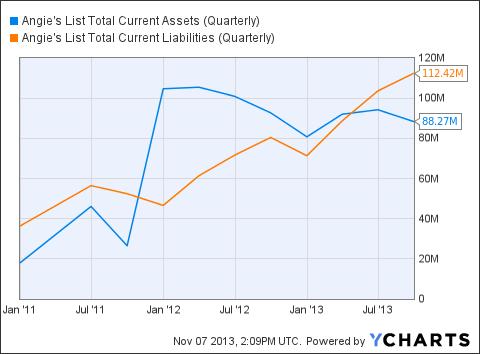 ANGI Total Current Assets (Quarterly) data by YCharts
As you can see from the chart above, total current assets are now much lower than total current liabilities.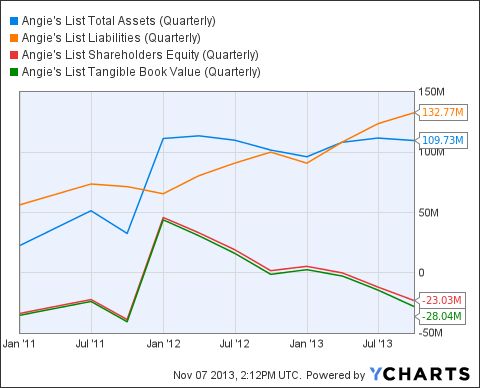 ANGI Total Assets (Quarterly) data by YCharts
The chart above is even more interesting, in that total liabilities are now spiking up against total assets. And when something like that happens, something is going on, and it's usually not good.
Also take notice that shareholders equity and tangible book value are now in the red to the tune of $28 and $23 million respectively.
Actually things on the balance are not as bad as they seem, because the company has a lot of deferred revenue liabilities, but nevertheless, the balance sheet is getting worse not better. And that's the reason why more and more investors are rethinking what they want to pay for Angie's List. I mean why would anyone buy a company worth over $800 million with a negative book value?
But numbers aside, there is also another reason why Angie's List is losing its market cap. And it has a lot to do with the same reasons why companies like Zynga (NASDAQ:ZNGA) and Groupon (NASDAQ:GRPN) are also losing ground in their respective sectors. That is, the business model is now being copied by everyone and in many cases, others are doing it a lot better.
Yelp (NYSE:YELP) for example is now also providing information on local professionals such as plumbers and electricians. Then there are those like Google (NASDAQ:GOOG), that acquired Zagat's restaurant reviews that is also a competitor.
Then there are also a host of much smaller private companies, that are also competing with Angie's List head on. One such private company is Total Household. And guess what, if I were a private contractor or professional, I would prefer to be with these guys than with Angie's List. Some of the differences are:
1) Angie's List charges homeowners, Total Household do not.
2) Angie's List charges contractors to move up on the search result list, Total Household does not. They consider it a conflict of interest. All contractors have a free profile page.
3) Total Household focuses on using 3rd party information; state licenses, insurance, BBB ratings etc. Angie's List only uses reviews.
4) Total Household also helps customers via their unique Consumer Protection library of things homeowners should know about their rights on a Federal and State level.
The bottom line is that Angie's List is still a very expensive stock in my book. Yes it might bounce from these levels, but because of the continuous losses the company is experiencing, playing the bounce is a very risky proposition.
In addition, because the sector is now being invaded by so many other companies in so many different ways, I think that Angie's List has lost its appeal.
Disclosure: I have no positions in any stocks mentioned, and no plans to initiate any positions within the next 72 hours. I wrote this article myself, and it expresses my own opinions. I am not receiving compensation for it (other than from Seeking Alpha). I have no business relationship with any company whose stock is mentioned in this article.