Despite generally positive Q3 earnings reports, the stocks of several shale oil producers have taken quite dramatic dips over the last few days. While the price of WTI has pulled back recently, Thursday it closed up +$0.19 to $94.39 per barrel. Meanwhile, Whiting Petroleum (NYSE:WLL) continued its slide from a recent high of $70.57 and closed down -$2.35 to $62.70. Kodiak Oil & Gas (NYSE:KOG) closed down 3.58% to $11.86 after recently touching the $14 level. Continental Resources (NYSE:CLR) closed down $7.28 to $109.41 after setting a new high near $122 just last week. So what gives? Is this just a round of profit taking or is the prospect of sanctions being lifted on Iranian oil exports, and the fear of a drop in oil prices, spooking these stocks?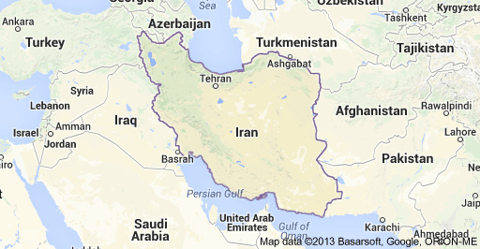 Economic sanctions on Iran began in 2011, and were tightened in 2012. As a consequence, reduced oil exports are estimated to have cut ~$5 billion a month from its revenues while increased production from US shale oil, Iraq, and Saudi Arabia took up the slack. According to EIA data, US production has increased by 1.8 million bpd since sanctions on Iran went into force. That more than makes up for the fact that Iran is producing over half a million barrels per day less than before the sanctions, according to a Bloomberg survey of oil companies, producers and analysts.
As talks in Geneva between Iran and the U.S., the U.K., France, Germany, China and Russia continue, it would appear Iran will have to compromise on its nuclear ambitions in order to get relief on the sanctions. No doubt increased production from the US and fellow OPEC rivals Saudi Arabia and Iraq has forced the Iranians' hand.
Will Iranian Oil Exports Flood the Market?
Iran is expected to have a capacity to hit the world oil market with an additional 500,000 to 1 million bpd of crude. However, before the sanctions, Iran sold oil to 23 nations. Today, only six buyers remain -- China, India, South Korea, Japan, Turkey and Taiwan. But to avoid U.S. sanctions that would cut off access to the American banking system, each country must prove it has made additional significant reductions in Iranian imports every six months. Ray Takeyh, a fellow at the New York-based Council on Foreign Relations, thinks Iran has lost market share that it's not likely to reclaim easily "because the world economy moves on." While it is possible Iran may make nuclear concessions in order to gain relief on sanctions, there are others arguing for tighter sanctions. So it's not clear these Iranian barrels are close to hitting the world market. In addition, my guess is that there is already some cheating going on and many of these barrels may be making it through the sanctions by greasing the right palms.
Saudi Arabia - Still the Swing Producer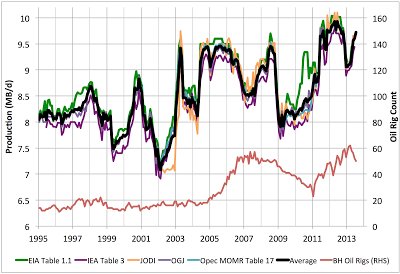 No wonder Saudi Arabia has been in such a bad mood recently. They have been huge benefactors of export interruptions in Libya and Iran, and ramped up production to fill the gap. In fact, this year Saudi increased production to more than 10 million bpd - the highest level since 1981. So the Saudis view the current negotiations with Iran as a bad omen. In addition, the prospect for continuing growth in US and Canadian heavy oil production has got them worried. The combination of these two factors could force Saudi Arabia's hand if they want to protect the $100/barrel level they so often speak about. That is, the Saudis may have to cut production.
Libya - More Of A Factor Than Iran
As I wrote back in August (Oil Prices: It's Not Syria, It's Libya), Libya is a much bigger factor in my mind. As this Forbes article point outs, Libyan oil exports have simply collapsed - to about 10% of pre-crisis levels. Libya was producing about 1.6 million bpd prior to the civil war. But a BP (NYSE:BP) and StatOil (NYSE:STO) gas facility was attacked in January and things have unraveled since. The situation in Libya is dire and does not look likely to improve any time soon.
World Economy
On the other hand, The Economist magazine believes next year will be the first time since the financial crisis that the world economy's four largest economic zones - the US, the EU, China, and Japan, will all show positive growth. That should lead to firm and growing worldwide oil demand.
Two Domestic Concerns
What may be more worrisome to shale oil producers are two domestic problems: the ridiculous ethanol mandates (which reduce refinery demand for oil) as well as a US law prohibiting oil exports. Both issues could help create a back up of oil in the mid-continent.
Summary & Conclusion
The world oil market is more complicated than ever before. Booming oil production in the US and Canada have been offset by export interruptions in Libya and Iran. Iraq is growing production, but continues to be a tinderbox ready to explode. Saudi has lifted production in recent years to take up the slack, but may have to cut production soon to defend the $100/barrel level. Meanwhile, Israel is not at all happy about a potential nuclear settlement with Iran. A war between Israel and Iran would be a very nasty event indeed. Meanwhile, companies in North Dakota, Colorado, and Texas continue working on lifting shale oil in the most cost efficient way possible. They are reducing costs and increasing production by adjusting their recipes, completion techniques, and by discovering more stacked plays and benches to exploit. Yet they are still somewhat dogged by high depletion rate and geography issues.
But the bottom line on Iran is that Saudi Arabia will likely cut production back in order ensure the market is not over-supplied - just like it raised production to make sure the world was not under-supplied when Iran and Libya went offline. Libya coming back to full export capacity would likely be a much bigger slug of oil to deal with than Iran's incremental addition via an easing of sanctions. It could take Iran some time to gain back market share - likely by reducing its asking price.
It's interesting to note that while the shale players listed at the top of the article have had sharp corrections, large big-cap international integrated oil companies like ExxonMobil (NYSE:XOM) and Chevron (NYSE:CVX) have shown relative strength in comparison. This could mean that big money energy investors have taken a risk-off move by shifting into larger dividend paying companies that have diversified downstream and chemicals exposure.
Regardless, one thing is certain: the next few years are going to be very interesting for oil markets - both globally, and domestically.
Disclosure: I am long CVX, WLL, XOM. I wrote this article myself, and it expresses my own opinions. I am not receiving compensation for it (other than from Seeking Alpha). I have no business relationship with any company whose stock is mentioned in this article.
Additional disclosure: I am an engineer, not a CFA. The information and data presented in this article was obtained from company documents and/or sources believed to be reliable, but has not been independently verified. Therefore, the author cannot guarantee its accuracy. Please do your own research and contact a qualified investment advisor. I am not responsible for investment decisions you make. Thanks for reading and good luck!