In the first three installments of this series, I reviewed the Home And Business Solutions, Transportation and Healthcare segments of General Electric's (NYSE:GE) business, respectively. In this piece, we'll take a look at GE's Energy Management business. The EM segment designs, manufactures and services solutions for the delivery, management, conversion, and optimization of electrical power for its customers across many different industries that are power-intensive. This global business produces products such as lighting and power panels, switchgear and circuit breakers, as well as other distribution and control products for commercial and residential applications. The segment also provides many services to its customers in addition to various meters, monitoring and diagnostic equipment and more. The EM business is diverse and vast but as we'll see shortly, it isn't exactly GE's strongest business.
Note: in order to save some space here, for an explanation of the methodology I'm using to value these businesses, please see Part I, Home and Business Solutions linked above.
Below is a chart that shows the segment's operating results for the past six years.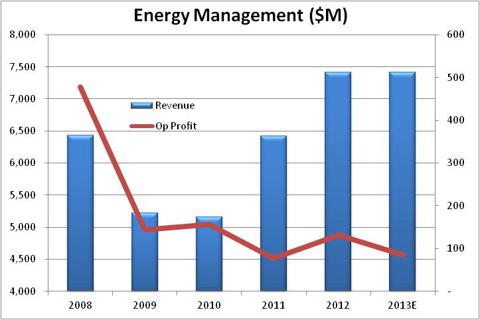 Click to enlarge
(Click to enlarge)
As you can see, the EM segment has a lot of improvement that could be made. While this segment has done a better job of maintaining and growing its revenue than some other segments of GE, this year is expected to be flat over last year. Nonetheless, GE has done a great job with EM in making sure it continues to focus on growing revenues. I have no issue with the level of business this segment is engaging in but in our next section, we'll see why I think GE should get rid of this segment as quickly as possible and ultimately why it isn't worth much.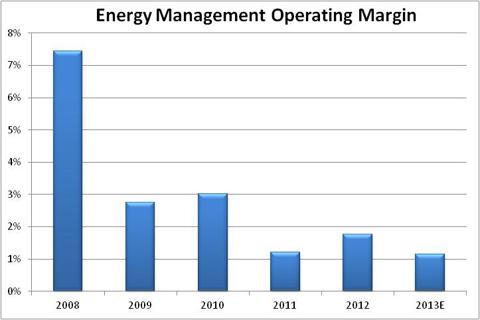 Click to enlarge
(Click to enlarge)
As is very clear from this chart, GE's EM business has faced declining (and near zero) operating margins for years now. In 2008 the EM segment produced respectable 7%+ operating margins but that party ended quickly and this year's operating margin is estimated to come in at roughly one-third the level that was seen in 2010. The situation with EM is bad and it doesn't appear to be getting any better.
If we examine the first graph again, we can see that this segment enjoys little to no operating leverage. That is, some of GE's other businesses, like Transportation, for instance, enjoy tremendous gains in profitability from relatively smaller increases in revenue after breakeven is achieved. Operating leverage, like any other kind of leverage, works both ways and can hurt in a declining revenue environment but when things are good, they can be very good. With EM, we see increases in revenue without any kind of profitability improvement. In fact, even though EM will produce about $1 billion in additional revenue in comparison with 2008's numbers this year, it will also produce $400 million less in operating profits. That is a horrible situation and it means GE is doing a lot of work with virtually no payoff.
What does this mean in terms of this segment's value to GE shareholders? This business has operating margins of just over 1% and the worst part is we don't even know where the bottom is since the trend has been down, down, and more down in the past few years. If we assume GE can stabilize margins at 1% and move them back up to the 2% level, we can extrapolate this segment's value. In previous examples, I used a theoretical tax rate on the standalone businesses of 25% in order to determine net earnings from operating earnings. At the current margin level this business will produce less than $100 million of operating earnings so if we use my estimate of $85 million for 2013 and deduct theoretical taxes, we get net income of $64 million. If we assume margins can move back up to 2% we'd get a 2014 value of $111 million for net income. Using the midpoint of these estimates to get a sense of where net income may come in next year, we are left with a value of $88 million.
As far as an earnings multiple, this business is woefully unfavorable in comparison to even the broader market so given that the S&P 500's (NYSEARCA:SPY) multiple is 15, a multiple on a huge, unwieldy business that makes virtually no money should be 10 to 12, in my view. Using the midpoint of the earnings estimate and the earnings multiple, we get a theoretical value of roughly $1 billion, based upon its earnings potential. In fairness, if, over time, GE can raise operating margins back to the mid single-digits, the upside could be substantial for this business. However, we've got no reason to believe that is going to occur right now.
So far, we've examined the Home and Business Solutions business ($3.8 billion), the Transportation segment ($18.6 billion), the Healthcare business ($38 billion) and in this piece, the Energy Management business ($1 billion). In subsequent pieces, we'll examine the remaining segments in GE's portfolio: Aviation, Power and Water, Oil and Gas, and finally, GE Capital.
Disclosure: I am long GE. I wrote this article myself, and it expresses my own opinions. I am not receiving compensation for it (other than from Seeking Alpha). I have no business relationship with any company whose stock is mentioned in this article.