"Last night, Emulex had some comments…A storage network company see EPS up around 16 to 17 cents. Previous guidance, top of that range 12 cents…" — The Opening Bell on Fox Business 1/12/2010
Makers of storage networking equipment, Emulex Corp. (NYSE:ELX) said that they are having a better fiscal second quarter than analysts had expected. In fact, the new earnings guidance of 16 or 17 cents per share is well above their previous guidance of 10 to 12 cents per share. Furthermore, revenue is now expected to be about $107 million compared to previous estimates of about $90 million. The great performance was driven by strong demand for its products which connect computers and servers to remote storage services. Many of the world's largest makers of servers, networks, and other technologies such as IBM (NYSE:IBM), Cisco (NASDAQ:CSCO) and Hewlett Packard (NYSE:HPQ) are using Emulex technology within their hardware already. Clearly, Emulex has an impressive list of clients already and hopes to add OEM relationships.
Emulex gained momentum in the second half of last year, and CEO Jim McCluney went on record as saying a recovery in tech spending was underway. Apparently that momentum is still going strong in the New Year, the company's Host Server Product has seen sales gain 28% and accounts for three quarters of revenue. The Embedded Storage Product generates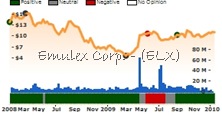 the bulk of the remaining sales and has seen growth of 20% in the last year. Fibre Channel over Ethernet business is growing very rapidly (50% growth sequentially), but it is still a very small component of the overall sales total although the potential for this growing field is enticing.
Emulex is trading 11% higher after Monday afternoon's preliminary release, and it has already prompted one analyst to upgrade the stock. Overall, the analyst community has a favorable view of ELX as it has received four upgrades and no downgrades dating back to last summer. The success of this company is highly dependent on corporate IT spending and many expect 2010 as a much improved year over 2009 where companies were very reluctant to spend on IT upgrades. This pent up demand for stronger, faster servers and more robust storage equipment could provide for a very nice year for Emulex.
We are reaffirming our Undervalued stance on ELX as of this week's report. It is evident that the company was eager to give the market a glance into what appears to have been a very good second quarter, especially considering the weak performance of the fiscal first quarter. Full details on the quarter will be made available on the scheduled reporting date of January 21st. The stock has touched its 52-week high today of $12.77, but we are not yet concerned about valuation. For example, over the past ten years ELX has traded for a price to sales ratio of 2.44x to 6.94x, and the current metric appears undervalued at 1.58x. That is looking at the past four reported quarters and does not yet incorporate the latest quarter. According to our methodology, we believe the stock would be fairly valued even at $15.50, so Emulex still has upside if they can keep the momentum.