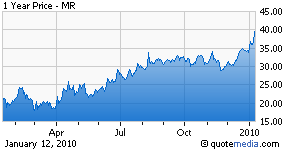 Mindray Medical (NYSE: MR), the Shenzhen medical device company, said it expects 2009 revenues will total between $624 million and $633 million, representing a 15% improvement over year-earlier results. Earnings per share (non-GAAP) will be not less than $1.29. Those results were well ahead of analysts' estimates, which called for $621 million in revenue and eps of $1.21.
For next year, analysts predict Mindray will increase both top and bottom lines by an additional 20%. The company's goal is a 17% rate of growth in 2010.
Mr. Li Xiting, CEO and President of Mindray, said in a statement that China's growth was "strong" while international markets "show signs of recovery."
In 2009, as ChinaBio Today reported last week, Mindray exceeded its new product introduction goals by launching ten new products.
Mindray was almost 3% higher in early trading Monday. It was up 94 cents at $37.48. The company's market capitalization is $4 billion.
Disclosure: none.