An experienced biotechnology investor will know that when it comes to pre-approed healthcare stocks, news and investor sentiment control price. Generally, in the case of a successful healthcare company, consistently positive trial data will gradually inflate a stock's price until the point at which a drug receives FDA approval. On the announcing of FDA approval, the share price of the company in question will increase dramatically, fueled by investor expectation of either lucrative market access or big pharma acquisition, or both. There may be volatility along the way, as sentiment ebbs and flows, but overall this is the path a successful healthcare stock will take. Common sense suggests the earlier an investor takes a position, the higher the reward. For some reason however, the stock of one healthcare company is not following this pattern. Despite consistently positive data, the market currently prices Senesco (SNTID) shares at a 61% discount to where they started the year. If investor sentiment is the only factor driving this unorthodox behavior, Senesco stock could currently be one of the most undervalued assets available.
What is Senesco?
Senesco is a development stage biotechnology company with a primary focus on cancer treatment. Prior to 2008, the company developed and licensed a number of gene technologies that enhance the growth and survival rate of plants. In 2008, Senesco scientists discovered the technology could be adapted for human therapy, and has since initiated clinical trials for investigating the treatment in cancer patients.
A look at the science
Whether or not Senesco is undervalued depends almost entirely on the likelihood of success of its lead clinical trial candidate, SNS01-T. SNS01-T is a novel therapeutic treatment designed to treat B-cell cancers - blood cancers - such as multiple myeloma, diffuse large B-cell lymphoma and mantle cell lymphoma. The technology involved is at the cutting-edge of cancer treatment as far as application is concerned, but is not that difficult to understand.
In every eukaryotic cell, a protein called EIF5A acts as a type of biological switch that controls cell death, which scientists refer to as apoptosis, and cell survival. EIF5A comes in two forms. The first form has an amino acid attached to it called lysine, and the second form has an amino acid attached to it called hypusine. In its lysine form, the protein stimulates cell death. In its hypusine form, the protein stimulates cell survival.
SNS01-T comprises three components. The first is single inhibitory RNA, which down regulates the hypusinated form of the protein. The second is a plasmid DNA that expresses lysine form EIF5A, which induces cell apoptosis. The third is a polyethylenimine nanoparticle that protects the RNA and DNA biodegradation in the blood and aids the uptake into the cancer cells. The image below shows the SNS01-T nanoparticle in its entirety.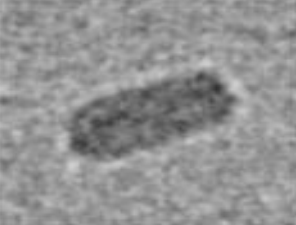 SNS01-T nanoparticle ~ 40 x 70 nM.
Pre-clinical results
While pre-clinical results are often not indicative of success when it comes to human trials, the stand out performance of SNS01-T in both in vitro and mice models warrants attention. In vitro, the treatment displayed efficacy in every one of the wide range of cancer cells Senesco targeted. Furthermore, the treatment displayed efficacy in multiple mouse models of blood, lung and skin cancer. In the blood cancer models, SNS01-T displayed an 85-95% tumor growth inhibition at a dosage that I will come back to later in this article. The chart and image below illustrate this.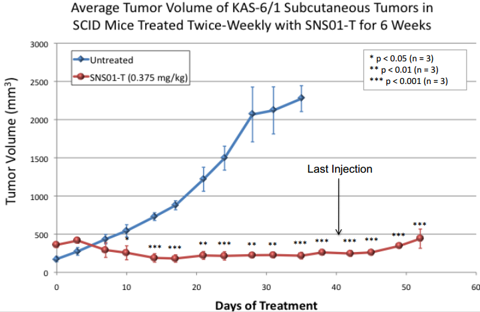 Senesco also tested SNS01-T in parallel to, and combined with, the currently available cancer treatment, lenalidomide. Lenalidomide is the thalidomide derivate Celgene (NASDAQ:CELG) markets as Revlimid. This again produced exceptional results, both in terms of the efficacy of a combined treatment and SNS01-T's superiority over lenalidomide in multiple myeloma treatment. Over a period of 42 days, SNS01-T treatment resulted in 96% tumor growth inhibition, compared to 78% inhibition associated with lenalidomide treatment. Also notable is that SNS01-T caused this superior inhibition at a fraction of the dosage of lenalidomide. Combined, the tow treatments displayed a 99% tumor growth inhibition over the same period. The chart below illustrates these results.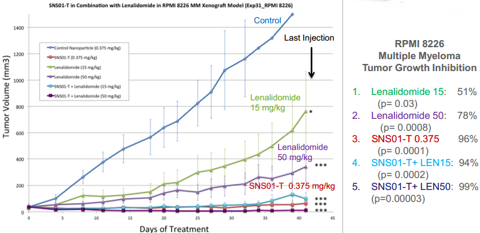 Clinical trials and a pending catalyst
SNS01-T is currently undergoing a phase 1b/2a trial. The trial is a dose escalation study, with safety and tolerability as its primary endpoint and efficacy as its secondary endpoint. The trial is broken into four cohorts, during each of which 3-6 patients receive a particular dosage of SNS01-T, twice weekly, over a six-week period. The first two cohorts completed in August 2012 and June 2013. During both cohorts, there were no drug-related serious adverse events or dose-limiting toxicities in any of the patients involved. The third cohort is underway, and Senesco expects to report its results by the end of this year. I expect this to be the catalyst that finally reverses investor sentiment. The reason for this is that the first two cohorts involved extremely low doses, 0.0125 mg/kg and 0.05 mg/kg, respectively. The third and fourth cohorts involve much higher doses, 0.2 mg/kg and 0.375 mg/kg, respectively. With the ongoing third dosage studies, and the upcoming fourth dosage studies, focus has switched from safety to efficacy. Therefore, when Senesco announces the third cohort results at the end of this year, they will likely display tumor regression, something about which investors can finally get excited. How much tumor regression it is impossible to say, but to get an idea, consider the chart below. It shows the tumor regression caused by SNS01-T treatment in mice at various dosages.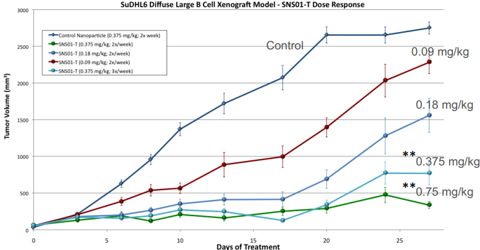 If the above chart is anything to go by, cohort three results could display anywhere between a 50-60% regression. Cohort four could display a 70-85% regression. Furthermore, all of these figures could increase as the treatment time in the above study only spanned 28 days. As aforementioned, each cohort in the current clinical trial involves six weeks of treatment.
Opportunity
If Senesco reports cohorts three and four results anywhere near the level of efficacy demonstrated in the mouse models, it will draw the attention of individual and institutional investors alike. The company recently effected a reverse stock 1:100 reverse split, shedding its penny stock status and opening up the potential for a relisting on a major exchange. Current market capitalization is a tiny $16.1M. As a number of fellow SA authors have pointed out, this is a hugely discounted valuation when compared to its peers. Senesco's float is also low, 2.25M, which could amplify the upside effect of any positive catalyst.
Management backing
Adding fuel to Senesco's potential for success is the backing, both financial and operational, of the company's Chairman, Harlan Waksal. Harlan Waksal has an impressive track record in the biotechnology sector, and is well known among the investment community for being the founder, director and president of Imclone. He eventually sold that company to Eli Lilly (NYSE:LLY), after a bidding war with Bristol-Myers Squibb (NYSE:BMY), for $6.5B. This equated to $70 a share, a 50% premium on the price of Imclone stock at the time.
Institutional interest
A look through the company's SEC filings will reveal that, following the reverse split, the institutional interest in Senesco has already begun. On October 4, the company reported Michael Brauser had purchased what amounts to 6.3% of the company. Michael Brauser is the founder and president of Marlin Capital Partners and sits on the board of a number of companies ranging from pharmaceutical, ChromaDex (OTC:CDXC), to online resale, uSell (USEL).
Risks
An article focusing on a development stage biotechnology company seeking FDA approval would be incomplete without a discussion of the risks involved in such a stock. While the results illustrated by the charts in this article are undeniably positive, it is important to remember that they derive from mouse models. Often, results seen in animal studies do not transfer to human trials. The path to FDA approval is long, costly and notoriously unpredictable.
This risk is magnified by the fact that SNS01-T is currently only in the first stage of its human clinical trials. Even if Senesco reports successful results during 2014, the treatment will still have to pass what could be as many as three further stages before it is approved for marketing. In short, while there could be some upside potential based on undervaluation and upcoming catalysts, it could be 3-4 years before the treatments receives FDA approval. Biotechnology investors will concur that anything can happen in this time, and so you should not base your investment solely on early stage trials. An undervaluation means nothing in a development stage biotechnology company if its primary candidate fails to receive FDA approval.
Further risk lies in the nature of a dose escalation study. While safety has been demonstrated at low dosage levels, the top line dosage planned for cohort four is nearly 30 times that of cohort one. There is no way to predict whether the trial will demonstrate the same safety at these elevated doses.
In addition, and as aforementioned, the company has an extremely low float of 2.25M. While I alluded to the potential amplification of any upside catalysts this level of float could have, the same is true in reverse. If the company reports negative data, selling pressure combined with low supply could lead to rapid decline.
Finally, Senesco will undoubtedly have to raise money over the next few years to fund the ongoing trials and development of SNS01-T. This will likely come in the form of stock offerings, which in the short term at least will dilute the value of any holdings.
All said, due diligence is paramount when considering investment in this space.
Conclusion
Senesco stock has suffered over the past year for no instantly recognizable reason. The market currently values the company at a discount to its peers, despite consistently positive trial data. The science behind SNS01-T is a revolutionary, cutting-edge approach to cancer treatment, and if proven effective could be applied to a range of other diseases. Upcoming catalysts including cohort three and cohort four results could reverse investor sentiment, and in turn, initiate a market revaluation of Senesco.
Disclosure: I have no positions in any stocks mentioned, and no plans to initiate any positions within the next 72 hours. I wrote this article myself, and it expresses my own opinions. I am not receiving compensation for it. I have no business relationship with any company whose stock is mentioned in this article.