Well it's official, Twitter (NYSE:TWTR) the seven-year-old social networking company is officially a publicly traded company. Twitter, the most anticipated company to go public since Facebook (NASDAQ:FB) back in May 2012, made sure investors were not disappointed.
Because of the huge demand for shares, the company raised its initial offering to $26 per share up from the initial $17-$20 and $23-$25 range. The stock soared ($45) when trading began bringing the company's worth to over $25 billion.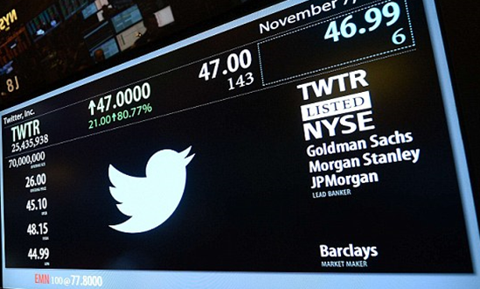 Click to enlarge
(Click to enlarge)
* Image taken from www.dailymail.co.uk
With the stock jumping over 70% on Thursday, did the underwriters led by Goldman Sachs price the company to low, or did investors get too excited from all the Twitter euphoria surrounding its IPO?
I believe investors were overly excited about the company and that shares are overpriced right now. History seems to agree after what we've witnessing over the last couple of years surrounding tech IPO's.
Haven't we seen this before? Yes that's right, look no further than what happened to Facebook, Yandex (NASDAQ:YNDX), Groupon (NASDAQ:GRPN), Zynga (NASDAQ:ZNGA) and many more tech companies. The table below shows the recent IPO history of these types of stocks.
| | | | |
| --- | --- | --- | --- |
| | 1st Week | 1st Month | 6 Months |
| Facebook | -21% | -29% | -40% |
| Groupon | -13% | -32% | -46% |
| Zynga | -14% | -19% | -42% |
| Vipshop (NYSE:VIPS) | -32% | -8% | +2% |
| Renren (NYSE:REN) | -26% | -30% | -62% |
| Pandora (NYSE:P) | -32% | -11% | -35% |
| Angie's List (NASDAQ:ANGI) | -17% | -12% | +3% |
| Yelp (NYSE:YELP) | -9% | +22% | +47% |
| Yandex | -2% | -12% | -20% |
| Kayak** | +8% | -11% | +55% |
| Average: | -16% | -15% | -13% |
* All figures in the table were rounded to closest whole number
** Kayak was acquired by Priceline (NASDAQ:PCLN) for $40 a share
As we can see, most of these stocks flopped during the first six months as a publicly traded company. From the first week of trading up to the first six months, shares fell by double digits. Is Twitter going to suffer the same feat? After the initial pop on its IPO day I believe Twitter will fall and will show you why.
Twitter Is Expensive
This may not come to a surprise to anybody, but shares of Twitter are expensive. According to the New York times, Brian Wieser, an analyst for Pivotal Research Group, has already downgraded shares of Twitter with a price target of $30. So what's his reason for doing so? "With a price that pushes into the high $30's and beyond, Twitter is simply too expensive," Wieser told the times.
So just how expensive is Twitter? Well after the first day of its IPO, shares of Twitter are valued at 45.8 times revenue over the past 12 months. This compares with Facebook and LinkedIn who were far less expensive during their IPO debut's at 26 and 14.5 times revenue.
| | | | | |
| --- | --- | --- | --- | --- |
| | Market Cap (IPO Day) | Today's Market Cap | Price-To-Sales Ratio (IPO Day) | Forward Price-To-Sales Ratio |
| Twitter | $24.4B | $24.4B | 45.8 | 22 |
| Facebook | $104.2B | $115.5B | 26 | 11.2 |
| LinkedIn | $8.9B | $25.2B | 14.5 | 11.7 |
Twitter, compared to some of its tech peers, is extremely expensive and overvalued at the moment. Let's not stop there though. Break it all down we can see how much users are valued at each company.
| | | | |
| --- | --- | --- | --- |
| Twitter | Facebook | LinkedIn | Zynga |
| 218 Million Monthly Users* | 1.19 Billion Monthly Users | 259 Million Total Users | 133 Million Monthly Users |
| Share Price: $44.90 | Share Price: $47.56 | Share Price: $211.47 | Share Price: $3.46 |
| Mkt Cap: $24.4B | Mkt Cap: $115.5B | Mkt Cap: $25.5B | Mkt Cap: $2.78B |
| User Worth: $111.9 | User Worth: $97.05 | User Worth: $98.45 | User Worth: $20.90 |
* As of June 30, 2013
Looking at the table we can see that Twitter's users are valued more than 5x then that of Zynga, and a lot higher than FB and LNKD as well. What also stands out is Twitter is still not even generating a profit like Facebook and LinkedIn.
Should Twitter users be valued that high? Not a chance. If Twitter's users were worth the same price as Facebook's users, then Twitter would be valued at no more than $21.1 billion or $38.82 per share. This would represent a decrease of around 14% from current prices.
Analyst Price Targets
Twitter's opening day was a big bright spot in an overall down market. Analysts talked about Twitter's big day and gave their recommendations on the stock.
RBC Capital gave it an outperform rating (Buy), with a 12-month price target of $33.00. RBC analyst Mark Mahaney compared Twitter to Google (NASDAQ:GOOG), Amazon (NASDAQ:AMZN), and Facebook, saying the microblogging site has evolved into an Internet utility. However, from Thursday's closing prices that would represent a decrease of more than 25%.
Michael Pachter, an analyst at Wedbush Securities was even more positive on the company saying, "Because of its critical mass, it should enjoy a competitive advantage for the foreseeable future." Pachter rated shares Neutral with a price target of $37.00. From Thursday's closing prices that would still represent a decrease of around 18%.
Arvind Bhatia, an analyst of Sterne Agee wasn't as upbeat as other analyst's saying that Twitter should be worth $25 to $32 in the next 12 to 24 months. "Given Twitter is still in heavy investment mode, we think the company's top-line rather than bottom-line metrics are more appropriate for valuation purposes," Bhatia said. From Thursday's closing prices that would mean a decline of over 30%.
According to Marketwatch, Peter Garnry, head of equity strategy at Saxo Bank, said "these tech IPOs have become like a videogame cheered by ordinary people and the media." "The valuation at these price levels is disconnected from any logical calculation and reflects a huge downside risk for investors if Twitter does not meet expectations at every quarterly earnings release from now on," he added.
Conclusion
I like Twitter and use it fairly often as it relates to my job. However, when I woke up this morning I was shaking my head in disbelief when I saw that shares of Twitter opened above $45 a share. Don't get me wrong, I love using Twitter and think it's a great company. Nevertheless, with thousands of stocks to choose from, why would you pay such a premium for shares of Twitter right now?
Even analysts that are positive on Twitter have price targets that are well below (15%-30%) of where shares are trading at right now. There is no reason to be buying shares at these prices unless you are holding for a very long, long time and believe Twitter can keep growing at record levels over the foreseeable future.
I believe Twitter's recent surge has been because of Facebook's success and ability to monetize the mobile department. Mobile was and still is a huge concern for many companies across the world. Now that Facebook has seemed to have figured it all out, investors are already banking that Twitter will be able to do the same thing, only quicker.
Investors should remember that Twitter is a young company generating a large amount losses as it competes in a highly uncertain sector of the economy. The fact that it's IPO skyrocketed is impressive because of the fact that the company lost more than $300 million the last three years, and may not show profits until 2015.
"The possibilities and opportunities afforded by the platform are limitless," Dick Costolo, Twitter's chief executive officer, said during the company's roadshow presentation. However, if recent history has shown us, the euphoria is unlikely to last and shares are likely to fall.
Analysts believe the company could post revenue of $1.9 billion in 2015, which would be three times what the company expects to make this year. The only drawback, Twitter's stock price on Thursday, already reflects most of that growth. In order to reach that growth Twitter is going to have to be pretty darn close to perfect if it wants to reach those results.
Therefore, I believe the stock price will come down because the price does not actually reflect the true worth of the company. Seeing how most tech IPO's have flopped over the years makes this a great opportunity to make a lot of money in this stock.
Investors are always reminded that before making any investment, you should do your own proper diligence on any stock mentioned in this article. Have a great day and as always, I look forward to hearing your thoughts or questions that you might have.
Disclosure: I have no positions in any stocks mentioned, but may initiate a short position in TWTR over the next 72 hours. I wrote this article myself, and it expresses my own opinions. I am not receiving compensation for it (other than from Seeking Alpha). I have no business relationship with any company whose stock is mentioned in this article.