Investors Have Responded Positively To This Week's Earnings
UFP Technologies, Inc. (NASDAQ:UFPT) reported third quarter earnings earlier this week. The stock has responded nicely, advancing by more than 11% since the press release was issued. Having reviewed the firm's 10-Q, I have decided to reduce my holdings in the company. Since my initial recommendation in late May, the stock has advanced more than 30% while the total return of the Russell 2000 Index is 10%. At the end of May, I suggested a one year price target of $30 for UFPT. Five months later, organic growth for UFPT is softer than I expected, margin improvement has been slower to materialize, and free cash flow of $6.5 million for the year to date is trailing my expectations. I think investors will need to see a solid, accretive acquisition (which management continues to work towards) for the stock to make a push towards $30 in the next few months.
Last Year's Acquisition Is Masking Negative Organic Growth
Management noted in the 10-Q that organic revenue growth is negative 1.3% for the year to date. The acquisition of Packaging Alternatives Corporation (referred to as PAC) at the end of last year has added $7.9 million to 2013 revenue. PAC had 2012 revenue of $11.6 million, so it looks like revenue will shrink modestly in 2013 for this segment. Integration costs have held operating income to about $250,000 for the year to date. PAC had 2012 net income of around $0.7 million. (Source: SEC Filings)
Decreasing military sales are largely responsible for the negative organic growth. Q3 aerospace and defense (military) revenue declined $2.2 million during the third quarter, which I estimate to be nearly a 50% decline from the year ago period.
Management Sounds A Bit Cautious In The Near Term
Chairman and CEO R. Jeffrey Bailly had this to say in the third quarter earnings release:
Looking forward to the next two quarters, we expect continued softness in certain markets and some shifting in demand," Bailly said. "We anticipate that our medical business will remain strong. However, we expect the growth of our molded fiber business to slow in the first quarter of 2014, and military sales to gradually improve but remain below historical levels.

In addition, we continue our efforts to identify strategic acquisitions that can increase our value to customers and help position UFP Technologies for long-term success. With our strengthening balance sheet, we are well positioned to respond quickly to these opportunities.
I Hope To See More Acquisitions
UFPT continues to have a rock solid balance sheet, with $38.2 million in cash, or $5.38 per share. Long term debt stood at $7.7 million at the end of the third quarter. Management has described their industry as a tremendous roll-up opportunity. I will be watching closely to see if the company is able to use some of its excess cash to make acquisitions in the coming months. I think my $30 price target is still achievable if we see some smart acquisitions, but the stock is probably due for a rest after the recent price advance if the acquisitions don't materialize.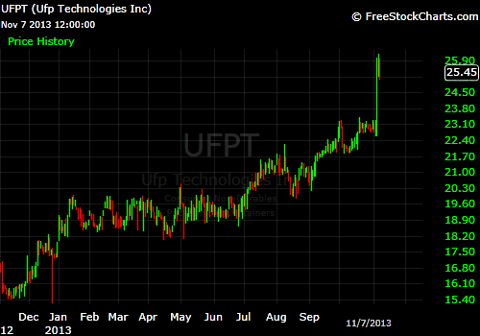 Click to enlarge
Disclosure: I am long UFPT. I wrote this article myself, and it expresses my own opinions. I am not receiving compensation for it (other than from Seeking Alpha). I have no business relationship with any company whose stock is mentioned in this article.