Well, folks, BlackBerry (NASDAQ:BBRY) is looking like it has reached the end of the road in terms of options. Sure, it just brought on $1 billion in cash, which is great - but it is officially time to "shizen", or get off the pot. This Hail Mary that's chock full of ugly convertibles is likely to be BlackBerry's last stand - and I'm not betting on it.
Admittedly, my history with BlackBerry has been one of skepticism, dating all the way back to the beginning of the year, when then CEO Thorsten Heins and BlackBerry longs were swearing up & down, left & right that the BlackBerry 10 was going to be the company's savior.
I, on the other hand, saw it slightly differently when I produced an article titled "Dead Company Walking: 5 Reasons Blackberry 10 Marks the End". Subsequently, I was bashed relentlessly from BlackBerry longs and supporters; but it looks like I was on the right track with that article.
On March 27th of this year, I called BlackBerry stock a "massive risk", while it was trading in the $14 region, citing the botched launch of the BB10 and zero confidence coming from the street.
Then, in September of this year, I wrote:
That teaches us our first lesson with BlackBerry. Buyout or no buyout, private or public, partnership or not - it's extremely tough right now to look at BlackBerry as a long term investment; or, for that matter, anything less than simply a speculation play for potential longs. This is also starting to become a bit more prevalent when one looks at the options for BBRY - the implied volatility, even for options that expire in just three short weeks, is growing.
Since then, BlackBerry has joined the ranks of companies like J.C. Penney (NYSE:JCP), who are having an unceremonious 2013 altogether.
BlackBerry has been down almost 30% over the last three months of trading, extending its losses for 2013 to about 45% for investors that have been in since the beginning of the year.
After temporarily backing the BlackBerry buyout, it took me roughly 15 minutes of due diligence to conclude that something stunk and that the buyout was likely not going to go through.
Then, it was talks about the Z30 phablet being the saving grace for the company. That, I argued, was more nonsense.
It was announced on Monday of this week that BlackBerry had dethroned Thorsten Heins in conjunction with making a hard left from the potential Fairfax led buyout. It then came out and said that Fairfax was, instead, going to be part of a consortium of investors that were going to invest $1 billion in the company through convertibles.
"Today's announcement represents a significant vote of confidence in BlackBerry and its future by this group of preeminent, long-term investors," said Barbara Stymiest, BlackBerry's board chairwoman.

"This financing provides an immediate cash injection on terms favorable to BlackBerry, enhancing our substantial cash position," she added. "Some of the most important customers in the world rely on BlackBerry and we are implementing the changes necessary to strengthen the company and ensure we remain a strong and innovative partner for their needs."
Heins had, under his belt, the failure of the BlackBerry 10 and six years of consistently failing to get anyone (aside from BBRY longs) fired up about what the company was doing. Heins went down with the ship.
(Heins could not get the job done, and was ousted by BlackBerry)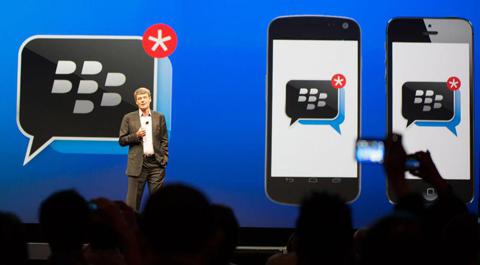 (Click to enlarge)
While this financing was somewhat confidence inspiring, it also had an air of desperation about it. I'd caution investors to think twice if they're sure that this is going to be the deal that winds up saving the company and turning things around. It could just as easily be seen as a sign to cut losses in BBRY and move on.
Friday it was reported that John Chen, who's going to be coming on board at BlackBerry as CEO, is getting a package that starts with a base salary of what most people won't earn over the course of their lives.
Chen will be getting a base salary of $1 million, including stock awards that could total upwards of $80 million - vesting after 5 years - if Chen can get the job done and turn the company around. While that's certainly a nice chunk of motivation for Chen to get the job done, we've seen many CEOs (including Heins) make out just fine while continuing to drive the company into the ground. If they decide to give Chen the heave-ho without cause, he'll net a cool $6 million. Sounds like a great package for Chen.
(Is Chen going to be the man with the plan?)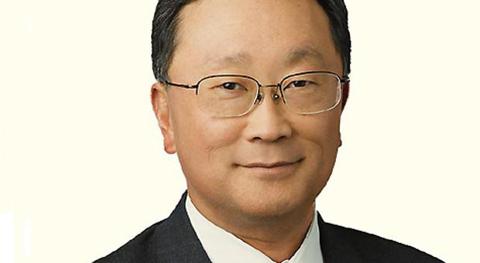 (Click to enlarge)
Chen is going to need to produce some type of tangible strategy that he can immediately put into action for BlackBerry - and he's going to need to do it on the double, as investor confidence continues to wane and BlackBerry continues to shovel money out of the window.
I continue to think that as far as strategy goes, tailoring the company towards enterprise and security is generally a good idea. The idea of BlackBerry simply becoming a company that markets their products to law enforcement, government, and people who require substantial security is a great idea. This thought process was born from a conversation between myself and contributor Michael Blair, while trying to figure out BlackBerry's options.
I commented on this in a past article:
The important thing about security/government is that it really is a niche in the super-saturated mobile phone market. At one point, Sprint/Nextel looked as if they were going to focus on this crowd - right when the two-way feature was developed and Sprint/Nextel was making phones that you could run over with an 18-wheeler. They strayed from this idea, and it was ultimately semi-abandoned from a marketing standpoint.
Just as companies like Panasonic (OTCPK:PCRFF) (who makes the Toughbook) have to make the laptops that are used in the military and law enforcement field, BlackBerry could tailor themselves as the company that's going to provide the security, toughness and innovation necessary for specialized needs like those of government employees
It may not be the greatest strategy, but at least it is a strategy - a starting point.
And, we all know that BlackBerry has assets that are worth money. Aside from property, plant and equipment, the company has valuable patents and a top notch security protocol that's currently going to waste. The company needs to monetize these assets and use them to their advantage, whether it's from an internal turnaround or a sale of the company. It is time for BlackBerry to hunker down, take a good hard look at itself, and do what's best for shareholders by firming up the company's fundamentals. This $1 billion injection could potentially be looked at as step one to the beginning of the new BlackBerry, or the beginning of the end. That decision, is all up to John Chen, now.
While I love a good comeback story, and have made money on a few of them [Priceline (NASDAQ:PCLN), Sirius XM (NASDAQ:SIRI)], sometimes companies just don't have what it takes to turn things around. BlackBerry is on life support right now, and while a speculative long position here does have the potential to yield astronomical gains if the company turns around, it's far too risky for me to bet on BlackBerry's last stand.
Best of luck to all investors.
Disclosure: I have no positions in any stocks mentioned, and no plans to initiate any positions within the next 72 hours. I wrote this article myself, and it expresses my own opinions. I am not receiving compensation for it (other than from Seeking Alpha). I have no business relationship with any company whose stock is mentioned in this article.