SolarCity (NASDAQ:SCTY) was down as much as 17% after its most recent earnings announcement. The company reported revenue rise of 52% y-o-y to $48.6 million when analysts were expecting $40.45 million. The company also lost $0.43 per share on an adjusted basis, which was a penny shy south of expectations. So ball park earnings were slightly better than expected.
What the market didn't like, was the guidance from management calling for an adjusted net loss of $0.55 - $0.65 per share for the fourth quarter.
There are many analysts that have called SolarCity overrated and overvalued. I will add myself to this list. Besides the impossible to comprehend accounting the company uses, one has to take into account how expensive this stock is.
Even if we assume the company does $200 million in revenue this year, the company is valued at $3.9 billion. Granted the future projected flows and so on, but that still does not justify such a high valuation. Current shareholders equity is $306 million, or put it another way, P/B is at 13. However that book value is being divided among fewer shareholders.
The company seems to be issuing shares on a constant basis, and that in my book is a red flag.
SCTY Shares Outstanding data by YCharts
The amount of shares issued are not currently diluting shareholders to death (not this year anyway), but a 15% increase in total shares outstanding from the beginning of the year is not small potatoes also. And from my experience, all this share printing eventually catches on, and the price of the stock pays for it one way or another.
With a market cap of around $3.9 billion, this stock is way too rich for my taste. I mean, what can investors expect to make from these levels? How far out into the future should investors discount the future?
The stock is slightly down today and has broken key support levels. If it trends below $46 a share, then it is possible for the stock to reach the $28 level. I may add that the rise in short interest supports this bearish view.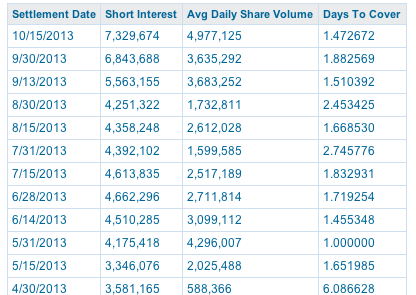 Bottom line
This is not a stock for long-term conservative portfolios, unless you are prepared to take on a lot of risk (as I define it anyway). My take is sell the stock if you have it, and be prepared to open a short position if you see technical weakness on a weekly time scale.
Disclosure: I have no positions in any stocks mentioned, and no plans to initiate any positions within the next 72 hours. I wrote this article myself, and it expresses my own opinions. I am not receiving compensation for it (other than from Seeking Alpha). I have no business relationship with any company whose stock is mentioned in this article.