Ask investors to pick a defensive stock for their portfolio and chances are small the name of Kimberly-Clark (NYSE:KMB) will come up. Fair enough, diapers and tissues are not the most 'sexy' products available to consumers, however most necessary. This international consumer goods company may not have as much flair as some of its competitors; still it could turn out to be a good and stable investment. Is Kimberly-Clark a perfectly boring stock?
The company
Consumer goods company Kimberly-Clark was founded back in 1876. The company's headquarter is located in Dallas, Texas. Kimberly-Clark manufactures personal products, such as personal care, diapers, tissues and healthcare products. Most familiar brands are Huggies, Kotex, Kleenex and Page. The company sells products all around the world, but generates most revenue within the United States.
The company staffs 58,000 full-time employees. According to this article Kimberly-Clark has been ranked No. 6 among "The World's Best Multinational Workplaces" for 2013. The company received top honors in the past three years and once again outranks all other global consumer companies in the survey. "Behind our great brands are even greater people," says Sergio Nacach, president, Kimberly-Clark Latin America.
Products and markets
Personal care consumer goods are a stable investment. Regardless economic conditions consumers are buying tissues and diapers anyway. The same can be said about Kimberly-Clark's products. Almost a quarter of the world's population uses their products every single day. This results in a very low beta of 0.12 according to Yahoo Finance. Kimberly-Clark's beta is far lower compared to competitors like The Procter & Gamble Company's (NYSE:PG) 0.38, Colgate-Palmolive (NYSE:CL) 0.30 and Energizer Holdings (NYSE:ENR) 0.65. This underscores stable market conditions in which Kimberly-Clark operates.
Last year, in October 2012, Kimberly-Clark announced strategic changes in Western and Central European markets. These markets are struggling and the company wanted to shift focus and resources on stronger market positions and growth opportunities to improve profitability and deliver sustainable returns. Instead the company is now focusing on emerging markets like Brazil, China and Russia. Where competitors are struggling to deliver, growth in these markets delivered Kimberly-Clark encouraging third quarter results. Personal care volumes increased in Australia, China, Russia, South Africa, Vietnam and throughout most of Latin America, including Brazil.
Kimberly-Clark is also more and more focusing on their healthcare products. On September 12, 2013 the company announced that it has been awarded an exclusive three-year purchasing agreement with Novation. Novation will purchase KIMBUARD Sterilization Wrap products, which products demonstrated clinical advantages and favourable cost benefits. The product will be available to more than 65,000 members and affiliates of VHA Inc., UHC, Children's Hospital Association and Provista, LLC.
Dividend policy, share buyback and valuation
How about the company's dividend policy? Kimberly-Clark pays a quarterly dividend. Since 1972 the company raised its quarterly dividend every single year. Currently the Kimberly-Clark pays $0.81 dividend per quarter, or $3.24 per year. The stock closed at $107.88 on Wednesday. Total dividend yield amounts 3.00%, slightly more than competitors The Procter & Gamble Company (Yield: 2.90%), Colgate-Palmolive (Yield: 2.10%) and Energizer Holdings (Yield: 2.00%).
Kimberley-Clark's current dividend yield is attractive. How about the company's ability to keep increasing quarterly dividends in the future? The company expects net income per share to be around $5.70 for 2013. Given annual dividend of $3.24, the current pay-out ratio is 57%. Pay-out ratio in terms of operating cash flow is even better. Kimberly-Clark generated $2.1 billion in cash flow from operating activities and paid $913 million in dividends, Total pay-out ratio of 43% considering cash flow from operating activities. Current pay-out ratios provides the company enough space to keep increasing dividends in the future.
Besides a great dividend yield, Kimberly-Clark return more cash to shareholders. Third quarter 2013 share repurchases were 1.6 million shares at a cost of $150 million. The company plans to repurchase $1.2 billion of common stock in 2013. Share were repurchased under the 2011 share buyback program. Following the statement made on January 21, 2011 the program allows for the repurchase of 50 million share in an amount not to exceed $5 billion. Given capital spending so far, the company will repurchase stock at least until March 2015.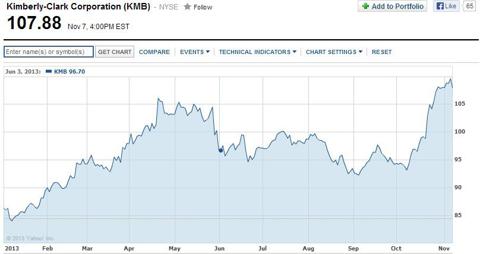 In reaction to the third quarter earnings, Kimberly-Clark shares jumped to $109 a share, after losing some of its profits on Wednesday. Stock performance is outstanding this year, gaining 25% year-to-date (see graph). This puts some pressure on current valuation. The company expects net profit of $5.70 for 2013. The stock closed at $107.88 on Wednesday. Kimberly-Clark is currently valued at 18.93 times net earnings per share, in line with competitors The Procter & Gamble Company (P/E: 17.67), Colgate-Palmolive (P/E: 20.84) and Energizer Holdings (P/E: 17.24).
Conclusion
The company is in transition by divest in low profitability- and growth markets like Western Europe and invest in high profitability- and growth markets like China and Brazil. This should lead to earnings-per-share growth in the future. Operations and sales in the United States will provide stable cash flows for the company, so dividend payments and share buybacks are not at risk.
Due to stable markets and great brands, share performance does not rely on stock market trends, given a beta of 0.12. The company's beta is far more lower compared to competitors. Next Kimberly-Clark offers a healthy 3.00% dividend (also more than their competitors) and share repurchases will continue for at least 1.5 years. Shares are fairly valued compared to the valuation of competitors.
So, Kimberly-Clark is a perfectly boring stock! Investors looking for stable stock returns and a good dividend should consider this stock in their portfolio.
Disclosure: I am long KMB. I wrote this article myself, and it expresses my own opinions. I am not receiving compensation for it (other than from Seeking Alpha). I have no business relationship with any company whose stock is mentioned in this article.