I said: 'Homer and Virg are New England farmers,

And the winged horse guards their gas-station, you're right.'

I felt the foam head watching as I stroked an arm, as

Cold as its marble, then the shoulders in the winter light

In the studio attic. I said, 'Omeros,'…
- Derek Walcott, Omeros
There is an adage known as "Murphy's Law" that says if something can go wrong it will. For those of us who seek some originality, and perhaps realism, in our lives, a reworked variant might be applied to Omeros Corporation (NASDAQ:OMER). Over the past month and a half, many of the things that could unfold well for the company have done so. Cowen and Company, having three analysts covering the stock, has issued a November 7th note that should provide perspective on how things have been transpiring.
Anyone who has been following the corporation knows that its lead candidate OMS302, intended as a treatment during eye surgery, has pending applications here and in Europe. A recent report issued by Wedbush gives reason to believe that the drug candidate's domestic demand could be greater than many have allowed for because the Food and Drug Administration is actively regulating surgeons' use of agents. OMS302 is part of the company's PharmacoSurgery platform, which is intended to be a financial generator in support of the remainder of a fairly deep pipeline that contains products with exciting potential.
One of them that remains in an early stage is OMS721, a MASP-2 antibody. Encouraging data has just been released that gives reason to believe that it is pertinent to macular degeneration. In the past, the company has said that OMS721 is under review for orphan drug designation due to promise at treating atypical hemolytic uremic syndrome and indicated that its usage could be applicable to other conditions. According to Cowen, it is also under Phase 2 study for thrombal microangiopathies. Here is what the firm has to say about the current Phase 1 results:
Omeros also recently reported new preclinical data for OMS721 in an animal model of neovascular age-related macular degeneration…In the model, in which new vessel growth in the eye was promoted by laser treatment, OMS721 administration resulted in more than 50% reduction of blood vessel development compared to placebo. The company reported that OMS721 also "outperformed" anti-VEGF treatment...
Also, there is a preclinical mAb discovery platform that was acquired from Accelerator Corp in December, 2011.
A recently acquired discovery technology for faster and more efficient generation of monoclonal antibodies rounds out Omeros' diverse portfolio of assets.
While Cowen has an Outperform rating on the stock, it is not as optimistic as Wedbush. As shown in the following graphic, the drug company is not projected to be profitable until 2018, when 62.3 million diluted shares are estimated to earn $0.56 each: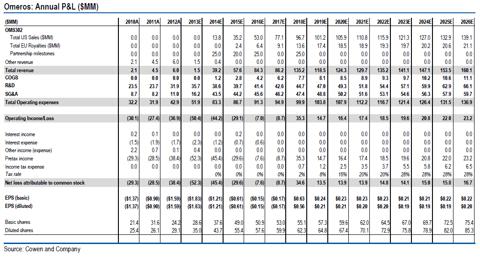 Cowen uses different methodologies to determine net present values: including discounted cash flows for revenues and a sum of the parts for the pipeline. Here is the latter, which says the company's market cap should be worth $506 million and roughly 52% higher than it is currently: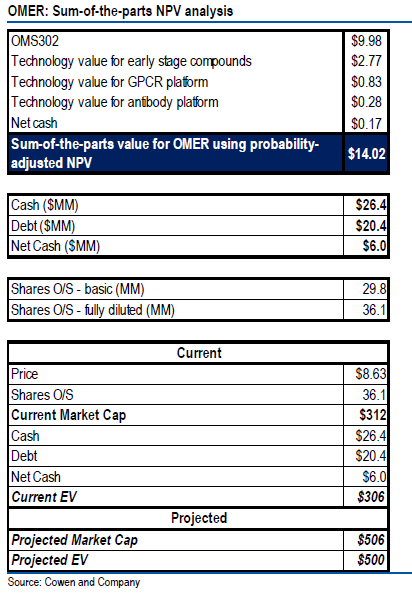 As with virtually all biotechnology and biopharmaceutical startups, financing is a challenge. There has been encouraging news that Omeros has settled an ongoing legal claim for $12.5 million, approximately enough to get through one quarter. Not surprisingly, it has also taken advantage of the stock's explosive run up to sell shares. Here is Cowen's commentary:
OMER ended 3Q13 with $9M in cash, and in October received $12.5M from CCIC in an insurance coverage settlement agreement and also raised $4.9M by issuing 374K shares through an at-the-market offering, bringing its pro forma cash position to $26.4M. OMER also has $20.4M in debt.
Things have generally been felicitous for Omeros Corporation of late. While even the company's most ardent supporters need to acknowledge that it is not going to be profitable any time soon, its financial condition is not importunate. Value is increasing by all available accounts and one can only be optimistic that the denouement of OMS721's increasingly complex story is favorable.
Disclosure: I have no positions in any stocks mentioned, but may initiate a long position in OMER over the next 72 hours. I wrote this article myself, and it expresses my own opinions. I am not receiving compensation for it (other than from Seeking Alpha). I have no business relationship with any company whose stock is mentioned in this article.