Most U.S. retailers reported relatively strong sales results for the 2009 holiday season compared to a year ago, and the hope is this represents a turning point for an industry mired in its worst slump in decades.
Better inventory management, reduced promotional activity, and extremely easy comparisons to prior periods helped several retailers break multi-year losing streaks over the past few months. For example, Gap Inc. (NYSE:GPS) recently broke a string of 20 straight quarters and 22 consecutive months of negative same-store sales. However, there are a handful of retailers we cover who are still struggling mightily to turn things around and sport some of the ugliest charts around: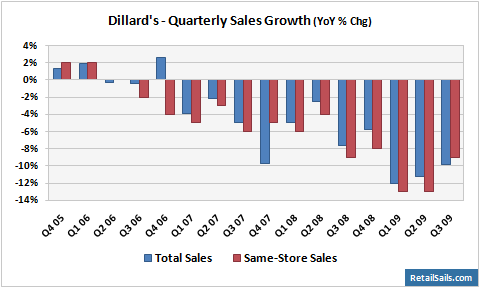 Earning its reputation as one of the world's least admired companies in 2009 by Fortune, Dillard's (NYSE:DDS) has managed to post 13 consecutive quarters of comparable sales declines, and negative same-store sales in 31 of the last 33 months (17 consecutive). Fiscal 2009 will be the 10th straight year the company has not shown comparable sales growth, though they did to their credit report flat same-store sales in 2005.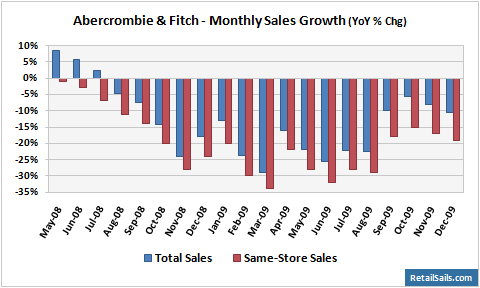 Abercrombie & Fitch (NYSE:ANF) has reported 20 consecutive months of negative same-store sales, with 17 straight double-digit declines. Decreases of 17% and 19% in November and December on top of 28% and 24% drops in the prior-year periods were the worst of any company around. The company waited too long to begin discounting in 2009, and continue to lose market share to rivals such as Aeropostale (NYSE:ARO) and American Eagle (NYSE:AEO).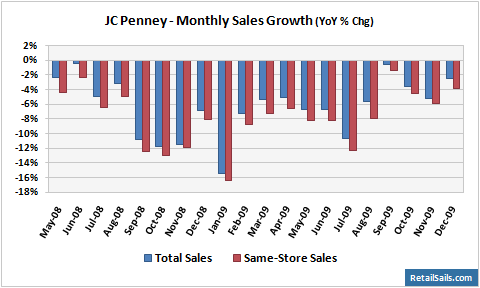 JC Penney (NYSE:JCP) has posted 23 straight months of comparable sales declines, and is expected to report its 10th straight quarter of negative same-store sales for the 4th quarter of 2009. While the company has tried to spin recent performance as "less bad is good" and highlight cost-cutting measures, holiday results are disappointing in the face of positive reports from rivals who offered more compelling merchandise and promotions.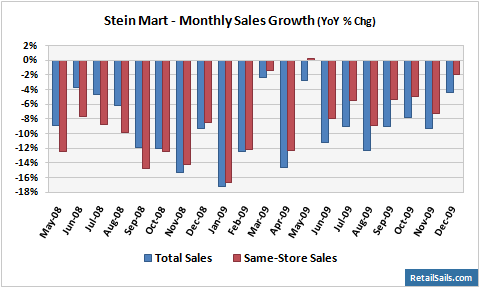 Last but not least, specialty department store retailer Stein Mart (NASDAQ:SMRT) makes the list with negative same-store sales in 29 out of the last 31 months, as well as 11 consecutive quarters. While the stock price has recovered from an all-time low of a buck back in March as bankruptcy fears have subsided, there has yet to be any kind of recovery in top-line performance.

Disclosure: No Positions