Shares of Manulife Financial (NYSE:MFC), Canada's largest life insurance company, soared 2.7% today after reporting earnings that beat Wall Street consensus. This article will provide an updated investment thesis provided in my prior article and briefly summarizes the Q3 results.
Overview of Q3 Results:
Manulife's strategy of de-risking and improving profitability is paying off. Below are some of the highlights:
GAAP earnings of $1.034 billion or $0.54 per share in Q3/13. This compares to a deficit of $227 million or $0.14 per share in Q3/12. This was achieved even with an actuarial assumption charge of $252 million or $0.14 per share.
Core Earnings, which excludes mark-to-market impacts and assumption charges, was $704 million or $0.36 per share in Q3/13. This compares to core earnings of $609 million or $0.33 per share in Q3/12. Analysts' estimates for core earnings was $0.35 per share
Core ROE increased from 9.3% in Q3/12 to 11.3% in Q3/13. This 2% improvement is very encouraging and shows solid process has been made to improve profitability and reduce risk at the company
The MCCSR Ratio, a regulatory capital ratio, strengthen 7% to 229% in Q3/13 from Q2/13.
Graph 1: GAAP and Core Earnings in Millions (Last 7 Quarters)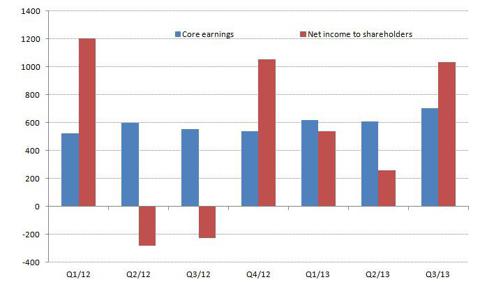 Source: Manulife Q3 Press Release. The volatility in GAAP earnings is due to the mark-to-market nature of IFRS accounting, used by Canadian companies like Manulife
Graph 2: Core ROE in Percentage (Last 7 Quarters)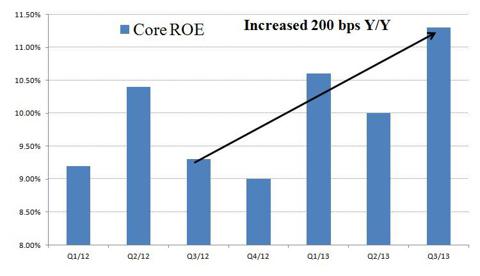 Source: Manulife Q3 Press Release
Graph 3: Insurance Sales in Millions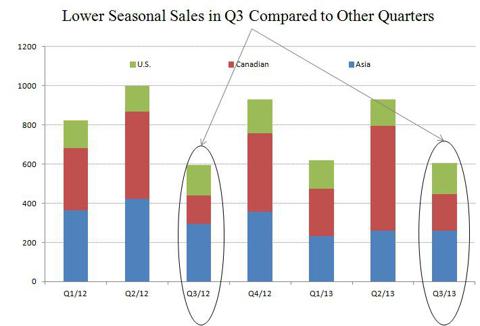 Source: Manulife Q3 Press Release
Graph 4: Wealth Sales in Millions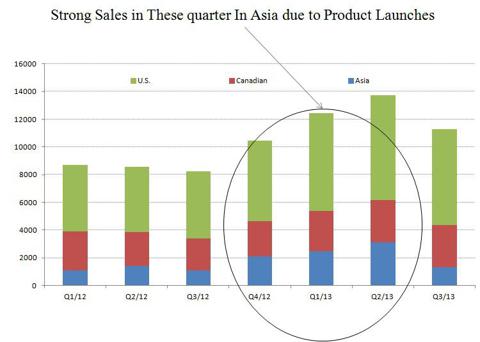 Source: Manulife Q3 Press Release
Revisiting the Main Drivers:
The two main drivers for the company discussed in my prior article are (1) long term growth in Asia (2) The benefits of a raising interest rate environment. I will address each driver in detail in light of the information received in today's Q3 earnings.
Long Term Growth in Asia
Although Asian Q3 results were poor on a quarter-over-quarter (Q/Q) basis, weaker sales appeared to be seasonal (see Graph 3 and 4). Management explained on the conference call that insurance sales was slightly weaker Q/Q because of lack of product launches. The company has recently launched 40 new insurance products late-Q3 and seen good sales momentum building in its key markets such as Japan and HK, which will carry through in Q4. Wealth sales was weaker Q/Q because Asian buyers tend to purchase wealth products in big lumps rather than buying them on a regular basis (i.e. fixed contribution per period). Because there was no new wealth product launch until early 2014, the low wealth sales is likely transitory.
In the long run, Asia will continue provide excellent growth opportunities for Manulife. The rise of the middle class will increase demand for insurance and wealth products. It is increasing its scale and awareness by expanding its contract agents by 6% and increasing its distribution channel through partnering with local banks. These actions lay the seeds for future expansion, despite weaker sales in the short term.
Benefits of Higher Interest Rates
A life insurer like Manulife gets enormous benefit from a higher interest rate environment. Steve Roder, Manulife's CFO, spent time on the conference call today discussing the impact of higher rates. First, there are first order effects, which is higher earnings and capital due to the mark-to-market nature of IFRS accounting. Also, there will be additional second or third order effects that will benefit the company. These include (1) Reduce business strains (2) Higher earnings on surplus since cash is re-invested at higher rates (3) Opportunity to reduce leverage
Mr.Roder told investors on the conference call that the company will benefits from raising rates, yet its financial position will still remain strong even if rates remain low. The reason for this asymmetric result is due to IFRS accounting. The current financials already reflect a prolonged low rate environment. Hence, even if rates remain low, a large charge is not necessary. On the other hand, if rates do increase, the company stands to profit from that.
Minor Driver: Cost Reduction
The company announced last quarter that it started a cost reduction program that will save $100 million in FY2014. Management expects the program will have long term benefits in addition to the $100 million accounting benefit. Mr.Roder explains that the cost cutting program enhances operations which will reduce per unit costs if sales increase in the future, thus increasing operating leverage.
Valuation:
Manulife is trading at 1.5X book value and 14.1X trailing 12M core earnings. In the past, Manulife has traded between 1.5-2.0X book value. Please see table 1 and 2 below.
Table 1: Price to Book Multiples
| | | |
| --- | --- | --- |
|   | Q3/13 | Q2/13 |
| BVPS (IFRS) | $12.90 | $12.72 |
| BVPS (U.S. GAAP) | $20.04 | $21.00 |
| Price at reporting date | $19.22 | $17.66 |
| P/B (IFRS) | 1.50X | 1.39X |
| P/B (IFRS) | 0.96X | 0.85X |
Source: Q3 Statistical Package. BVPS = Book Value per Share. Please note the decrease in BVPS under U.S. GAAP is due to the mis-match between policy liability and costs of hedging. IFRS allows hedging instruments to reduce policy liability on a mark-to-market basis while U.S. GAAP does not. Since markets rose in Q3, the additional costs reduced BVPS under U.S. GAAP
Table 2: Price to Core Earnings Multiples
| | | |
| --- | --- | --- |
|   | Q3/13 | Q2/13 |
| Core Earnings per Share(Trailing 12M) | $1.34 | $1.26 |
| Price at Reporting Data | $19.22 | $17.66 |
| P/Core Earnings | 14.1X | 14.0X |
Source: Manulife Q3 Results Press Release
My price target is $22.75, which uses my estimated 2013 year-end BVPS of $13 and a price to book multiple of 1.75X (middle of the historical range).
If I value the company on an earnings basis, I get a similar price target. Judging from today's Q3 result, Manulife is on track at meeting its goal achieving $4 billion in core earnings by end of 2016. Using the current 14X multiple, implies a $30.38 per share at the end of 2016. Discounting that value by the cost of equity of 10% for 3 years implies a PV of $22.83. Please see table 3 for a sensitivity analysis of this earnings multiple valuation technique.
Table 3: Sensitivity Analysis

For the sake of consistency, $22.75, calculated using the P/B multiple, is my official price target. For U.S. investors, this price target implies a target of US$21.75 for Manulife's NYSE listed shares using today's USDCAD exchange rate of 1.045.
Conclusion:
After struggling from 2010-2012 financially and operationally, Manulife is finally delivering solid results for its shareholders after implementing prudent risk management measures (i.e. hedging programs) and re-positioning its products to avoid large guarantees. The stock has ran up significantly this year, with YTD gains of 40%. I expect the stock will continue to perform well, despite the uncertain macro environment, because of the main drivers I discussed in the article. For investors who hold Manulife, continue to hold and benefit from its improving financial results. For those who does not currently have a position in Manulife, wait for a short term pullback. This stock is still volatile in the short term. However, I expect Manulife to reach my price target of $22.75 in the next 12-18 months.
Disclosure: I am long MFC. I wrote this article myself, and it expresses my own opinions. I am not receiving compensation for it (other than from Seeking Alpha). I have no business relationship with any company whose stock is mentioned in this article.
Additional disclosure: This article is for informational purposes only and does not constitute an offer to buy or sell any securities discussed in the article. The stock mentioned in this article does not represent financial advice. The target price presented in this article is based on current information and are subject to change without further notice. Investors are recommended to conduct further due diligence before committing capital to any investment.