"I believe that a simple and unassuming manner of life is best for everyone, best both for the body and the mind." - Albert Einstein
According to The Wall Street Journal, as of 2011 generic consumer goods accounted for 29% of all foods and beverages consumed in American Households.

The major market leaders in the discount retailer, supermarket and drug store industries have successfully brought on store brands that have grown at a rate faster than their competing national brands. According to the Private Label Manufacuteres Association, which uses figures provided by The Nielsen Company, it can be estimated that the domestic generic/store brand market currently tops $120 billion per year in sales. Other figures of domestic consumption from 2012 include supermarket and drugstore data as follows:
Supermarkets
$59 billion in 2012 store brand sales.
2.6% store brand annual growth rate (3-year), versus .9% annual growth rate for national brands in supermarkets.
Drugstores
$8 billion in 2012 store brand sales, up 5.5% on the year.
6.9% store brand annual growth rate (3-year), versus 1.6% annual growth rate for national brands in supermarkets.
With generic consumer goods on the rise, several leading retailers can forecast store brand growth rates higher than their national brand peers. With such growth, retailers are able to increase margins which will ultimately lead to an increase in profitability, higher growth prospects and more cash to return to shareholders.
The Types Of Store Brands
Often referred to as "generics," store brands have evolved into several categories. The least expensive category is called generic while the most expensive category is called a "premium brand," in which the retailer is able to compete with and charge more than the competing name-brand labels.
If one were to tier store brands on levels, they could be put into four categories as follows:
1. Generic Brands. No branding label, think a roll of paper towels or napkins that say "paper towels" or "napkins" on the packaging.
2. Generic Store Brands. Labeled in the store name, such as Kroger Mustard or Dandruff Shampoo by Safeway. Copycat packaging, budget driven.
3. Private Label Brands. Private label names owned by store, however not store branded. Examples include Lucerne brand by Safeway as it competes with other daily brands for value goods.
4. Premium Private Label Brands. Brands that offer unique credentials or have incentives to bring in customers. Gourmet or premium status items. Examples include Archer Farms by Target and O Organics by Safeway. Pricing at premium levels.
Advantages Of Store Brands
There are many advantages that store brands have over national brands, which all lead to an increase in profits for retailers with their own labels. Let's take a look at a shampoo buyer trying to eliminate dandruff as a general example.
If a person has dandruff, they are likely to know that Head & Shoulders does the trick. For years Proctor & Gamble (NYSE:PG), the owners of Head & Shoulders, spent large sums of advertising dollars to let consumers know about their product. Many have used it to much success.
Today, nearly all major retailers place a generic version of Head & Shoulders on the same shelf, with the same colored bottle and the same style of writing. The consumer will then see the price difference and consider each before the final purchase decision is made. The customer understands that they both products have the same ingredients but with different labels. Many consumers opt to save the dollar and get the generic version.
In addition to targeting a customer that does not require market dollars, there are several other advantages that store brands hold over national brands.
Customers are open-minded and do not have a deep sense of brand loyalty across many consumer goods product categories.
When generic brands work, customers stay loyal to them.
Store brands are increasing in quality.
Store brands do not have high marketing costs.
Store brand generics do not have stand-alone website costs. The customer can research the competitor for free online then opt for the generic brand at a lower price.
Generic store brands cost less to bring to market and beat national brands on both margins and price.
Customer's win as they save money on generics.
Premium store brands have larger margins with sales that come at the expense of other premium brands.
Premium brands draw customers into the store.
Advantages Of National Brands
While store brands on the rise, this is not a signal to run out and dump The Coca Cola Company (NYSE:KO) or other national brand leaders such as PG. Customers are very loyal to several customer goods products across many categories.
When it comes to Coke, many customers stay loyal for a lifetime, often passing the preference in taste to the next generation. Coke has a unique flavor that cannot be replicated by a generic cola.
Other national brands that have a higher sense of customer loyalty include several personal hygiene labels, especially with women. In keeping good hygiene, customers prefer to stick with what they know and generics have a tougher time competing. Some examples from the PG line include Tide detergent, Gillette razors, Tampax tampons and Crest toothpaste.
Finding Dividend Growth In Retailers With Store Brands
With growth in store brands on the rise, leading companies with low debt levels, stable and growing dividends and an established, credible and growing store brand base may offer higher growth rates moving forward as their store brands mature.
From a customer standpoint, the following three retailers have shown an absolute dominance in their store brand offerings. Each company has a forward dividend that yields above 2% as well a 5-year dividend compound annual growth rate over 10%, thus making them attractive dividend growth candidates for the income investor.
1. Target Corp. (NYSE:TGT), 2.65% yield
As of September 25, 2013 TGT held a store count of 1,870 in the United States and Canada (82 in Canada). At $64.82 per share, Target is valued at nearly $41 billion. This discount retailer can be seen as a market leader in private branding as it holds 18 store brands, as well as 22 exclusive brands.
The company does not break down store versus exclusive brands in sales, however it could be said that with exclusivity higher margins are also attainted. Both categories combined netted approximately one-third of 2012 total sales, according to Target's 2012 annual report.
Target does incorporate several levels of store branding on the floor. One major contributor to their store lines include Up & Up, which is a generic store brand for budget-friendly everyday essentials including household, healthcare, beauty, personal care, school and office supplies.
On a higher level, Target offers a private label brand called Market Pantry, which offers over 1,700 grocery items such as cereal, peanut butter, jelly, cheese, juice and pasta sauce. Also, Target offers a premium brand called Archer Farms, which offers gourmet lines of food such as chips, energy drinks, frozen food and coffee.
Other contributors to their store and exclusive brands include sportswear, men's and women's clothing, fashion accessories, furniture, household items and gardening supplies.
Regarding dividend growth, Target has improved their quarterly dividend from $0.16 in August 2008 to $0.43 in August 2013, for a 5-year compound annual growth rate of 21.86%. With a current yield of 2.65%, $2.5 billion in 2014 scheduled share buybacks and a 3-year projected growth rate of 12%, maintaining a dividend growth rate of at least 10% per year should be attainable.
2. Safeway Inc. (NYSE:SWY), 2.35% yield
Safeway is a major North American supermarket chain that has 1,406 as of October 6, 2013, with store names that include Vons, Safeway, Dominick's and Pavilions. At $34.03 per share, SWY is valued at $8.15 billion. This supermarket chain is a market leader in the category of supermarkets with 16 store brands.
According to PLBuyer, a monthly magazine dedicated to private label news and analysis, Safeway was the Private Label Company of the Year in 2011. They successfully operate the premium private label O Organics, which has over 1,100 organic grocery items ranging from chicken to spinach and cereal. Safeway also offers Rancher's Reserve and Primo Taglio as a premium private label meat brand.
For private label brands, SWY competes well with dairy label Lucerne, grocery label Safeway Select and meat label Safeway Farms. Other private label brands include Eating Right, Open Nature and Waterfront Bistro. SWY also offers Pantry Essentials, a store brand producing essentials in a similar fashion to TGT's Up & Up.
Safeway has improved their quarterly dividend from $0.069 in September 2008 to $0.20 in September 2013, for a 5-year compound annual growth rate of 23.72%. With a current yield of 2.35% and a 3-year projected growth rate of 25%, the company should be expected to continue to increase their dividend at a rate above 10% per year over the short-term.
3. Wal-Mart Stores, Inc. (NYSE:WMT), 2.43% yield
As one would imagine, Wal-Mart has the highest level of domestic private label sales. PLBuyer estimates WMT total store brand sales to have exceeded $88 billion in 2012.
As with WMT's peers, the company owns several private label across different store categories. Examples include SuperTech Motor Oil and ONN Speakers in the non-grocery categories. On of the larger lines they offer is the private label Equate, which concentrates on medicine, beauty and nutrition products.
In grocery, WMT's big push is their store brand Great Value. It looks generic, it titled generically and as such it is considered a store brand and not a private label.
Regarding dividend growth, WMT has improved their quarterly dividend from $0.238 in August 2008 to $0.47 in August 2013, for a 5-year compound annual growth rate of 14.58%. With a current yield of 2.43%, a $15 billion share repurchase program authorized in June 2013 and a 3-year projected growth rate of 9%, maintaining a dividend growth rate of at least 10% per year should be attainable.
Conclusion
Many customers purchase private labels without recognition that they are doing so as many retailers have cleverly created private labels that have a growing customer base. Many customers opt for store label purchases such as Up & Up by Target because they know it will save them money on a virtually identical product. With higher margins and private label growth exceeding national brand growth, this trend should continue.
For investors looking for further information, the chart below offers the top 20 U.S. private label retailer estimates of 2012 from PLBuyer.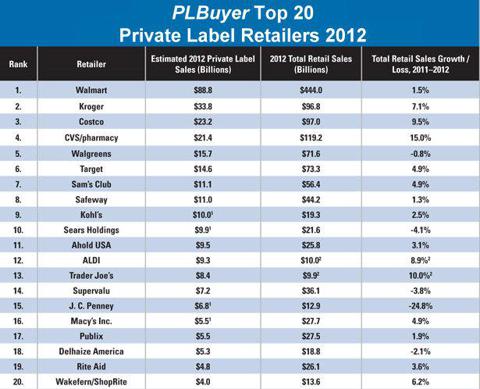 Retailers with dominant private label and store brands are in the position to continually gain market share and benefit financially from this trend. While there are several retailers that participate in store branding and private labeling, the three companies selected here are an excellent research starting point as they all yield above 2%, maintain a 5-year annual dividend growth rate above 10% and are ranked in the top 10 private label retailers of 2012 by PLBuyer (WMT=1, TGT=6, SWY=8).
With such metrics, the income investor could assume that Wal-Mart, Target and Safeway could each maintain dividend growth by at least 10% per year. With equity exposure targeted towards companies with higher dividend expectations, the desired goal of long-term income growth may be much easier to obtain.
Disclosure: I have no positions in any stocks mentioned, and no plans to initiate any positions within the next 72 hours. I wrote this article myself, and it expresses my own opinions. I am not receiving compensation for it (other than from Seeking Alpha). I have no business relationship with any company whose stock is mentioned in this article.