After an uncomfortable drop to the $19s this morning, Telestone Technologies (NASDAQ:TSTC) has bounced back to mid $20s where I'll layer in another purchase, adding an 0.8% allocation - this will take us to just over a 2.1% allocation in total - as we said yesterday we were taking this one slowly.


So for the first time in over 2 months this teflon stock broke the 10 day moving average. In fact it looks like it potentially could fall to the 20 day. For now I'll make a 1.4%ish purchase to get back what we sold in the $23.80s at $21.03. So not only were we able to lock in a very quick 21% gain on our original purchase, we have been able to get back in at a 12% discount to our sale price - a week later. Certainly the stock could visit under $20.50 ...
I did not buy in the $19s because support had been broken intraday and this stock has run so far so fast there is a huge gap between the 20 day and 50 day moving averages (the latter found in the $16s). The potential existed for a much larger drop, but as of noon-ish the stock seems to have found buyers. I will feel much more comfortable if the stock holds $20.40 at the close today.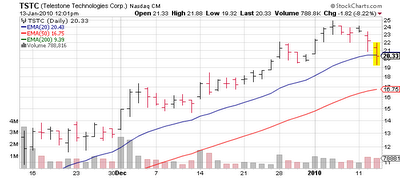 These type of names, after such enormous moves - are prone to quick and hectic selloffs which are sometimes difficult to stomach, but as long as you don't have a portfolio of 15 such stocks, it's a bit easier to sit through. That said, seeing any stock drop from $23s to $19s in 2 sessions is always interesting - thankfully our "re-entry" yesterday was just over $21 so it wasn't quite the same drop as others experienced. But it is yet another example of why even with the "hottest" stocks, it is worthwhile to trade around a core position - even if you leave some upside on the table. In this case, we happened to be fortunate to exit almost the entire position at $23.80 (even though the stock ended up running to $25 the very next day)... if we had not done that, all our gains would have disappeared in a matter of 72 hours.

Author's Disclosure: Long Telestone Technologies in fund and personal account