Background
July 17, 2012: Digital Realty (NYSE:DLR) hits an all time high of $80.59. Since that time things really haven't gone all that well for the stock. On November 6 it closed at $47.25. Highfields Capital launched a concerted short attack on the stock, and more broadly the company, its capital return policy and its accounting practices. Since that time the stock price bumped along in the low to mid $50s before taking a dive into the high $40s after the earnings call last month. I have purchased the stock at three different points now this year - $62.50, $56.55 and most recently $49.14. I will admit in hindsight that I made that first purchase a bit early as I bent my value focus a bit more than usual - Lesson Learned. That being said, I don't just buy the stock, I buy the company. Of course the dip in stock price hasn't been fun but at the end of the day it's just a paper loss. My focus is on the income stream and that hasn't changed materially.
In case you didn't know ... from the website:
Digital Realty is a trusted data center solution provider for many of the world's leading enterprises. We offer:
Unmatched, highly experienced leadership team
One of the industry's largest data center portfolios
Financial strength to ensure long-term stability and customer support
We stand out from other data center companies by offering innovative solutions driven by customers who see data centers not just as a technical investment but as a strategic platform for success.
The facts:
| | |
| --- | --- |
| | DLR |
| Current Price | $47.06 |
| Market Cap | $6B |
| Yield | 6.60% |
| FFO, Trailing Twelve Months | $4.66 |
| Consecutive Years of Growing Dividends | 9 |
Data Source: Digital Realty Press Releases, Yahoo Finance, David Fish's Dividend Champions List
Funds from Operation - Past, Present, Future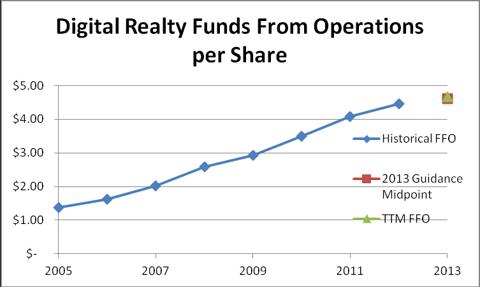 Data Source: Digital Realty Press Releases
The founders of Digital Realty showed remarkable foresight to create a REIT focused on data centers in the early part of the last decade. Even while processing power and physical storage density have shrunk in size, our collective desire for ever more processing power and storage has increased at a breakneck pace. Digital Realty has been at the center of much of this development and its growth has reflected this fact. At the same time, one of the areas that has contributed to a decrease in confidence in Digital Realty is slowing growth in 2013. Indeed according to the company's most recent guidance, funds from operations per share are expected to be in the $4.60-$4.62 range for the full year. This would represent FFOPS growth of only 3-4% for the year. For an industry that is/was growing by leaps and bounds, these results look a bit ... disappointing.
Looking at the results a little deeper though, things aren't that bad. First off, it is clearly true that FFO will fall short of guidance. These results however were affected by a one-time charge due to an accounting lapse that happened in 2010. This error in execution lopped $.07 off results for the quarter. Consider then that DLR's original guidance for 2013 given in February and re-affirmed at the end of Q1 was for FFO of $4.65-$4.80. Of course ignoring an accounting mistake related to rent at a real estate company is not a prudent long-term strategy. Like I said, things are not good but not that bad.
Future Growth
So what is Digital Realty? Is it a fast growing tech company or simply one that used to be a fast growing company? I do believe the company's core strengths of data center design and operation will remain in demand for the foreseeable future. The company certainly believes it is well positioned to take advantage of the trend shown in this chart from the most recent Company Overview: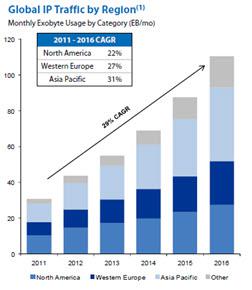 Source: Digital Realty Company Overview, September 2013
At the same time however, the rise of cloud computing with global superpowers like Amazon (NASDAQ:AMZN) and Google (NASDAQ:GOOG) which specialize in building their own datacenters represent a clear threat to the business model. Is that trend seen in this chart from Digital Realty's most recent Company Overview?

Source: Digital Realty Company Overview, September 2013
Maybe…and going forward I will be watching these numbers and needing to see them start to turn around. Whatever the cause, the occupancy numbers suggest what is essentially a consistent 5-year decline in occupancy.
Conclusion
I won't touch on a rebuttal of the Highfields short case since it has been covered in convincing detail before here, here and here. Needless to say, to be a current investor I have to side with the "longs" on this one.
My focus in investing is for the long-term with an eye on the income stream an investment is bringing in. Digital Realty has not cut the dividend and in fact has continued increasing FFO and therefore its ability to fund future dividend increases. The $500M share buyback that the company recently announced is unique among REITs but at least in the recent past, low valuation in an investment grade REIT is also unique in the recent past. I believe that if it goes through with it, the company will likely come out ahead in the medium term and may succeed in putting a floor under the stock price. Looking at the valuation model I usually use (dividend discount), I can't believably play with the numbers and arrive at a valuation less than $70 per share. Throw in a 25% factor of safety and I will be a buyer up to $56.
There are bound to be plenty of opinions on this company especially given the paper (or real) losses investors have suffered and the accounting mistakes. So the question remains, where do you see Digital Realty going moving forward?
Disclosure: I am long DLR. I wrote this article myself, and it expresses my own opinions. I am not receiving compensation for it (other than from Seeking Alpha). I have no business relationship with any company whose stock is mentioned in this article.
Additional disclosure: I am not a professional investment advisor nor a financial analyst; I am writing this article because I feel that investing is not a zero sum game for the individual investor and because I believe that the process of writing and receiving feedback improves my own performance.