The notion of an electric vehicle (EV) is not a new one. It was conceived at or about the time of the automobile itself and at the turn of the 20th century even briefly dominated the industry. However, the lack of competitive pricing for the EV and, most importantly, its short range led to the inevitable decline of EV marketability until it all but faded from memory. And despite numerous attempts over the decades to revive the EV, it still remained at best a concept car for more than a century due to stagnation in serious technical advances and, importantly, the lack of a proper charging network. [1] This all changed with the release of Tesla Motors' (NASDAQ:TSLA) Roadster in 2008. Since its release, EV sales have grown rapidly.
As statistics from the EDTA show: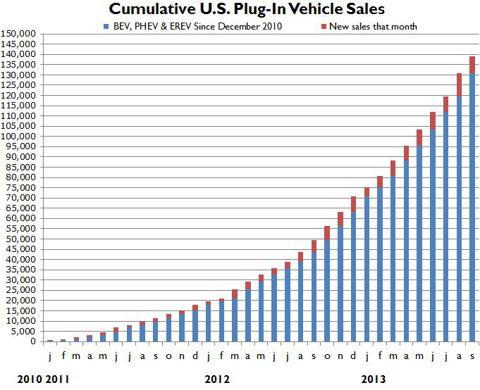 When it comes to the future of transportation, there is no question that an industrial shift has begun. But this time its different. This time, EVs are here to stay.
EVs and the New Age
Why is it different this time? What's changed? Why is this not a passing fad? TSLA and its Roadster marked a paradigm shift in the automotive and transportation industries. The success of the EVs integration into these industries is due wholly to TSLA's CEO Elon Musk, who has personally spearheaded the revolution of the EV. Musk is a visionary and a game changer. Musk is to EV what Steve Jobs was to the smartphone industry. Musk, an entrepreneur and engineer by profession, Inc. Magazine notes:
co-founded PayPal, the online payment processor that eBay bought in 2002 for $1.5 billion, as well as Zip2, a dot-com media company that was sold for $307 million when he was just 27.
Following his financial success at PayPal, Musk founded (among other companies) Tesla Motors. Musk's ingenuity comes from his insight as to how critical the charging stations network is to the success of the EV, and is therefore developing an extensive Tesla Supercharging network across North America and Europe. This is analogous to the advent of cellular networks in the telecommunications industry; service providers ultimately won market share not by the devices they offered, but rather by the size of the network they supported.
This was the Tesla Supercharging network as of May 2013: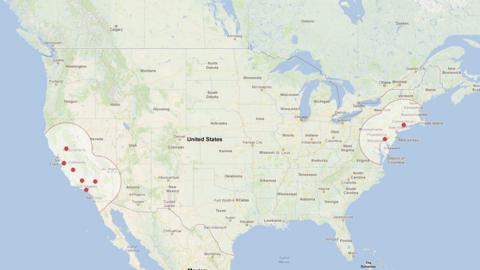 This will be the Tesla Supercharging network as of the end of December of this year: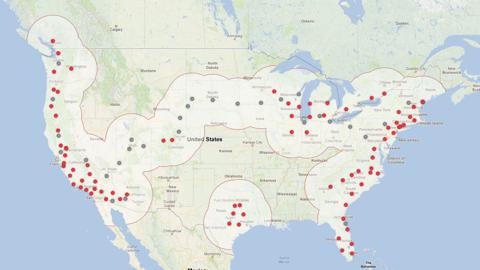 And this will be Tesla Supercharging network as of the 2015: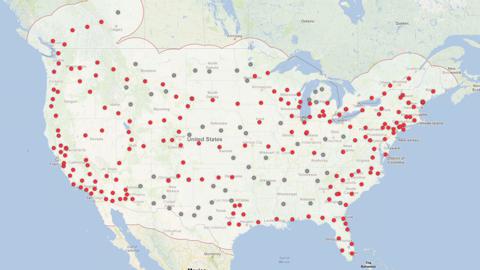 A Glimpse Into the Future
This drastic shift in automotive and transportation industries is by no means simple, and there are many market players in designing and implementing the EV infrastructure. Several players already compete with Tesla's Supercharging network, most notably the Car Charging Group, Inc. (OTCPK:CCGI).
Founded in 2009, CCGI currently provides electric charging services for EVs in over 35 states and three different countries. According to their latest press release, CCGI has been cultivating a base of "87 strategic partnerships" and growing. Among its partners are "Walgreens, Simon Property Group, Equity One, Equity Residential, Forest City, Ace Parking, Central/USA Parking, Icon Parking, Rapid Parking, Parking Concepts, CVS, Related Management, Pennsylvania Turnpike Commission, Pennsylvania Department of Environmental Protection, City of Miami Beach (FL), City of Hollywood , and City of Norwalk (CT)." These partnerships have resulted in CCGI's management and or ownership of 8 million parking slots available for charging EVs. Farkas is far from new to the automotive industry, as is demonstrated by his 20-year track record in investment banking and private equity in a variety of industries; most notably the automotive retail industry, as well as various other industries. From its inception Farkas' vision was establishing CCGI as the leader in manufacturing and distribution of charging ports, thereby controlling the majority of EV charging infrastructure in North America.
On Oct. 17, 2013, this vision was finally realized as, the Miami-based CCGI announced its fourth and latest acquisition, ECOtality's Blink Assets and the Blink Network. The Blink Network is an EV-charging infrastructure financed largely by the Department of Energy through a federal grant of $114.8 million that was equally matched by private investors. Acquired at $3.335 million (1.4% of the network's value), the Blink Network solidified CCGI's majority control of North American charging infrastructure. This new-found majority control places CCGI at the apex of the developing EV infrastructure, and consequently positions them to mandate industry standards.
CCGI, through the Blink acquisition, now controls an additional 12,450+ installed Level II EV charging stations. (Note: The statistics on the scope of CCGI's network were released prior to the Blink acquisition.)
According to the Department of Energy's latest numbers, there are only 19,409 public charging stations in the U.S.
110 installed DC Fast Charging Stations
2,800+ stations in inventory
Most importantly, the Blink Network, which services commercial businesses as well as EV drivers
Here is a link to the map of the Blink Network.
The Financials
Since its inception, TSLA has been gearing up financially to dominate the EV industry. A glance at their latest financials shows just how successful they've been:
TSLA is currently valuated at $23.29B and is reporting a liquid assets availability of $746.06M
CCGI by comparison is a drop in the bucket:
CCGI is currently valuated at $64.32M and is reporting a liquid assets availability of $165.17K
Would it not, therefore, seem rational to anticipate TSLA considering an acquisition of CCGI in the near future? After all, overlaying a maps of CCGI the Blink Network over the network of TSLA's Supercharging stations indicate this would be TSLA's the next logical acquisition. Vertically integrating these two networks is most feasible at this stage of the EV industry's development. Especially since, CCGI's charging ports are already compatible with Tesla's Model S. This would further advance the capacity and dominance of TSLA's intricate and still developing charging network, effectively solidifying TSLA's position of control over the North American EV market and putting it within grasp of the global EV market as well.
Conclusion
While I don't disagree that TSLA's stock in the short to medium term is considerably overvalued, (as even Musk has eluded to when he stated that "the stock price that we have is more than we have any right to deserve"), I believe the best way to approach investments in the EV industry and TSLA is through a derivative approach, namely though CCGI. The potential growth in the EV market definitely points toward some type of synergy opportunities between TSLA and CCGI. It seems logical TSLA would consider acquiring CCGI in the near future.
Given the U.S. government's concession of Tesla' supercharging stations, it seems to follow that the government has allowed for the possibility of vertical integration within the electric vehicle space. As such, it appears that dominance within the burgeoning electric vehicle arena will follow naturally from the establishment of an efficient car-charging infrastructure. As a result, CCGI appears to be a strong derivative play on Tesla with its healthy debt/equity ratio of 0.19 (as compared to industry average of 0.42), recent network growth driven by acquisitions, and the ability to quickly adopt Tesla's "supercharging" technology, which would effectively render the stations exclusive to Tesla cars. At its current valuation of $68M, an acquisition by Tesla would be a drop in the bucket.
[1] Curtis D. Anderson, Judy Anderson. Electric and Hybrid Cars: A History. Second edition. McFarland & Company, North Carolina, 2010, 257 pp.
Disclosure: I have no positions in any stocks mentioned, and no plans to initiate any positions within the next 72 hours. I wrote this article myself, and it expresses my own opinions. I am not receiving compensation for it (other than from Seeking Alpha). I have no business relationship with any company whose stock is mentioned in this article.