Back in March this year, I wrote an article about Ross Stores (NASDAQ:ROST). The company continues to do well, but I have been eyeing it as its price has gotten ahead of itself. This is easier illustrated using F.A.S.T. Graphs.
15-Year Ross Stores Graph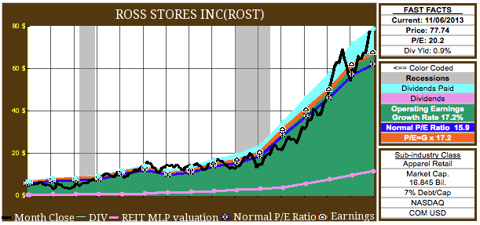 The graph shows that historically, Ross Stores' normal P/E ratio is 15.9; however, the stock is currently at a P/E of 20.2. Other than its overvaluation, it also has a low yield; although its dividend growth is in the double digits.
Parsimony Investment Research's recent article states "A good rule of thumb that we use for taking short term gains is to sell a stock that has increased over 5 times its dividend yield in a 6-month period."
The idea is that an investor could take some profits off the table to "reallocate this capital into a dividend stock that is trading at a more reasonable valuation to replace the lost income [from the sale]."
I've been holding Ross for 8 months. When I bought it, it had a yield of 1.2%. With a gain of 30+%, selling it would essentially cover 25+years of dividends! (Though, dividend growth wasn't taken into account because there is no way of knowing exactly how fast the dividends would grow.) But I can replace the proceeds from the sale with another company that also grows dividends. In fact, I sold half of my Ross Stores shares and divided almost equally into Caterpillar (NYSE:CAT) and Deere (NYSE:DE). Both companies yield more than twice as much as ROST though their dividend growth are slower and aren't as consistent (some period of years have low dividend growth while others have double digit growth). Please note that Caterpillar and Deere are cyclicals so they're quite different from Ross.
15-Year Caterpillar Graph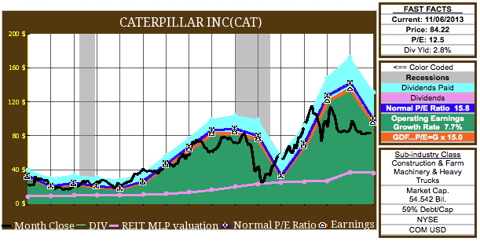 15-Year Deere Graph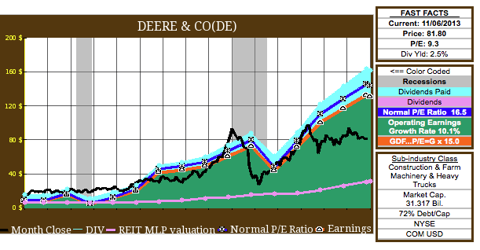 Notice how the orange earnings line (and thus the black price line) is like a roller coaster in the graphs above. Compare that to Ross Stores' earnings line from the first graph. Ross' has a much smoother ride.
In addition, using my method of dividend yield as an indicator of a bargain, it's simple to eye and see that Caterpillar and Deere are at historically high yields. (I view the high yield opportunity from the financial crisis as an event that doesn't happen often. So, I'm viewing the graphs below as if the big spike isn't there.)
Caterpillar: 10-Year Yield History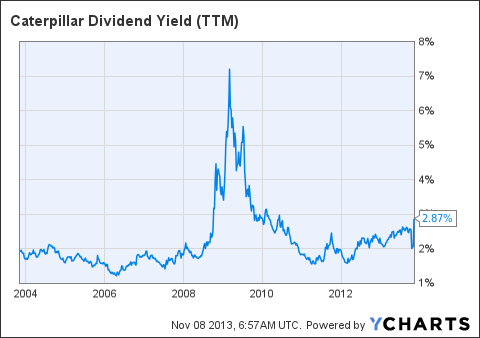 CAT Dividend Yield (TTM) data by YCharts
Deere: 10-Year Yield History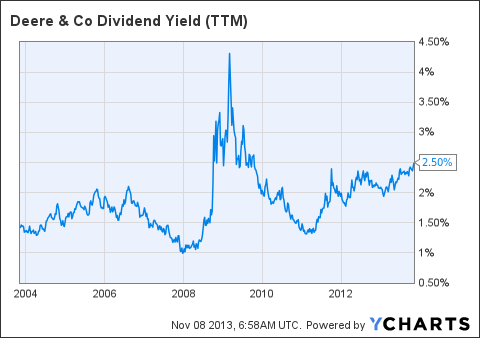 DE Dividend Yield (TTM) data by YCharts
I understand I might have to wait 3 to 5 years for the capital gains I'm looking for, but at least I have a higher yield for my buck. Anyway, trading in some Ross Stores shares for Caterpillar and Deere shares is just an example. As an active passive income investor, you might want to periodically check to see which holding is excessively overvalued, take some profits off, and buy another dividend company at a better valuation and better yield.
Anyhow, there's nothing stopping me from picking up some shares of Ross Stores again when it gets back to its historical normal P/E.
Disclosure: I am long ROST, CAT, DE. I wrote this article myself, and it expresses my own opinions. I am not receiving compensation for it (other than from Seeking Alpha). I have no business relationship with any company whose stock is mentioned in this article.