The market is full of overvalued stocks which are overbought right now, but it is also still possible to find stocks that are oversold and trading at what appears to be cheap valuations. When you find a stock that offers value and solid fundamentals along with a recent pullback to oversold conditions, the odds might be in the favor of a strong rebound in the coming days and weeks. Stocks are often considered to be "oversold" when the relative strength index or "RSI" is trading in the 30 range or below. Many stocks that hit this level of RSI are at or near a point where the selling pressure has gone too far and therefore could be due for a sharp rebound. Here are three stocks that appear undervalued, are currently oversold, and could be poised for a rebound soon:
Citigroup, Inc. (NYSE:C) shares have generally been in an uptrend since the start of the year and it recently traded near the 52-week high of $53.56. However, a recent pullback appears to be giving investors another solid buying opportunity.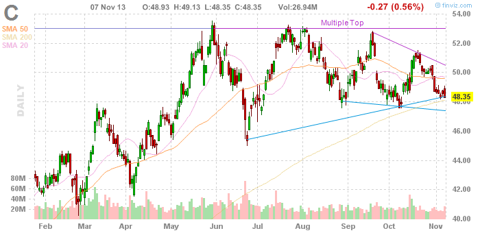 As the chart above shows, this stock is trading below the 50-day moving average of $49.64 and it is now just slightly above the 200-day moving average of $48.04, which is typically a strong (and key) support level. As the light blue uptrend line shows, ever since June, it has paid off to buy this stock when it traded at or near this trendline. With the shares now trading very close to this trendline and the 200-day moving average now, it appears to be in the "buy zone" since it is cheaper now and yet still trading in a longer-term uptrend. At current levels, Citibank shares look attractive as both a potential short-term trade and for accumulation for the long term. The current relative strength index is just 38 which indicates the stock is at oversold levels.
This banking and financial services giant has branches worldwide which gives it plenty of opportunity for growth from emerging market countries. It also has less liability with mortgage issues in comparison to other banks, but will still benefit in the continued recovery in housing. The recent pullback seems to be based on some negative headlines in the media which include concerns about an investigation related to foreign exchange currency trading at many major banks. A recent Zacks Equity Research report states:
"Citigroup declared that it was working with the U.S. and international regulatory authorities on issues related to foreign exchange trading. At least 6 regulatory authorities around the globe, including the US Department of Justice, the European Commission and the Hong Kong Monetary Authority, are investigating the alleged manipulation of currency markets."
While these types of headline risks might be enough to put some short-term pressure on the stock, it appears to be just another buying opportunity, especially since the investigation may turn up nothing in regards to Citibank and also because this issue is not likely to impede Citibank's long-term growth prospects. The stock looks cheap with analysts expecting the company to earn $4.69 per share in 2013. Analysts see profits jumping by about 17% to $5.43 per share in 2014 and that puts the price to earnings ratio at just around 9 times earnings. This makes Citibank shares much cheaper than the average stock in the S&P 500 Index (NYSEARCA:SPY) which currently trades for about 16 times earnings. It's also trading at a discount of about 10% when compared to Bank of America (NYSE:BAC) which is going for just over 10 times earnings estimates of $1.35 per share for 2014. Citibank also appears undervalued when considering that it trades at a significant discount to book value which is $64.49 per share.
There are plenty of risks when investing in a major bank stock as there are so many moving parts, global exposure, and (typically) plenty of litigation. However, as the global economy continues to mend from the 2008 financial crisis and as the population grows, Citibank is poised to benefit.
Here are some key points for C:
Current share price: $48.35
The 52-week range is $34.04 to $53.56
Earnings estimates for 2013: $4.69 per share
Earnings estimates for 2014: $5.43 per share
Annual dividend: 4 cents per share which yields .1%
Iridium Communications, Inc., (NASDAQ:IRDM) is a leading satellite telecommunications company. It provides users with virtually seamless data and phone coverage anywhere in the world. I recently wrote about why this stock looks like a bargain after it dropped on an earnings miss, but I also wanted to point out a couple more reasons why this stock could be poised for a significant rebound in the near term. First of all, it is cheap at just around 6 times earnings estimates and the relative strength index or "RSI" is around 31 which confirms it is deeply oversold and possibly about to rebound soon. Furthermore, it appears that shorts may have overplayed this position down to extremely low levels and that shorts could actually soon provide the fuel for a significant rebound. Since this stock was recently trading for almost $7 and it now trades below $6, shorts have made some very big gains. However, this stock has stabilized and appears to have bottomed out at around the $5.50 to $5.70 level in recent days. As this pattern continues, many shorts could decide to lock in their profits before the stock rebounds so that they can lock in profits. As the chart shows, this stock did appear to have a powerful short squeeze rally that started in June and took it from the $6 range on up to about $9 per share.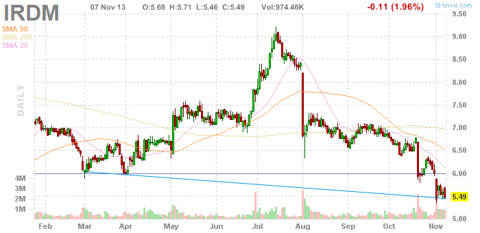 According to Shortsqueeze.com, nearly 11 million Iridium shares have been sold short. With an average daily volume of around 589,000 shares, the short interest is equivalent to over 19 days worth of trading volume. This significant short interest is just one more reason why I expect this stock to rebound soon. Iridium is expected to earn nearly $1 per share in 2014, and at just about 6 times earnings, this stock has a lot of room for PE multiple expansion which could also contribute to a short squeeze.
The shorts seem to be hoping that history will repeat, but that appears to be nothing more than wishful thinking. The original "Iridium" company had spent many billions of dollars to launch this satellite network and as it had a very high cost basis, it did end up filing for bankruptcy in August, 1999. However, the company that exists today does not have the same cost basis or debt load. In fact, Iridium Communications has a strong balance sheet with about $275 million in cash and around $853 million in debt. Furthermore, it is generating solid profits and it has growth potential. Iridium shares are now too cheap to ignore and with the stock now deeply oversold and with a significant short interest, shorts could be their own worst enemy and provide the fuel for another rebound rally soon.
Here are some key points for IRDM:
Current share price: $5.67
The 52-week range is $5.25 to $9.22
Earnings estimates for fiscal year 2013: 80 cents per share
Earnings estimates for fiscal year 2014: $1 per share
Annual dividend: n/a
Cypress Semiconductor (NASDAQ:CY) offers a number of technology products which include lighting and power controllers, USB controllers, memory chips, and more. However, the most interesting technology could be its touch sensing products which are becoming increasingly popular on a wide variety of mobile devices, tablets, and many other consumer products. In the long term, touch screens are likely to proliferate into many products and provide significant secular growth for companies like Cypress. However, a recent slowdown in the mobile phone market has led to short-term profit weakness at Cypress and that is what has created a solid buying opportunity in the stock.
This stock was trading for about $13 per share in August, but after the company reported earnings that disappointed some investors, the shares dropped to about $9 which is not far from the 52-week low of $8.36 per share. As the chart below indicates, Cypress shares appear to be putting in a bottom at around the $9 level. The stock has a relative strength index of just 39, which indicates the stock is oversold and possibly due for a rebound.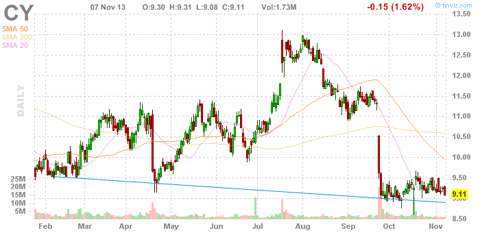 For the third quarter of 2013, Cypress Semiconductor announced that revenues came in at $188.7 million (which was about a 7% decline compared to last year) and earnings of 3 cents per share. The company also provided what some view as being weak guidance with a revenue range of $163 to $170 million for the fourth quarter. However, there is also a chance that those estimates are very conservative as some tech companies are known for "sandbagging". Either way, the company appears poised for much better financial results in 2014 and that is another reason to buy the stock now. A Barron's.com article titled "Cypress Won't Be Bogged Down For Long" details the bullish view by analysts at Pacific Crest Securities who actually upgraded the stock in spite of the short-term weakness. RBC Capital also is bullish with an outperform rating and a $12 price target.
Another reason why this stock is a compelling investment is because it offers an annual dividend of 44 cents per share which yields 4.6%. The company also has a solid balance sheet with just over $100 million in cash and around $227 million in debt. This financial strength reduces risks for investors. Investors should consider potential risks that are inherent in technology stocks and one of the big ones is obsolescence. However, touch sensing seems to be safe from that risk for a long time to come and the growth prospects could be significant for years to come. Its technology appears to be a "must-own" for many tech products and investors and the dividend yield of nearly 5% should also provide support for the stock.
Here are some key points for CY:
Current share price: $9.11
The 52-week range is $8.61 to $13.23
Earnings estimates for fiscal year 2013: 38 cents per share
Earnings estimates for fiscal year 2014: 53 cents per share
Annual dividend: 44 cents per share which yields 4.8%
Data is sourced from Yahoo Finance. No guarantees or representations are made. Hawkinvest is not a registered investment advisor and does not provide specific investment advice. The information is for informational purposes only. You should always consult a financial advisor.
Disclosure: I am long IRDM. I wrote this article myself, and it expresses my own opinions. I am not receiving compensation for it (other than from Seeking Alpha). I have no business relationship with any company whose stock is mentioned in this article.