Vipshop Holdings (NYSE:VIPS), China's leading online discount retailer for brands, announced that it plans to release its third quarter 2013 financial results on Monday, November 11, 2013, after the close of the U.S. markets.
The company will hold a conference call on Tuesday, November 12, 2013, at 8:00 am Eastern Time or 9:00 pm Beijing Time to discuss the financial results. A live webcast of the conference call will be available to investors at the Company's website here.
After crushing analyst expectations for the last four quarters, Vipshop looks to continue the beating. Will the company be able to keep the streak going? Let's take a look at the numbers for the upcoming quarter.
Wall Street Expects:
Revenue: $364.6 Million
EPS: 0.21
Q4 Revenue Guidance: $532.6 Million
| | | | | |
| --- | --- | --- | --- | --- |
| Revenue History | November 2012 Q3 | February 2013 Q4 | May 2013 Q1 | August 2013 Q2 |
| Revenue Estimates: | $147.4M | $237.6M | $268.7M | $334.0M |
| Actual Revenue: | $155.9M | $299.6M | $310.7M | $351.3M |
| Difference: | +8.5M | +$62M | +42M | +17.3M |
| Average: | | | | +$32.4M |
As we can see, Vipshop has easily passed top line expectations as revenues continue to grow at a record pace. Over the last four quarters we can see that Vipshop beats by an average of over $32 million. While the difference seems to be getting smaller over the past couple of reports, I feel that the gap is still big enough that investors should not feel worried heading into earnings.
However, just because shares beat estimates does not guarantee that shares are going to keep going up. Look no further than what happened during the last earnings report. Even though shares of Vipshop posted strong earnings and beating expectations, the stock dropped as much as 12% pre-market following the announcement.
Conclusion
Seeing the success that Vipshop has had over the last year or so has drawn interest from many other companies who started their own flash sales business. Dandang (NYSE:DANG) started in May and along with LightInTheBox (LITB) look to take some of the profits away from Vipshop.
Baidu (BIDU), China's largest search engine company, reported earnings last week and easily beat expectations. One of the things to note from the earnings report is that Baidu's revenue outlook topped analyst estimates. This is a very positive sign for other Chinese companies like Vipshop as it signals that the economy is improving faster than most expected.
Given the explosive run that Vipshop has been on since the summer, I wouldn't be surprised to see the stock fall even after a strong earnings report. Vipshop could be setting up for the old trick in the book, buy on the rumor, sell on the news.
The buy the rumor, sell the news phenomenon happens more than you think in the markets. Investors around the world buy stocks based on what they believe will happen in a given earnings report, new product release or other types of events. Of course, after the report or event is released, investors dump their positions and shares fall.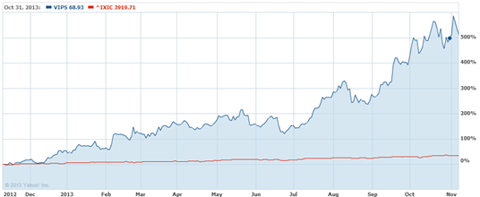 Vipshop is a company with a lot of momentum and investors are certainly excited about its long-term prospects. However, just as fast as those shares climbed, they can come down just as fast as well.
Even if the company beats expectations, profit taking will be big in my opinion which could overwhelm shares in the near term. After all, shares are up 1,000% from their IPO price ($6.50) back in March of 2012. Not a bad return if you ask me.
Analysts' Recommendations:
Of Wall Street's recommendations, the consensus on Vipshop is a Buy rating, with an average price target of $72.00. This would reflect an increase of 2% from Vipshop's recent closing price of $70.71 on Thursday.
Investors are always reminded that before making any investment, you should do your own proper diligence on any stock mentioned in this article. Have a great day and as always, I look forward to hearing your thoughts or questions that you might have.
Disclosure: I have no positions in any stocks mentioned, and no plans to initiate any positions within the next 72 hours. I wrote this article myself, and it expresses my own opinions. I am not receiving compensation for it (other than from Seeking Alpha). I have no business relationship with any company whose stock is mentioned in this article.