Gold and oil tumbled, while natural gas rose.
The majority of commodities declined this week, including gold and oil, but there were a few gainers. Soybeans was the top performer, while silver was the worst. Meanwhile, stocks-as measured by the S&P 500-finished the week essentially unchanged, leaving their year-to-date gain at 23.5 percent.
Macroeconomic Highlights
A host of U.S. data this week suggested that growth in the world's largest economy may be accelerating. Early in the week, ISM said that its non-manufacturing gauge rose from 54.4 to 55.4 in October, well above the growth threshold of 50.
Then on Thursday, the Bureau of Economic Analysis said that gross domestic product in the third quarter grew at a 2.8 percent annualized rate, well above the 2 percent that was anticipated and even higher than the second quarter's 2.5 percent rate.
However, some cautioned that the GDP figure was inflated by a buildup in inventories that added 0.8 percent to growth, which would weigh on fourth-quarter GDP.
Markets received another surprise on Friday when the Bureau of Labor Statistics released its latest employment report. The BLS said that employers added 204K jobs in October-well above the 120K that was expected-indicating that the partial government shutdown during the month had little impact on hiring. Revisions to previous months' data added another 60K jobs.
However, the unemployment rate ticked up from 7.2 to 7.3 percent, as economists were expecting. That's despite the fact that the labor force participation rate fell to 62.8 percent, the lowest point since 1977.
In aggregate, this week's data prompted traders to reassess their outlook for Fed monetary policy, with some now speculating that a tapering of quantitative easing could come as soon as the December meeting.
The U.S. dollar rallied to two-month highs, while U.S. 10-year bond yields jumped to 2.75 percent in response.
Finally, elsewhere in the world, the European Central Bank unexpectedly cut its benchmark refinancing rate by 25 basis points to a record-low 0.25 percent. Most economists had expected the central bank to hold off on cutting until the next meeting.
Commodity Wrap
| | | |
| --- | --- | --- |
| Commodity | Weekly Return | YTD Return |
| Soybeans | 2.69% | -8.39% |
| Palladium | 2.23% | 7.45% |
| Natural Gas | 1.71% | 6.57% |
| WTI | -0.32% | 2.71% |
| Platinum | -0.91% | -6.38% |
| Corn | -1.17% | -39.54% |
| Copper | -1.21% | -10.68% |
| Brent | -1.40% | -6.01% |
| Gold | -2.34% | -23.28% |
| Wheat | -2.40% | -16.20% |
| Silver | -2.47% | -29.69% |
Gold fell solidly below the $1,300 level as traders placed bets that the Fed could begin tapering sooner rather than later in light of this week's data. But even if the Fed tapers as soon as the December meeting, it doesn't necessarily mean gold will plummet from here (see 4 Arguments Against Gold & Why They're Wrong).

After all, in September, when most of the market was convinced the central bank would pull the trigger with its first taper (it ended up surprising markets by not tapering), gold held in there.

Whether that happens again this time around remains to be seen, but clearly, gold has found a very comfortable trading range between its cycle low of $1,180 and the August rebound high of $1,430. It's going to take a strong catalyst to push prices out of that range.

Still, the bears have the edge right now, and it will be hard for gold to resist a renewed assault on the $1,180 level down the line.
GOLD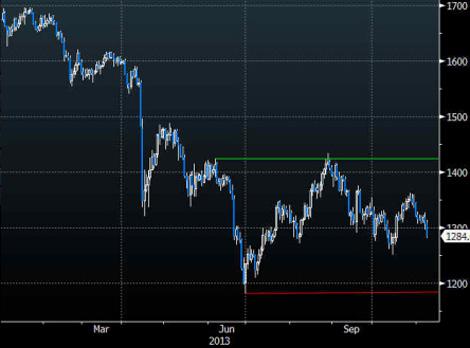 SILVER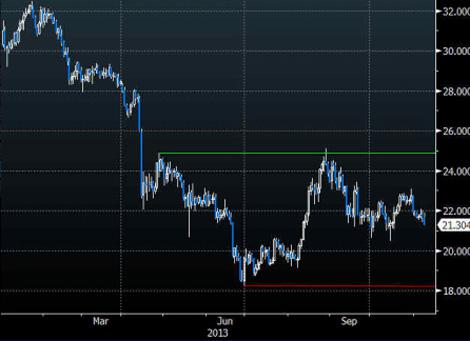 PLATINUM

PALLADIUM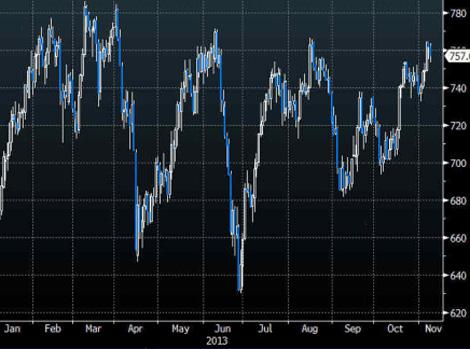 Crude oil dipped again this week, and now both WTI and Brent are near the lowest levels since June. While we are bearish on the outlook for oil prices in the short term, in our view, WTI will outperform Brent as demand picks up seasonally in the U.S., and imports remain depressed (see Plunge In US Oil Imports Begins, WTI Will Fare Better Than Brent As Spreads Narrow).
A move to the $100 level for Brent is in the cards
BRENT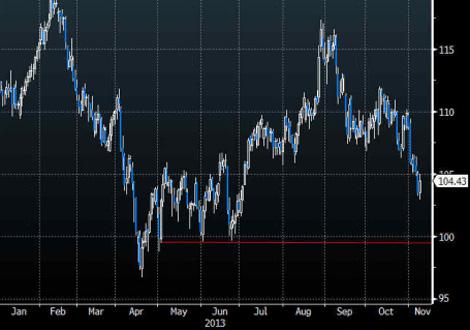 WTI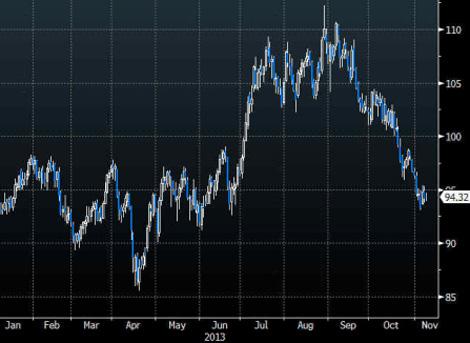 Corn remained near three-year lows, while soybeans rose modestly following the latest supply and demand figures from the USDA.
The department said that U.S. farmers will produce 13.989 billion bushels of corn this year, well above the previous record of 13.1 billion set in 2009, but below the 14.022 billion that analysts were looking for.
Meanwhile, farmers are forecast to produce 3.258 billion bushels of soybeans, the third-biggest harvest on record, and above the 3.225 billion bushels that analysts had expected.
CORN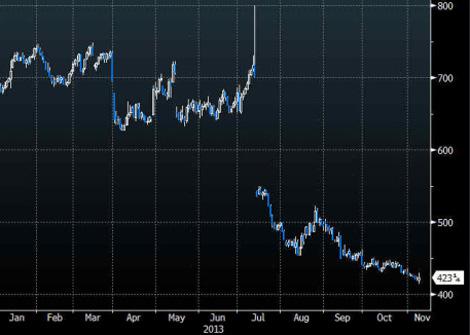 SOYBEANS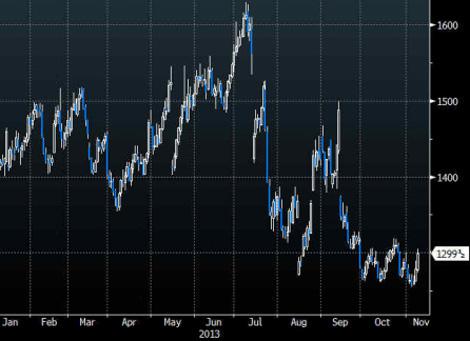 WHEAT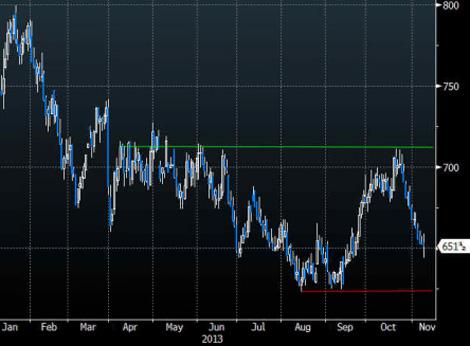 Copper remained locked in its tight trading range this past week.
COPPER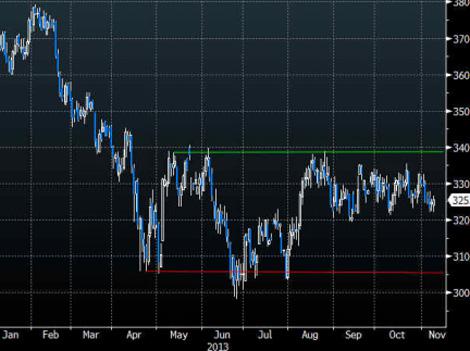 A shift in the weather forecasts prompted natural gas to bounce off its $3.40/mmbtu support level. The Midwest and Northeast may experience colder-than-normal temperatures during the middle of the month, though there is yet no indication that the cold spell will be lasting (see NatGas Technicals Favor Upside, But Mild Temperatures Weigh).
NATURAL GAS