Apple's (NASDAQ:AAPL) iPhone has been exclusively distributed by AT&T (NYSE:T) since its 2007 launch. Despite the significant subsidy costs borne by AT&T for offering the iPhone, widespread usage of the phone has boosted AT&T's data revenues and helped it to gain subscribers. For 2010, AT&T's plans seem to be inspired by this highly successful smartphone.
There are three areas where AT&T is focusing its efforts:
1. Adopting the Android
AT&T is diversifying its risk of losing iPhone exclusivity by offering more smartphones, including those based on the Android operating system. The company plans to launch about five Android (NASDAQ:GOOG) based exclusive smartphones in 2010. We believe that diversifying its smartphone portfolio will help AT&T maintain market share in the face of the lost iPhone exclusivity.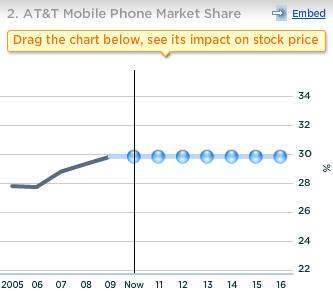 2. Making smartphone apps available on more phones
The iPhone has clearly demonstrated the importance of data usage and apps as a revenue stream. Currently, only about 35% of postpaid customers for AT&T possess smartphones and have access to app store. Thus the company is partnering with Qualcomm (NASDAQ:QCOM) to have BREW MP, a mobile operating system, on low cost phones in order to make apps available for a larger segment. This is expected to have an incremental effect on AT&T's data usage revenues.
3. Improving the 3G network to offer better service to data-hungry smartphone users
The AT&T network speed has been affected due to excessive data usage, especially by iPhone users. The company has thus now upgraded its 3G network by deploying HSPA 7.2 technology to enable faster speeds and increase network efficiency. The upgrade is likely to make the 3G network twice as fast, however the increased speed is being tested only in select markets currently. The complete upgrade is expected to finish by 2012.
Disclosure: None