Telefonica (NYSE:TEF) presented Q3 results yesterday which show that the company is on a good way to dig itself out of the ditch. Telefonica used to pay a double-digit dividend yield for investors back in 2010, but high leverage and cash flow pressures ultimately led to a dividend suspension in 2012. Now, with improving cash flows and lower leverage, the Spanish telco giant is set to pay a yearly dividend of €0.75 per share which equates to a dividend yield of 6%.
Telefonica's Q3 results in particular have shown that the company has come a long way in terms of leverage reduction which was prioritized over dividend payments in 2012. Telefonica has reduced net debt in the amount of €14 billion since June 2012. Telefonica's net debt stood at €45 billion at the end of September. Lower financial debt alleviates Telefonica's cash flows and allows sustainable dividends down the road.
Telefonica's Q3 EPS came in at €0.24 down 22% y-o-y. Q2 2013 EPS stood at €0.25 while Q1 2013 EPS was €0.20. Free cash flow also proved to be resilient during the last two quarters. Q2 2013 free cash flow per share stood at €0.42 and Q3 2013 FCF at €0.43: A slight improvement of €0.01 q-o-q. Free cash flow per share for the first nine months of 2013 stood at €0.75 and already covers the annual dividend.
Telefonica's Q3 revenues came in at €14.1 billion (up 2.1% in organic terms) and OIBDA at €4.7 billion (down 0.3% in organic terms). Telefonica's Q3 OIBDA margin stood at 33.3%. YTD results were affected by a sluggish recovery in Spain and currency effects. The underlying economic fundamentals in Europe are improving however. Spain and Portugal in particular have to deal with high unemployment rates, high national debt, increasing refinancing costs and other economic issues. A weak macroeconomic environment in Telefonica's home market has been a drag on Telefonica's top line growth over the last two years. I expect this trend to reverse over the coming years as Spain just recently emerged from a two-year recession.
Share performance
Telefonica gained about 31% over the last year and the announced dividend resumption contributed crucially to Telefonica's share price recovery. However, Telefonica is still down about 11% over a two year period; a time when many other large-cap telcos edged markedly higher: Vodafone (NASDAQ:VOD) increased 31%, Verizon (NYSE:VZ) 36% and AT&T (NYSE:T) 22%. Orange (NYSE:ORAN) lost 22% and performed even worse than Telefonica.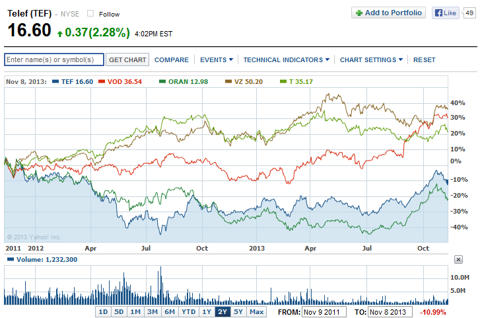 Free cash flow
I have updated my free cash flow valuation model mainly because Telefonica's Q3 free cash flow strength was quite unexpected. I estimate that Telefonica can reasonably earn $1.45 (around €1.10) per share in free cash flow in 2014. Telefonica is now set to reach around €1.00 in free cash flow per share in 2013 (YTD FCF stood at €0.75 with one more quarter to go). I also expect that investors will ultimately get to enjoy a dividend of around €1.00 per share which will be fully covered by Telefonica's free cash flows.
Applying a long-term growth rate of 4% and capital costs of 10% the model yields an intrinsic value of $24.42 per share. Given a current share price of $16.60 this gives the shares an additional 47% upside potential.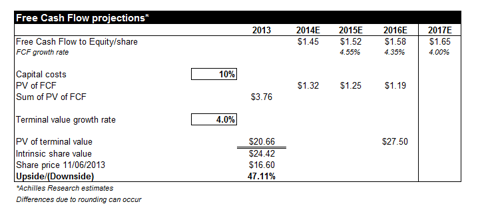 Free cash flows are likely being driven by operating cash flows coming from Telefonica's Latin American operations. The smartphone segments in Brazil, Venezuela, Colombia and Mexico look particularly interesting over the next couple of years.
Market valuation
Telefonica remains also cheap from a market valuation point of view. The company trades at just 10.3 times forward earnings which is way too low given its cash flow growth prospects in Latin America and its initial 6% dividend yield. Verizon for instance trades at 15.6x forward earnings and Vodafone at 14.6. Telefonica is one of the cheapest large-cap telco companies in the sector.
Conclusion
The dividend cut in 2012 turned out to be a blessing in disguise. While many investors indiscriminately sold their Telefonica holdings amid an absence of income, share prices have been driven extraordinarily low. Contrarian investors who snatched up Telefonica in 2012 have secured a nice yield already. The valuation model above indicates that Telefonica's intrinsic value is still materially higher than its current share price. The dividend resumption has had a lot to do with Telefonica's share price increase over the last quarters. However, I believe that the annual €0.75 dividend is just a start and Telefonica will ultimately pay out large amounts of its free cash flow and increase its dividend to €1.00 per share. Latin America is likely going to be Telefonica's earnings- and cash flow driver. Among the large-cap telcos, Telefonica has the most attractive growth profile and also has the most attractive dividend prospects. Given Telefonica's substantial undervaluation on a free cash flow basis and outstanding dividend prospects, I reiterate my Strong BUY position on this reemerging dividend champion.
Disclosure: I am long TEF. I wrote this article myself, and it expresses my own opinions. I am not receiving compensation for it (other than from Seeking Alpha). I have no business relationship with any company whose stock is mentioned in this article.