Beige Book Reflects Continued Concerns on Housing and Banking
Residential construction remained at low levels. Commercial real estate remains weak with rising vacancy rates and falling rents. Loan demand continued to decline or remained weak, while credit quality continued to deteriorate. This clearly states that "The Great Credit Crunch" continues. The labor market remained generally weak with modest wage increases appearing in just a few Districts. This is a sign that Initial Jobless Claims will remain above the Recessionary 350,000 threshold.
The positive spin that the economy is slowly improving is being dragged by continued weakening housing and banking sectors and without job creation on Main Street. Since the Beige Book was compiled before the report of the increased Trade Deficit, economists will likely cut their estimates for Q4 economic growth.
click to enlarge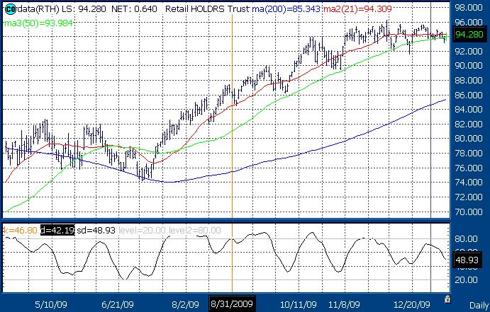 Chart Courtesy of Thomson / Reuters
Retail Sales may not be as strong as gossiped in the Beige Book as the ICSE reported sales down 3% last week from the prior week. The story is if it's not on sale the store misses the sale. The ABC Consumer Comfort Index dropped 6 points to -47 last week, one of the steepest one-week declines in 25 years. Only 24% are considering buying things and just 9% rate the economy positively.
The Retail HOLDRS Trust (NYSEARCA:RTH)
peaked at 96.25 on December 4
th
. This ETF has declining MOJO and begins the day up 0.5% for the first eight days of 2010. This morning's Retail Sales report for December is expected to show a rise of 0.6%. The key level to hold on weakness is my monthly support at $93.12.
At ValuEngine we just released our latest report covering Community and Regional Banks.
I consider myself as an expert on the banking system, and I have been focusing on banking and credit crisis for several years now. In fact, I predicted the current difficulties beginning in April 2006. Every quarter I dissect the FDIC Quarterly Banking profile, combines it with VE's powerful quant tools, add the FDIC loan exposures and collate the info into an exhaustive report on the state of the US banking system.
There are currently 759 publicly traded FDIC insured financial institutions overexposed to CD Loans or Nonfarm Non-Residential Real Estate loans as per the FDIC's own guidelines.
As of January 8, 2010, there were 221 publicly traded banks overexposed to C&D and/or CRE loans in the ValuEngine database with full data coverage. Of these overexposed banks, 82 were rated "1-Engine" Strong Sells, 73 were rated "2-Engine" Sells—all of which are predicted to under perform the markets as a whole, 63 were rated "3-Engine" Holds—which are predicted to roughly match the overall market, 3 were rated a "4-Engine" Buy, and none held our highest rating of "5-Engine" Strong Buy—with the 4 and 5-Engine stocks predicted to out perform the overall market.
This means that 155 banks are rated Sell or Strong Sell that are also overexposed to C&D and/or CRE loans. There are 198 overexposed institutions with only partial ValuEngine coverage and thus those banks have no rating--these are included in the ValuEngine List of Problem Banks. There are 341 additional institutions carrying C&D and/or CRE loans in excess of the FDIC guidelines that do not appear in the ValuEngine database. These are also listed in the report following the VE List of Problem Banks.
Chart Courtesy of Thomson / Reuters
The Bull leads the Bear in the Dow Title Bout.
The score stands at 7 to 1 favoring the Bull. My annual support is 10,379 with weekly pivot at 10,619, and monthly and annual resistances at 10,997 and 11,235. A knock out bunch by the Bear requires a weekly close below 10,379.
That's today's Four in Four. Have a great day.
Disclosure: No positions