Mosaic (NYSE:MOS) turns out to be great value play which I loaded up on shortly after Uralkali (OTC:URALL) said it would leave the Potash cartel back in July and when the potash industry was sent into a tailspin. Mosaic shares had fallen from $53.21 pre-announcement to $41.09 two days after: a collapse in market value of 23%. Other companies such as Potash Corp. (NYSE:POT) or Germany's K+S (OTCQX:KPLUY) have lost even more. Corporations lost staggering amounts in market capitalization and brokerage houses fell over themselves issuing negative evaluations and mindlessly downgraded stocks.
Contrarian thesis
Panic selling often allows investors to pick up value stocks on the cheap. Meanwhile market participants reaffirm themselves in their pessimism and negativity. A deep understanding of the underlying psychology of human behavior can be very helpful in investing. The majority of investors, both institutional and retail, are susceptible to group thinking and display the usual human need for conformity. Investing money on an institutional level carries a great amount of reputational risk which makes it even more difficult for professional money managers (with the exception of hedge funds) to take contrarian positions. After all, why would anybody go long when the majority doesn't? The reason is that the majority of investors is usually wrong when stocks are being sold indiscriminately without regard for the fundamentals. A forceful sell-off under high volume accompanied by plunging prices makes it much more likely to have uncovered a mis-priced security. Warren Buffett advises investors to buy securities when others are fearful and to sell when others are greedy. In my opinion, Mosaic (and other potash firms) presents such an opportunity.
Share price recovery underway
In fact, the time to buy potash firms was when pessimism about the economic prospects of the potash industry peaked in July/August. Mosaic shares have already recovered nicely since then and I expect the recovery to continue when investors realize that Uralkali isn't the industry-destroying force it is made out to be. Mosaic shares, for instance, have recovered 17% since stocks fell off a cliff in late July and the current share price of $48.01 isn't too far away from its pre-announcement price of $53.21.
Without a doubt, share prices of major potash producers are recovering across the board. Potash Corp. and Mosaic have bounced back nicely from their lows in August. As can be seen in the chart below, Agrium (NYSE:AGU) held up the best during the sector meltdown.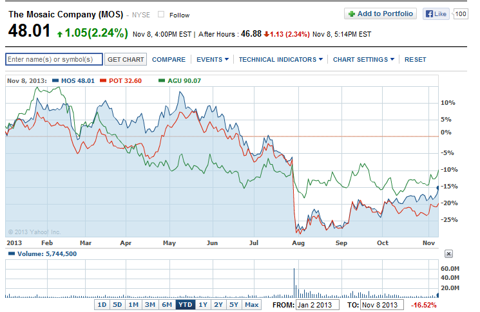 Market valuation
Both Mosaic and Potash Corp. trade above 15x forward earnings. However, Uralkali's actions have injected extreme amounts of uncertainty in the market and investors should take analyst earnings projections with a grain of salt. There is more than a slight chance that earnings projections are way too pessimistic and Mosaic has a good shot of outperforming them in the future. After all, it is very unlikely that Uralkali will become a respectable player in the US.
Mosaic has announced a $2 billion debt offering with proceeds being used for general corporate purposes, capital expenditures and shareholder remuneration either in the form of share buybacks or dividends. Mosaic's debt offering can be seen as a vote of confidence in its future earnings prospects and the company certainly doesn't seem to share the negative industry outlook by the investment community.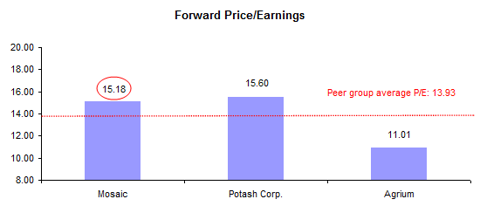 A summary of valuation metrics for Mosaic, Potash Corp. and Agrium is presented below.

Conclusion
Back in September I have argued that investors should take a contrarian position in either one of the major potash- and phosphate producers because the sell-off was too forceful and pessimism at the time was at peak levels (Mosaic thesis here and Potash Corp. thesis here). Taking contrarian position requires a good amount of mental armor in order to be able to blend out all the noise surrounding the investment and to deal with a short-term blow to performance. However, I do not believe that large-cap, industry-leading companies should have lost a quarter of their market capitalization in a few days.
Mosaic is doing the right things for shareholders: It streamlines operations and continues to invest in its business especially in high-growth countries such as Brazil. It also pursues strategic/opportunistic acquisitions (such as the purchase of the phosphate business of CF Industries (NYSE:CF) for $1.2 billion back in October). Though Q3 net sales have been falling mainly because of speculative dealer behavior, I believe true price discovery hasn't taken place yet. The market still suffers from potential supply overhang. However, pessimism offers opportunity. Investors looking for contrarian exposure to a potash company could take a closer look at Mosaic. Long investors essentially bet on an ongoing rebound in share price which was driven to unreasonable levels, a stronger potash pricing environment in the future, a successful integration of the phosphate business and a bond offering that could create substantial value for shareholders. Strong contrarian, long-term BUY.
Disclosure: I am long MOS, POT, OTCQX:KPLUY. I wrote this article myself, and it expresses my own opinions. I am not receiving compensation for it (other than from Seeking Alpha). I have no business relationship with any company whose stock is mentioned in this article.