While Intel (NASDAQ:INTC) and Advanced Micro Devices (NASDAQ:AMD) are in a similar business, they are two totally different companies as far as the profit picture is concerned.
The chart below shows AMD's operating income quarterly vs. total revenue. As you can see operating income is about 1/15 of sales or put in percentage terms, about 6.5% of sales.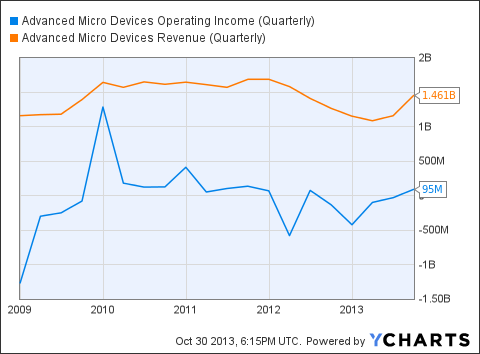 AMD Operating Income (Quarterly) data by YCharts
Now if we look at Intel, we see a whole different picture.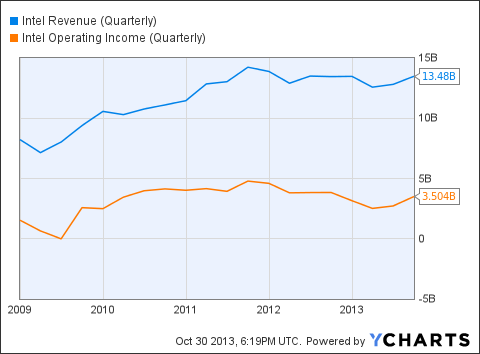 INTC Revenue (Quarterly) data by YCharts
According to the latest figures, operating income for Intel was $3.5 billion vs. total revenue of 13.5 billion. In Intel's case, operating income is about 26% of total revenue. In other words, Intel's margins are almost four times higher than AMD's.
Now both companies have not done much for shareholders over the years. In fact, if by chance you still hold either stock from a decade ago, you are probably still losing money. Granted in the case of Intel you have received some dividends, but compared to your initial investment, that's no consolation.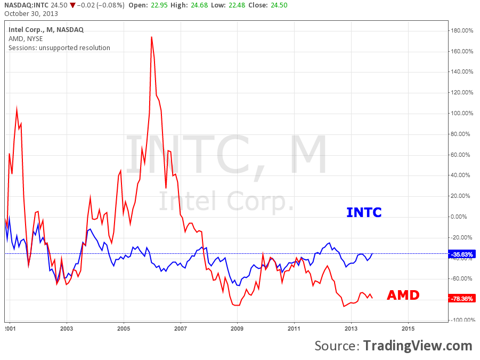 Click to enlarge
So the question is, which stock should you buy, assuming you are aiming for long-term appreciation?
The answer is AMD
The reason is simple. If you are aiming for appreciation and not dividends, then AMD is your best chance, because it is trading at depressed levels compared to the sector and Intel. Granted it is trading at a big discount for a reason, but this is why it's interesting.
Assuming that we get the slightest good news from AMD, then the stock will discount this good news and AMD will eventually trade at similar metrics to Intel.
So let's see some of those metrics. On a Price/Sales basis for example, Intel trades at 2.28 while AMD at 0.5. What this means is that if and when (if ever) AMD gets its act together or comes up with some kind of a new product that sells well, then the money to be made in AMD will be many times that of Intel over the years ahead. In fact, if AMD were to trade at 2 times sales (like Intel), it would jump four-fold from current levels.
The problem with this thinking is that we don't know if AMD will get its act together and we don't know if it will ever come up with some sort of super-chip that will sell like hot cakes.
However, there is another reason to buy AMD over Intel at least over the next 12 months or so, even if AMD does not come up with some sort of super-chip.
The average analyst 12 month forward price target for AMD is $4.09 a share, and represents a possible 27% price increase from today's $3.24 price that the stock is trading.
In Intel's case, the 12 month forward price target is $23.79, when Intel's stock today is trading at $24 a share. In other words, if analysts have it right, the best you can expect to make from holding Intel over the next 12 months is a dividend.
So even if my special case scenario for AMD does not work out, you can still make about 27% over the next 12 months if analysts have it right. And that's not a bad return, any way you look at it.
Disclosure: I have no positions in any stocks mentioned, and no plans to initiate any positions within the next 72 hours. I wrote this article myself, and it expresses my own opinions. I am not receiving compensation for it (other than from Seeking Alpha). I have no business relationship with any company whose stock is mentioned in this article.