Last year I wrote at the beginning of 2009 that American brands were on sale. I picked thirty stocks and was ridiculed that I was too early and the damage to the economy was still to come. Those buy and hold picks wound up 79%. This year it is much more difficult to find bargains so I'm for now just focusing on one stock, asset manager Legg Mason.
Shareholders of asset manager Legg Mason (NYSE:LM) have been long suffering since the stock peaked at $127.46 back in April of 2006.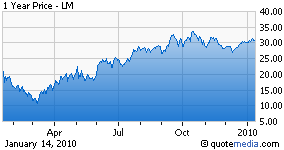 After a series of huge mistakes making disastrous bets on highly levered structured investment vehicles which then caused big losses and damaged their own balance sheet. The stock cratered and fell to a low of $10 and now stands at $30.78. Like its popular volatile Legg Mason Value Trust mutual fund, the stock has been on a wild ride. However, after some good acquisitions of some great brands in asset management, hedge funds and fixed income, the company is a collection of quality brands in asset management that sells at a very attractive discount to other asset managers.
Blackrock (NYSE:BLK), Pimco and Fidelity have more assets under management but Legg Mason is very large with $700 billion in assets under management. Other asset managers like T Rowe Price (NASDAQ:TROW), Franklin Resources (NYSE:BEN) and Blackrock are much better companies trading at much higher multiples or revenues of 7.58, 4.38 and 4.68 enterprise value divided by revenue. Legg Mason has been suffering larger outflows and loss of assets so it is reasonable to be valued much cheaper than its better competitors. However Legg Mason stock trades at only 1.9 times revenue. The stock has cash equal to its debt after converting an offering that will reduce interest cost $15 million per year going forward, If you give Legg Mason a very possible three times revenue of $2.6 billion. That would equal $7.6 billion enterprise value or a stock 55% higher than its current price of $30.78. If you use a standard valuation technique of 1.5% of assets under management the stock would be worth $64.
There are three potential catalysts right now coming together for the stock. Financials were the worst performing sector of 2009, so there is some shifting of money back into financials. I also like the stock because their inflows and outflows of cash have stabilized. They are reported monthly and have finally stabilized and have began to turn positive again. I have been watching this stock for many years and saw it destroy value for almost every one that ever owned it.
There comes a point that with a catalyst of a better market, incredible valuation and now the renowned billionaire investor Nelson Peltz has been buying a 6% stake in the company and being appointed to the board. Mr. Peltz in the past has fought successfully for spinoffs and other corporate actions to unlock shareholder value. He is limited to a 9.9% stake by agreement and I think he will acquire that limit of shares soon.
Of the analysts who cover the stock , their average current recommendation is to sell or avoid. This is a simple thesis that you can believe in with a $5 billion midcap stock with brands that go back a hundred years. My price target for the stock within 6-9 months is $46 or 50% higher.
Disclosure: Long Legg Mason