Telecom giant AT&T (NYSE:T) announced strong third quarter results October 23. Revenue increased 2.2% year-over-year to $32.2 billion, just below consensus expectations. Earnings per share, excluding one-time items, increased 6.5% year-over-year to $0.66, a penny above consensus estimates. However, due to an increase in capital expenditures, free cash flow has fallen more than $3 billion year-to-date to $11.1 billion, equal to 11.6% of revenue.
Smartphone Takeover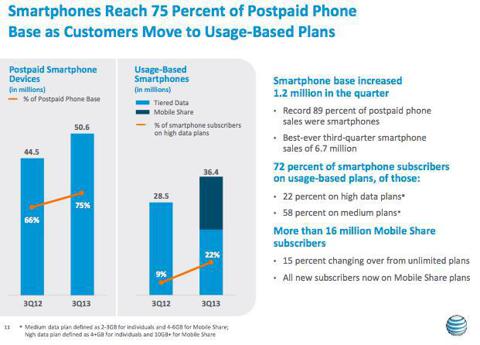 Click to enlarge
Image Source: T 3Q13 Slides
As has become the norm, wireless revenue drove AT&T's top-line growth, expanding 5.1% year-over-year to $17.1 billion. The strong performance was driven by an increase in wireless data revenue of 17.6%, as a higher percentage of consumers opt for higher ARPU plans. During the third quarter, AT&T activated 1.2 million postpaid phones, with a record 89% of customers choosing a smartphone. This trend remains very powerful, and the reason why AT&T continues to invest heavily in improving its network service.
With continued network investment and strong customer satisfaction, AT&T's postpaid churn fell modestly compared with the year-ago period to 1.07%. The firm also noted that 90% of customers are in multiple-user plans (family, business, etc.) that carry "significantly lower" churn. This bodes well for the durability of revenue going forward.
Balance Sheet and Capital Allocation
At the end of the third quarter, AT&T had $68 billion in debt on its balance sheet, far lower than peer Verizon (NYSE:VZ), which has quite possibly put its investment-grade credit rating in jeopardy (in coming years) as it loaded up its balance sheet to $117 billion in debt (as a result of the Verizon Wireless transaction). AT&T currently has $1.3 billion in cash, a comparatively small number (relative to its debt load) as a result of the firm's aggressive capital investment and returns of capital.
Valuentum's Take
Ultimately, AT&T remains a cash-generating machine as its U-Verse service helps maintain cable revenue and its wireless business drives overall top-line expansion. In the near-term, we expect AT&T to continue to capitalize on smartphone data tailwinds, though we do see the market becoming more competitive going forward. With less-than-compelling dividend growth prospects and a fair valuation, we aren't interested in adding shares of AT&T to either of our actively-managed portfolios at this time.
Disclosure: I have no positions in any stocks mentioned, and no plans to initiate any positions within the next 72 hours. I wrote this article myself, and it expresses my own opinions. I am not receiving compensation for it (other than from Seeking Alpha). I have no business relationship with any company whose stock is mentioned in this article.