When investors look for value in the market, defensive stocks are not usually their first thought. In a cyclical industry, finding companies that are out of favor is a relatively simple enough pick-up.
And growth stocks that missed a quarter but still have their long-term prospects intact may also provide an opportunity to buy a stock at a discount. However, non-cyclical stocks like utilities don't dip into discounted territory unless there's a perfect storm of events.
Utilities like electricity and gas providers are traditionally seen as portfolio staples that don't change much with the economy. They are regarded as defensive companies due to their lack of correlation with the overall market and high, consistent dividends.
But there's more to this story. Utility stocks have a unique business model, as they are highly debt-leveraged due to the large capital-intensive infrastructure requirements that enable them to operate. And this makes them extremely sensitive to interest rate changes.
A small shift in rates can have a big impact on the bottom line. So threat of the Federal Reserve tapering its $85 billion a month bond buying program has not exactly benefited utility stocks.
And that fear has kept utility stocks from dipping into value territory. At least until recently.
The stated agenda of Janet Yellen, the Fed chief nominee, means that taper concerns have finally faded into the background (for now) and may not even happen in 2014. Yellen's goal of tackling unemployment first could mean that tapering is here to stay for a while, or at least for the foreseeable future.
So now utility stocks have finally declined to potentially attractive levels. But in addition to value, let's look for some defensive characteristics, given future interest rate concerns.
Companies that offer dividends of over 3% and have operating margins of over 25% are figures that can indicate that they have more flexibility to combat adverse conditions in the interest rate environment.
(Sourced from Zacks Investment Research.)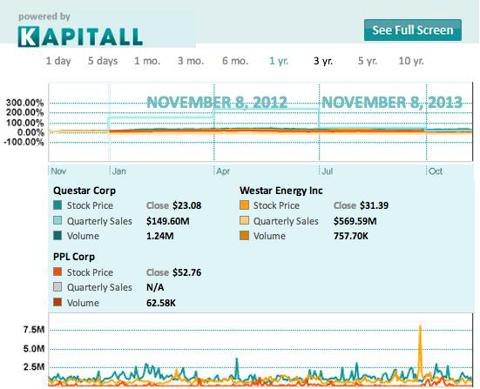 (Click to enlarge)
Three names that come up are Questar Corporation (NYSE:STR), Westar Energy, Inc. (NYSE:WR), and PPL Corporation (NYSE:PPL).
The $4 billion Questar is a gas utility that operates in three main segments: Questar Gas, Questar Pipeline, and Wexpro. Questar provides natural gas with core operations in the Rocky Mountains. The company enjoys exceptionally high margins of over 32% and one of the highest credit ratings on its debt - rated A3 by Moody's.
Questar offers a dividend of 3% and has a return on equity of 19.4%, according to their most recent earnings report, which gives them a measure of profitability that few other utilities can match.
And through their fueling department, the company has joined in the growing natural gas fuel revolution with two compressed natural gas (CNG) facilities starting operations this year with plans for six more next year.
Westar Energy is a $4 billion diversified utility company that looks like a surprising bargain for investors. The average P/E ratio for diversified utility companies is around 25, while Westar recently traded at just 13.5 times earnings.
Like Questar, Westar has a high degree of safety against rising costs, with operating margins of 26%. They also offer a dividend of over 4%, a payout that has steadily increased for the past 10 years in a row.
In an effort to further improve efficiency and reduce overhead costs, the company is spending $66 million on an energy transmission project that will allow for higher power loads.
The large $19 billion PPL is an electric utility company that, like Westar, looks cheap recently trading at only 12.5 times earnings. They have operating margins of 25% and pay the highest dividend of the three covered here at around 4.8%.
Like their competitors, PPL is focused on lowering costs and improving margins, with even more targeted savings on capital expenditures of $1.1 billion through 2017. Furthermore, nearly 90% of PPL's revenue is generated from regulated businesses that will provide reliable income and allow them to profit from rate increases.
While utility companies like these are also known as "widow-and-orphan" stocks due their low volatility, they are still subject to risk.
The interest rate environment is always subject to adverse changes triggered by new economic data. And weather conditions can also affect utilities, as mild conditions cause consumers to use fewer resources than expected.
Disclosure: I have no positions in any stocks mentioned, and no plans to initiate any positions within the next 72 hours.
Business relationship disclosure: Kapitall is a team of analysts. This article was written by Daniel Cross, one of our writers. We did not receive compensation for this article (other than from Seeking Alpha), and we have no business relationship with any company whose stock is mentioned in this article.