Dresser-Rand Corp.'s (NYSE:DRC) recent Q3 earnings report was a disappointment. As a result, the stock sold off 10%. Is it time to bail on DRC or does the sell-off present an opportunity for investors? I believe it is an opportunity. Before explaining why, I first need to eat a little crow.
Back in June I wrote the article Dresser-Rand: This Mid-cap Could Easily Double In Two Years here on Seeking Alpha where I delved into the company's businesses. My opinion that the company's stock could double in 2 years was based on the their product-line presence in the fast growing oil & gas industry, its mission critical aftermarket business, and the outlook for continued growth in revenue and net income. Since that article the stock is actually down $2/share while the S&P (and the oil services sector) has raced higher. So what happened?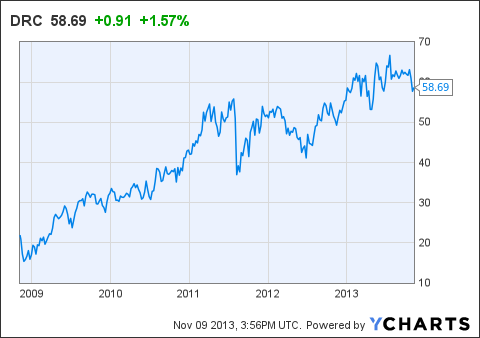 Earnings, Earnings, .... Earnings
Stock prices follow earnings and DRC's Q2 and Q3 earnings reports were light due to customer orders being pushed out. Not cancelled, just pushed out. Even so, Dresser-Rand has posted the following results for the first 9 months of 2013 versus 2012:
Revenues: $2.205 vs $1.892 billion (+16.5%)
Net Income: $135.6 vs 98.8 million (+37.3%)
Diluted EPS: $1.77 vs $1.30 million (+36.2%)
So the company is growing very nicely despite missing two quarters' of earnings expectations.
But we should consider that the Q3 miss was principally due to the slippage of two large orders for which all physical activity had been completed. The delays were administrative in nature due to finalizing contract-related documentation. DRC believes the revenue for these projects will be recognized in Q4. Had these two transactions been completed in Q3, the company said diluted EPS would have increased by ~$0.11 and operating income would have been close to the top end of guidance instead of at the bottom.
Full Year Guidance Remains Unchanged
Of the Q3 earnings report, Vincent R. Volpe Jr., President and Chief Executive Officer of Dresser-Rand, said:
While our third quarter results were somewhat mixed, our full year guidance for bookings remains unchanged and operating income is expected to be in the range of $400 to $440 million, which is in line with present consensus estimates.

"New unit bookings of approximately $265 million were below our earlier expectation of $350 to $400 million due to client delays in placing certain major new unit orders. During October, we booked approximately $70 million of orders that slipped from September. Inquiries for potential new orders remain at a high level and we believe we may be seeing the long awaited pick up in orders that have been delayed over the past year or so, starting in the fourth quarter. As such, we are reiterating our guidance for new unit bookings of $1.5 to $1.7 billion.
At the midpoint of this guidance, full year 2013 operating income would come in at $420 million as compared to $336 million for 2012. That would be a year-over-year increase of 25%.
Current Valuation
DRC currently has the following valuation metrics:
Mkt Cap = $4.48 Billion
P/E = 20.8
EPS ("ttm") = $2.82
Div (Yield) = Nil
Net Debt = $1.15 Billion
Dresser-Rand appears to be valued inline with the broader S&P500 which currently has a P/E=19.5. While debt is higher than I would like to see (debt-to-equity is 45%), and the company pays no dividend, these negatives are offset by the growth in net income delivered year-to-date, solid margins, and the prospects for an excellent Q4.
Q4 Outlook
Q3 2012 new unit operating margins increased from 8.5% in the year earlier period to 12.3%. Full year aftermarket operating margins are expected to be in the range of 23-25%. With excellent operating margins in place, all the company needs is for revenues to come in as expected and the company will post a very solid Q4. Indeed, the company's Q4 guidance during the Q3 quarterly presentation is for record sales and operating income: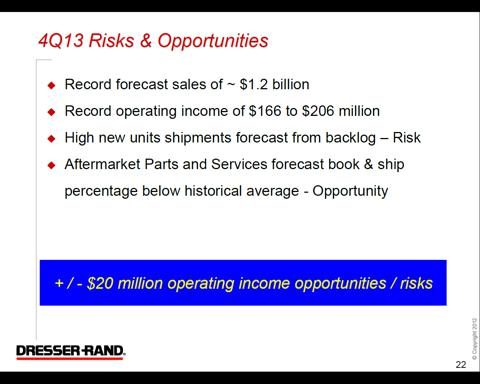 Summary & Conclusion
While Dresser-Rand has posted two consecutive quarters of disappointing earnings, the misses had more to do with the timing of customer deliveries than due to any company operational issue. Yet the misses have stopped the stock's climb in its tracks. This could be a good opportunity for the individual investor looking to own a solid oil & gas services company. DRC is less risky than most companies in the oil services industry due to its mission critical aftermarket business which is a solid cash flow and profit generator in good times and bad.
Meanwhile, General Electric (NYSE:GE), long rumored to increase its footprint in the energy sector by taking over either Dresser-Rand or Dril-Quip (NYSE:DRQ), has recently seen its stock price increase due to better than expected earnings. With GE's stock up, and DRC's down, now would appear to be an excellent time for GE to make it's move. With such a solidly profitable company like Dresser-Rand, it would appear a takeover would be immediately accretive. However, if GE waits another quarter or two, DRC's growth could re-accelerate and its buyout price increase. While it is usually not wise to invest in any company based on takeover speculation alone, DRC is a solidly profitable and growing company and a worthwhile investment based on its own merits.
Currently I rate DRC as an Accumulate on Weakness. The company needs to have a solid Q4 and hit the midpoint (or above) on its full year guidance to prove the last two quarters were anomalies and that growth is back on track. Otherwise, my earlier prediction that the stock could double in two years is at risk of being overly optimistic.
Disclosure: I am long DRC, DRQ. I wrote this article myself, and it expresses my own opinions. I am not receiving compensation for it (other than from Seeking Alpha). I have no business relationship with any company whose stock is mentioned in this article.
Additional disclosure: I am an engineer, not a CFA. The information and data presented in this article was obtained from company documents and/or sources believed to be reliable, but has not been independently verified. Therefore, the author cannot guarantee its accuracy. Please do your own research and contact a qualified investment advisor. I am not responsible for investment decisions you make. Thanks for reading and good luck!