Cubist Pharmaceuticals (CBST) is an interesting company, but the stock is schizophrenic.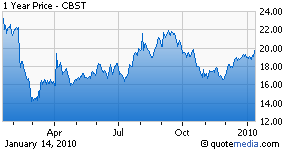 The company announced on Monday that it met Wall Street's revenue forecast with $560.3 million in revenue, up 30 percent from a year earlier. It rallied on the news and is now trading at around $19, even though in the past few months it has sold off as low as $16. The company's primary product is an antibiotic called CUBICIN, which is experiening strong growth. And although it released the revenue numbers for the full-year 2009, the company has not released its earnings yet. Those are due out on January 21. Yes, it's a bit strange.

If you look at the chart below, it's easy to get chopped up trying to trade this stock, so I've resolved to build a long-term position. I figure that even if the company can sustain even 20% growth in 2010, the stock will break out. It's simply too cheap. Analysts estimates for 2010 have gone from $1.22 to $1.54 in the past year, according to Capital IQ, yet the stock has done nothing but chopped around. I think this is a $20+ stock. Even if the earnings are disappointing next week, I would probably buy more on a correction down as low as $16, because I think it's rare that you find companies with these kind of growth numbers this cheap. My stop is at $15.50.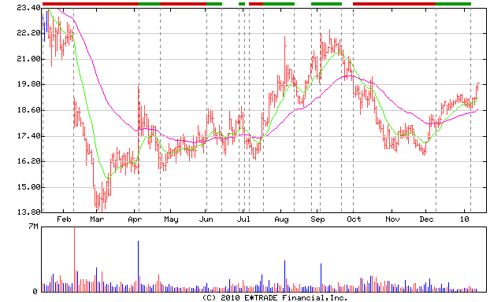 Click to enlarge
Disclosure: Long CBST