Shares of global healthcare solutions and service provider, PhotoMedex (NASDAQ:PHMD), took a dive beginning mid September, and now continue to trade 30% lower than before. Three months ago, its shares were undervalued, and while there has been no major fundamental changes, the upside potential is even greater for aggressive short-term investors. Operating as a service provider in the healthcare industry does have its risks, but with a strong financial position and adequate margins, PHMD's valuation is attractive and its share provide considerable upside potential for investors to consider. Here's a brief overview of its business along with five reasons active investors should consider initiating a short-term position in PHMD.
Company Background
Originally founded as a Delaware corporation in 1980, PHMD was later re-incorporated in the state of Nevada on December 30, 2010. Today, PHMD operates as a global skin health company providing its customers with integrated disease management and aesthetic solutions to dermatologists, professional aestheticians, as well as general consumers. Additionally, PHMD provides a line of proprietary products and services designed to address skin diseases and a wide array of other conditions, such as psoriasis, vitilgo, acne, and photo damage. Since being re-incorporated, PHMD has gained a fair amount of experience within its industry, and is now focusing on expanding the depth of its customer base through growing its skin health solutions to spa markets, diversifying its retail segment through geographical positioning, and through the use of online as well as infomercial outlets for home-use products.
For a small capitalization company, PHMD is developing a strong foothold in the industry, and experiencing improvement in revenue each year. Based on its historical cost of goods sold and operating costs, PHMD's cost structure has been surprisingly stable, and interesting enough, its experienced solid margin improvement through a large percentage reduction in its cost of goods sold relative to its total revenue. From looking at the chart below, its vividly clear its revenue experienced accelerated growth, but more importantly, take a look at the trend in its cost of goods sold. The marginal cost of its products and service is relatively small compared to the payoff it provides. So far, PHMD appears to have implemented an effective cost structure, and in the long-run, this cost structure is ideal given the variable costs associated with increasing the aggregate amount of products and services it sells is minimal.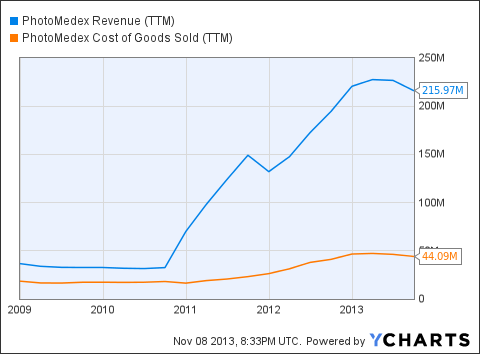 PHMD Revenue (TTM) data by YCharts
Geographically speaking, the ownership breakdown of its common stock is fairly diverse, but the "investor type" is not. Nearly 63% of its common shares are owned by institutional investors, which includes hedge funds and mutual funds as well. The remaining distribution of its shares are owned by insiders and retail investors. Its important to note there are institutional investors classified as owners purely based on the amount of shares they hold. On the institutional investors , the three top holders include Wellington Management Company LLC, Millennium Management LLC, and Cortina Asset Management LLC. All three of these hold positions ranging from 2.5%-6%, which is the percentage as a proportion of PHMD's total shares outstanding.
5 Reasons PHMD Offers Investors Value At Under $12 A Share
#1 PHMD's technicals are extremely attractive and offer an excellent entry point at the moment. While I feel technicals should not be a key underlying point in an investment thesis, they can be great for determining when to initiate a position and/or help obtain that desired cost basis. Currently, PHMD is trading just below $12 per share, and after the recent decline in its price, its relative strength index (RSI) indicator suggests it has been heavily oversold. Technically speaking, the RSI is classified as a momentum oscillator that measures the velocity and magnitude of directional price movements. The RSI is measured on a scale of 0 to 100, and can be computed by had or retrieved from a wide variety of financial databases. Typically, an RSI between 20 and 30 is the range investors look for when determining whether a stock has been oversold or not. As of now, PHMD's 30-day RSI indication is 15.23, which is close to the lowest I have ever seen. In other words, a RSI of this low suggests the stock is way beyond oversold territory, and it also indicates to us that there is a greater probability of an upward trend in its security price.
#2 PHMD has a strong financial position with a relatively clean balance sheet and assets that are fairly liquid. If you look at its balance sheet for the most recent quarter, you will notice it has barely any long-term debt. As of September 30th, 2013, its total long-term notes payable amount to only $97,000. On the current liability side, the only item of relatively any concern is its accounts payable, which stands at roughly $11.6mm. But with a high current ratio of 4.1, PHMD's short-term liabilities are hardly a risk-bearing obligation. Furthermore, if you exclude inventory from the mix, PHMD's quick ratio is 3.4, which eliminates the concern surrounding any liquidity issues in the near-term.
#3 PHMD's cash flows are strong and prove its operations are fully capable of generating real earnings. Net income can often be distorted with accounting gimmicks, and by looking at operating cash flow, investors can get a real sense of the company's profitability. Taking a look below, PHMD has clearly shown its ability to improve its level of cash flow over the last few years, and with its consistently low level of capital expenditures, the cash generated by its operations translates into a hefty amount of free cash flow. In addition, its balance sheet provides solid value as well. As of the most recent quarter, the cash position on its balance sheet equates to roughly $3.04 per share for investors.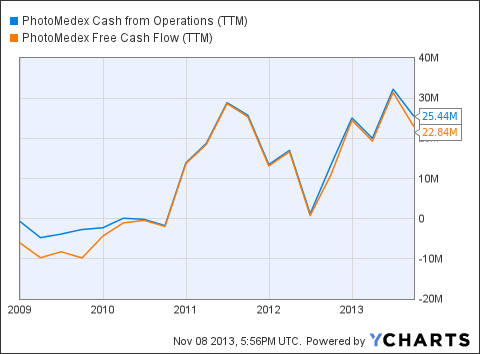 PHMD Cash from Operations (TTM) data by YCharts
#4 PHMD's valuation metrics are attractive, and suggest its trading at a favorable discount. Of the bat, two quick metrics I look at are the P/FCF and PEG ratio. The combination of a P/FCF and PEG ratio of less than 15 and 1, respectively, is a general indication a stock is undervalued; looking below you will see that PHMD satisfies both of these constraints.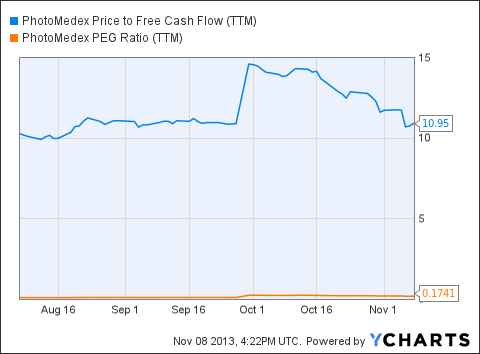 PHMD Price to Free Cash Flow (TTM) data by YCharts
#5 Generally speaking, analysts appear extremely bullish on the PHMD's performance over the next eight to twelve months. Right now, there's a total of eight analysts covering the stock, and the median price target of these analysts estimates is $21, which is an implied upside of 75%. Today, Ascendiant Capital Markets even upgraded its rating to "strong buy" from "buy". Also, given the lower bound of the price targets, there seems to be an adequate amount of downside risk protection. In the bearish scenario, the less optimistic analysts are still pricing in an upside of nearly 40% from its current share price.
Conclusion
PHMD operates in a competitive industry, and based on the recent fluctuations in its share price, one can easily tell there a fair amount of volatility within its holding period returns. While the concept of volatility and its presence alone is enough to deter many investors initiating a position, the underlying volatility within a stock's returns is what in a lot of cases augments the probability of investors receiving abnormal returns. Regardless of how much volatility exists, the suppressed nature of PHMD's valuation offers a sizable amount of downside risk protection, and for aggressive investors in particular, it's an investment opportunity that's hard to pass up. In the short-term, its RSI indicator implies there's a favorable probability investors with see appreciation in its stock price. Conclusively, PHMD presents an excellent risk/reward opportunity with a potential return that greatly surpasses the burden of any underlying risks, and now is an excellent time for less risk-adverse investors to consider opening a position.
Disclosure: I have no positions in any stocks mentioned, and no plans to initiate any positions within the next 72 hours. I wrote this article myself, and it expresses my own opinions. I am not receiving compensation for it (other than from Seeking Alpha). I have no business relationship with any company whose stock is mentioned in this article.